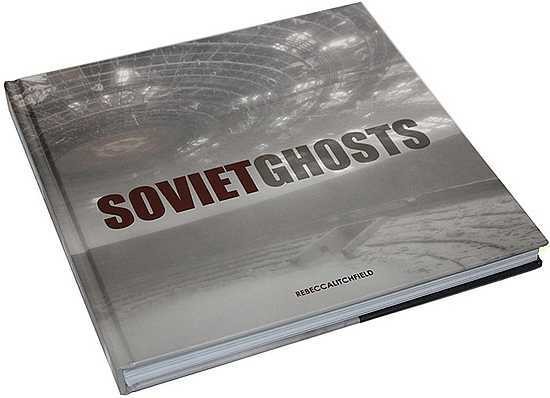 Soviet Ghosts is a new book featuring a unique set of photographs by Rebecca Bathory. On a journey funded by Lowepro, Rebecca captured many abandoned locations, which were either part of the Soviet Union or its satellite states.  'I refrain from having personal opinions about the era and try to remain relatively neutral.' Rebecca added: 'Whilst the period had bad times, the people living in the communities still got on with life and also had good times, it was not a period of pure black and white and so my aim of the book was to just capture it as it is now. Some places would have been thriving and others horrible places to be and you can see this reflected in my book and some of the accompanying text.' Priced at £19.95 the book is available via Rebecca's website.
Website: Rebecca Bathory
Lowepro Press Release
Loweprofessional Photographer, captures the beauty of Urban Decay, in debut book, Soviet Ghosts
Sponsored by Lowepro
Thursday 14 August 2014 - Only the most intrepid urban explorers cross the tattered ruins of the old Iron Curtain, enduring the excessive bureaucracy, military paranoia and freezing winds of the East to hunt for the ghosts of an empire.
Loweprofessional, Rebecca Bathory, is one photographer who couldn't resist the haunting allure of the ruins of the Soviet Union, and Lowepro helped fund the first trip in a series which allowed her to explore this desolate region.
Using a Lowepro Rover Pro backpack (see Rebecca's blog for more info – web link below) to carry and protect her camera equipment, Rebecca captured many abandoned locations, which were either part of the Soviet Union or occupied satellite states during this period of history. These included forgotten towns, factories, prisons, schools, monuments, hospitals, theatres, military complexes, asylums and death camps across the former communist states.
This unique collection of images features a compelling narrative of both moral bankruptcy and flawed ideology. Featuring stunning and intriguing imagery throughout, this road-trip through the old USSR, breathes new life into these forgotten places, finding both beauty and meaning in their post-apocalyptic decay.
By virtue of its holistic approach, 'Soviet Ghosts' also explores how and why these once thriving communities became abandoned, whether by natural disaster, man-made catastrophe or simply through the march of time.
Rebecca said: 'I refrain from having personal opinions about the era and try to remain relatively neutral.' Rebecca added: 'Whilst the period had bad times, the people living in the communities still got on with life and also had good times, it was not a period of pure black and white and so my aim of the book was to just capture it as it is now. Some places would have been thriving and others horrible places to be and you can see this reflected in my book and some of the accompanying text. But that is life, time moves on and things like this disappear. Some people may see the ruins of this time as destructive, but I see the beauty in the decay, like a memory hanging on that will soon be lost in a breeze, a museum that no one gets to see.'
Priced at £19.95 the book is available via Rebecca's website, or on Amazon: http://www.rebeccabathory.com/sovietghosts
Website www.rebeccabathory.com
Facebook .facebook.com/RebeccaBathoryPhotography
Book: http://carpetbombingculture.co.uk/shop/soviet-ghosts/
Your Comments