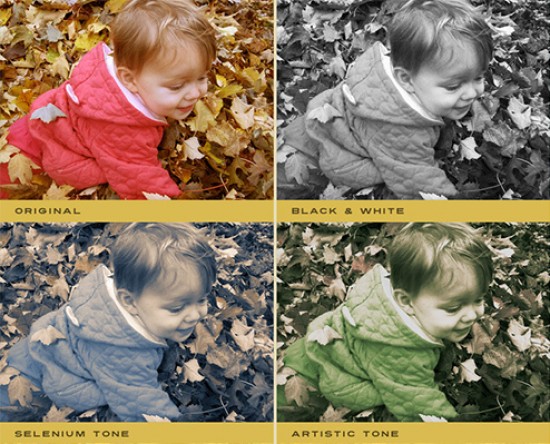 Mister Retro has released its latest Photoshop plug-in, Retrographer, which allows users to apply a variety of retro/vintage photography effects to their photographs. Developed by Brian J. Bonislawski and Maxim Victorovich Chernusov, Retrographer features over 15 lens, flash, film, lab, and special effects, and more than 1100 preset "camera settings". The plug-in is available for $99 from the website below.
Website: Mister Retro
Press Release
RETROGRAPHER FOR PHOTOSHOP IS HERE!
Eau Claire, Wisconsin, 9/30/11 - Mister Retro, a developer of Photoshop plug-in and vector image collections, is pleased to announce the release of its latest Photoshop plug-in Retrographer which allows users to create stunning and authentic vintage photography effects! Users can take complete control over every aspect of creating authentic original looking photography with this simple and powerful plug-in! With OVER 1,100 preset camera settings and millions of possible combinations means users will never have to buy another camera ever again!
Photographers and Graphic Designers alike can now transport any image to another time and aesthetic with Retrographer's powerful, easy-to-use plug-in GUI interface packed with over 15 amazing vintage photography effects including: Processing Effects, Photo Lab Effects, Aging Effects, Light Leaks, Vignetting, Halftone Effects, Lens Focus Effects, Lens Gel Effects, Framing Effects, Surface Effects, Flash Hotspot Effects, Lens Distortion Effects, Camera Flash Effects, Tonal Film Stocks, Film Grain Effects
It works just like a real camera, processing lab and finishing studio work to give the most authentic looks possible. Frame up any image with an awesome array of framing styles including film stock, wet transfer, classic snapshot, slides and decorative frames and so much more! Now users can perfectly re-create any vintage camera look including Lomo, Dianne, Holga, Polaroid, Brownie, Kodak, Daguerreotype, the list is endless!
Retrographer is BIG! With over 1,100 preset camera settings to choose from with millions of possible combinations means you'll never have to buy another camera ever again to re-create these amazing effects! It's all here! To find out more and see more examples of Retrographer in action, simply head to: http://www.misterretro.com/filters/retrographer
ABOUT MISTER RETRO
Founded in 2004 as a compliment to the Font Diner (www.fontdiner.com) font foundry, Mister Retro (www.misterretro.com) is the premier source of vintage and retro inspired original software and products including the the popular Machine Wash Deluxe and Permanent Press image filters for Photoshop, and the Snappy Hour vector images collections by the talented illustrator Derek Yaniger. For more information about Mister Retro, visit us online at: http://www.misterretro.com
Your Comments