Rogue Safari Flash Booster Debuts in UK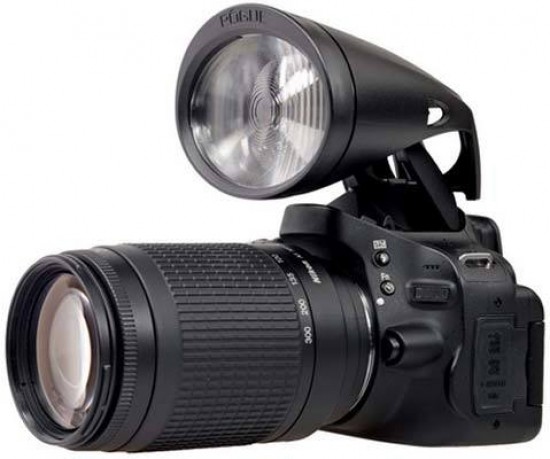 Thee Rogue Safari Flash Booster, an attachment for DSLR cameras that concentrates light from the pop-up flash for photographing subjects at a distance, will soon be available in the United Kingdom. Optimised for use with telephoto zoom lenses that are 100mm and longer, the Rogue Safari focuses up to 8x more light (an improvement of up to 3 f/stops) on a subject than a DSLR's unassisted pop-up flash. The Rogue Safari Pop-Up Flash Booster will be in the shops for Christmas priced at £25.
Press Release
Take your flash further with the new Rogue Safari Flash Booster!
Designed to enhance the performance of a DSLR's built in flash on entry-level and mid-level Canon APS-C and Nikon DX DSLR cameras, the Rogue Safari is optically engineered to focus up to 8x more light from a pop-up flash, enabling you to 'throw' the light from your flash to a much further distance.
Optimized for lens focal lengths over 100mm, this compact little accessory fits neatly onto your camera's hot shoe – without the need for any additional batteries.
Current DSLR pop-up flash provides enough light for close to mid-range photographs, but fall short throwing light far enough to capture subjects at longer range.
That extra light can make the difference between a sharp image with good color, and an underexposed missed opportunity.
That's where the new Rogue Safari can help!
Image here shown using the Rogue Safari – demonstrating how, by throwing the flash a further distance, a faster shutter speed can be maintained for fast moving action and pin sharp results:
Priced at just £25 the Rogue Safari will be in the shops and online for Christmas – the perfect accessory for those wanting to experiment with and improve their flash photography.
The Rogue Safari Flash Booster is compatible with most DSLRs, but for full details please check here:
http://www.rogueflash.com/pages/rogue-safari-camera-compatibility
For more detailed technical specifications please visit www.expoimaging.com
Your Comments