Rollei Designline 5130 and 5160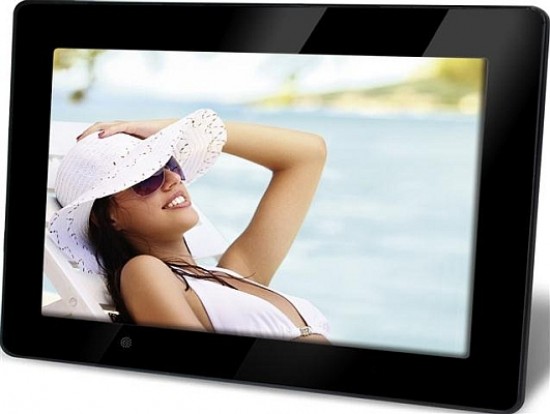 Rollei has unveiled two new digital picture frames. The Rollei Designline 5130 comes with a remote control and features a 13.3" LED panel with a resolution of 1280x800 pixels and offers additional functions such as a clock and a calendar. The Designline 5160 has a 15.6" display with 1366x768 pixels and offers an automatic slideshow function with background music and ten different transition effects. Both frames can be wall-mounted in either landscape or portrait orientation, and both are capable of playing back HD videos. The Rollei Designline has an RRP or €149.90, while the Rollei Designline 5160 carries a price tag of €199.90. Availability is slated for March.
Rollei Press Release
Full HD and elegant design in Rollei's new Designline models
Hamburg, January 2012                               
Right on time for the start of the year, Rollei has unveiled two new digital picture frames for the Designline product family. The most beautiful photos become a lasting memory and a stylish interior decorating accessory with Rollei's new digital picture frame. The Designline 5130 and Designline 5160 can show HD videos, offer excellent colour rendition, high contrast and precise reproduction of details. Both models have a smooth, black frame. The elegant design is ideal in combination with both modern and classic home and office furnishings.
Rollei Designline 5130
The Rollei Designline 5130 has a 13.3-inch LED monitor (33.78 cm) in 16:10 Format with 1280x800 pixels. The unique light sensor function guarantees automatic start-up when it is light and automatic shutdown in the dark. This high quality digital picture frame (dimensions: 355 x 248 x 24 mm) also offers additional functions such as a clock, calendar and alarm, besides the numerous slide show functions including picture rotation. In addition, brightness, contrast, saturation and shade can be set individually. The remote control is especially helpful in this regard, since the frame can be adjusted from the correct viewing distance. Integrated stereo loudspeakers (2x1W) guarantee a sensational sound experience.
The dimensions of the Designline 5160 are 443.5 x 294.5 x 51 mm and it displays photos in 16:9 aspect ratio. The most precious recollections can be viewed in a slide show at a picture diagonal of 39.62 cm, making it an ultra-slim display. Apart from countless additional functions like automatic picture rotation, automatic slide show with 10 different transitions and background music (MP3), settings for speed, brightness, contrast and saturation, it also offers full video functions. The Designline 5160 also automatically sets the background lighting according to the ambient light.
Thanks to a revolving base, both frames can be mounted vertically and horizontally on the wall. They have a remote control and a 2 GB integrated memory. SD, SDHC, MMC and MS cards are compatible storage media.
Both digital picture frames will be available in the shops from the end of March 2012:
-    The Designline 5130 Multimedia will be available in black at a non-binding RRP of 149.90 euros.
-    The Designline 5160 will be available in black at a non-binding RRP of 199.90 euros
Your Comments