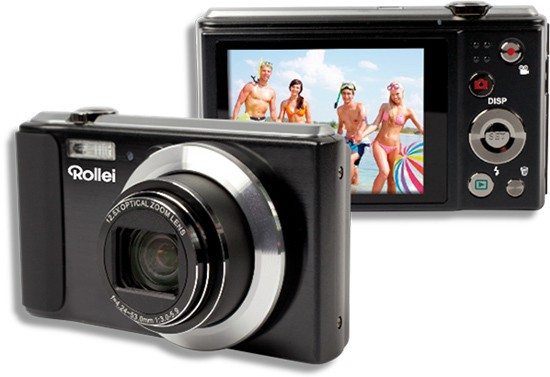 The Rollei Powerflex 800 is a compact travelzoom camera with 12.5x optical zoom and a fourteen-megapixel Sony sensor. Other highlights include 22 different shooting modes and a 720p HD video mode. The Rollei Powerflex 800 will go on sale in early April in black, silver and red, for a RRP of €199.95.
Rollei Press Release
New zoom giant: Rollei Powerflex 800
Hamburg, 20 March 2012
Rollei presents the ultra-light compact Powerflex 800, with a 12.5x zoom lens (24 to 300 millimetres in 35 mm format) and many other highlights:a 14-megapixel Sony sensor for ultra-fast exposures, a super macro mode for short distances from 1 - 30 cm, and a night-mode with which you can take hand-held shots even in low light levels.
Despite its compact design, measuring 102.9 x 58.7 x 21.1mm, the camera boasts sophisticated design and a clear, high-luminosity 2.7-inch display (dimensions: 6.85cm, 230k pixels).
With the aid of various automatic-settings for ISO, exposure, face recognition and 22 different shooting modes, as well as auto-focus and 12.5x zoom-functions with contrast calculation, even beginners can succeed in taking fantastic snap-shots, whether they are taking photographs or recording videos in HD-quality (720p) with 30 full frames per second. The video mode also offers a number of refinements such as the short video-clip or the ability to share films with others via the Internet. Thanks to a ¼" tripod socket, which enables attachment to any tripod you choose, photos or video recordings will no longer be blurred.
Included in the package:
The Powerflex 800 will go on sale in early April in the colours black, silver and red, for a RRP of EUR 199.95. A high-quality nylon bag matching the particular camera colour in red, black or brown, a wrist strap and a 4-gigabyte SDHC memory card round off the high-quality equipment package for the photography beginner.
Your Comments