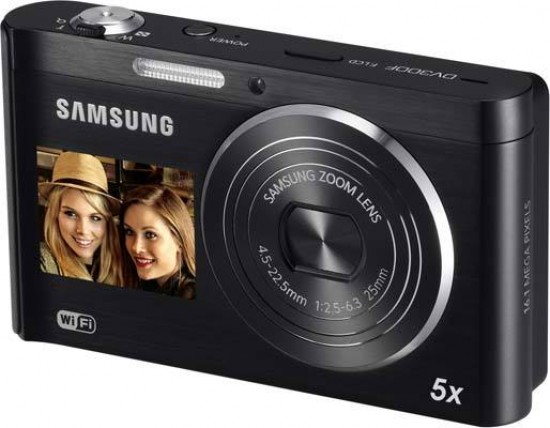 The Samsung DV300F is a new compact camera with Dual LCD technology and Wi-fi connectivity. The DV300F features a a 1.5-inch front LCD screen display, 16 megapixels, 5x optical zoom and a bright f2.5 lens with a 25mm wide-angle setting. The Samsung DV300F will cost £179.99.
Samsung Press Release
SAMSUNG'S LATEST 2VIEW OFFERING – THE DV300F - BRINGS FURTHER INNOVATION TO HIGHLY POPULAR CATEGORY
Enhanced Dual LCD and Wi-Fi connectivity for users to capture and share life's moments in an instant, from both sides of the lens
London, UK – January 2nd, 2012 – Samsung Electronics Co., Ltd, a global leader in digital media and digital convergence technologies today unveiled a new addition to the market-leading 2View range: the DV300F. With this launch, Samsung introduces the latest in Dual LCD technology with Wi-Fi connectivity for camera users who want to snap and share moments in an instant.
With a 1.5" front LCD screen display the DV300F builds on the success of Samsung's 2View technology and ensures users can be confident of capturing even the most challenging shot, whether they are behind or in front of the lens. It is also easier than ever to capture those special family moments with the addition of Child Mode animation to keep little ones focused and with the visual Self Timer you can put yourself in the picture without the panic.
In response to consumer demands for maximum creativity and shareability, the DV300F is the first 2View model to offer Wi-Fi enabled technology, enabling users to email their images or upload them direct to Facebook, Picasa, Photobucket and YouTube. Users can also save their images onto the camera's microSD memory card, which can then be wirelessly connected to the home PC and downloaded instantly to share and enjoy. Alternatively, they can also take advantage of integrated free storage space from Samsung's AllShare Play and Microsoft SkyDrive to make their photo accessible anywhere.
For appearance-conscious consumers on the look-out for sophisticated design and premium quality, the DV300F comes in a range of several shimmering metallic colours, including black, dark grey with a red back or dark grey with a blue back. The model has a sleek, seamless rounded outer contour for ease-of-use and ultimate style. None of this cutting edge innovation comes at the expense of image quality with an impressive 16 Megapixels, 5x optical zoom and a bright F2.5 lens with a 25mm wide-angle to capture all the action even at a distance.
Nick White, Head of Digital Imaging, Samsung Electronics UK and Ireland, said: "Our aim is to remain at the forefront of innovation within the 2View market. The new DV300F model with 2View LCD capturing, Wi-Fi connectivity, ultra premium styling and the latest creative features demonstrates Samsung's unwavering commitment to innovation within the digital compact camera market, as well as our ability to consistently meet the needs of our customers".
Get Creative with Magic Frame and Picture-in-Picture Shot
The DV300F is crammed full of fun features to maximise user enjoyment. The Magic Frame feature includes 12 fun background templates as well as the ability to create poster-quality art, perfect for sharing or hanging on your walls. The camera's Picture-in-Picture function, meanwhile, lets you insert one image with another. Impress friends by combining a still picture with a video clip and instantly upload to YouTube or your favourite social networking site.
Maximise enjoyment with latest photo shot features
With Split Shot, you can merge up to three different images to create your very own artistic masterpiece. Additionally, pictures from other cameras can be imported too. With the Funny Face mode you can also add goofy grins, comical noses or even crazy eyes to shots of friends and family in eight different modes.
The innovative new Artistic Brush feature can instantly take a portrait or landscape shot or even a movie clip and transform it into a black and white or a colour sketch to create your own masterpiece! You can then show off your artistic creation via the camera's LCD, or upload your creation to social networking sites or YouTube to share your creations with friends and family.
Finally, the DV300F also includes Motion Photo, so that you can freeze time around a moving subject for a really dramatic effect to your pictures, such as capturing a friend jumping in the park while keeping everyone else around them still.
RRP £179.99
Your Comments