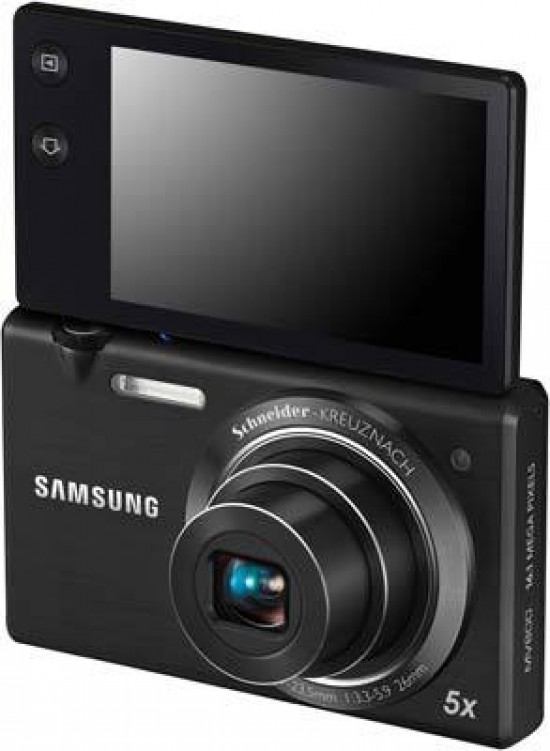 The Samsung MultiView MV800 is a unique digital camera with a flip-out touchscreen display. The MV800's 3 inch Wide Flip-out MultiView Touch Display captures the perfect self-portrait or extreme low and high angled shots. The MV800 also offers 16.1 megapixels, a 5x optical zoom lens with 26mm wide-angle setting, 720p movies, and the innovative Storyboard Maker. The Samsung MV800 will be available in mid-September for £249.
Samsung UK Press Release
Samsung MultiView Camera Offers Great Photography From All Angles
3.0" Wide Flip-out touch display for camera users to shoot, record and view life from all angles

London, UK – September 1 2011 – Today at IFA 2011, Samsung Electronics, a global leader in digital media and digital convergence technologies unveils the Samsung MultiView MV800, with a 3.0" Wide Flip-out Display. With this launch the company is pioneering a unique new "MultiView" category to enable today's increasingly ambitious camera user to frame the perfect shot from any angle.
The ultra slim and stylish device boasts enhanced picture quality, touch screen technology, as well as many innovative and user-friendly features to ensure that all users can relax and enjoy their shooting experience, confident of capturing even the most challenging images.
The Samsung MultiView MV800 builds on the success of Samsung 2View technology and is the first premium compact model to feature a 3.0" Wide Flip-out MultiView Touch Display. Samsung has designed the device with the user in mind, in response to evolving consumer demands in the segment for maximum flexibility, enjoyment and creativity.
The 3.0" Wide Flip-out Display opens up a world of artistic possibilities, whether it is capturing the perfect self-portrait to polish your online profile, or extreme low and high angled shots to demonstrate your photographic prowess. The unique screen tilts up and down so you can frame every shot, and easily view back your images from any perspective.
For style-conscious consumers on the lookout for sophisticated, minimalist styling, the device's ultra- slender design and contemporary metallic finish promises to make a visual impact.
The Samsung MultiView MV800 camera offers an impressive 16.1 megapixels for premium picture quality, along with a 5x optical zoom lens to capture every detail in close-up and 26mm wide-angle lens for capturing larger gatherings in high definition. By packing this technology into a sleek and slim device, the Samsung MultiView MV800 is the ideal camera for premium-quality image capture on the move.
The innovative Live Panorama function, meanwhile, enables the easy photography of large groups by simply holding down the shutter button, then previewing the whole scene that's been captured, via the LCD. Moreover, by simply connecting the Samsung MultiView MV800 to a 3D HDTV, images and panoramic shots can be viewed in outstanding 3D in-depth quality instantly.
And whilst the Flip-out Display means you can take shots from all angles without having to contort yourself, the unique Smart Touch 3.0 with Wallpaper user interface ensures highly intuitive operation to save your fingers the effort, allowing you to drag and scroll through menu options to launch the required feature with only one touch. Smart Touch 3.0 also keeps it fun by letting users customise their background image or wallpaper.
Nick White, Head of Digital Imaging, Samsung UK, comments: "Our aim is to continually be at the forefront of digital compact camera innovation and the breakthrough MultiView proposition offered by the Samsung MultiView MV800 is the embodiment of that goal. The camera's unique ability to capture images from any angle, with its stylish and ultra-slim design demonstrates unparalleled Samsung innovation which we believe will appeal to every photographer, and establish a new benchmark for the industry."
Get creative with Magic Frame and Picture-in-Picture shot
The Samsung MultiView MV800 has been designed as more than just a camera - it is a creative tool for users to extract maximum enjoyment from all photographic opportunities. The Magic Frame feature includes 12 fun background templates, as well as the ability for users to customise their own. The camera's Picture-in-Picture function, meanwhile, lets you insert one image with another, you can even use the Flip-out display to snap a self-portrait and put yourself in the picture!
Maximise enjoyment with Smart Filter and Funny Face features
Smart Filter allows users to express their own creativity, through a menu of 14 artistic effects, including the newly added Water Paint for a stylish watercolour finish or the Cartoon capability, transforming any photo into a fun animated film format. The fun doesn't stop there - Funny Face allows you to bend, stretch and manipulate portraits of loved ones by tapping and dragging to radically distort facial characteristics, ready to share and enjoy.
Capture the perfect portrait with ease
The built in Pose Guide function advises users how to best get into position with line drawings on the LCD screen, so you can capture the optimum image from any angle. The device also provides the perfect picture in real time, with the easy-to-navigate Photo Editor function, allowing you to edit and rotate the image on the move. Loved ones and friends will also appreciate the Beauty Shot feature, enabling you to edit out any imperfections, resulting in a flawless photo.
Create your own story
The Samsung MultiView MV800 allows you to become the creative director of your own life, with innovative Storyboard Maker. Users can prepare a storyboard from the images they've shot by simply selecting the layout, and then placing the photos in order. Whether you're creating a movie of a night out with friends or fantastic family holiday, see it laid out on the display as clearly as you do in your head.
Creative intelligence at your fingertips
To ensure you capture the best image possible to enjoy, share and impress, simply snap a wide-angle shot of a friend and the Samsung MultiView MV800 will automatically search out and capture two other strong images at different zoom ratios, giving you three great photos with one click. You of course get the last word on which of the three to select – or simply keep them all.
HD movie capability in the palm of your hands
The Samsung MultiView MV800 also boasts HD recording capabilities, within a compact body that will fit into the palm of your hand. Enjoy consistently clear and crisp video with technology that allows you to capture special memories with a recording time of up to twice as long as standard MPEG4. The innovative zoom noise reduction technology, meanwhile, ensures that the only sound recorded will be the laughter and conversation of loved ones, not the whirring of the zoom.
The Samsung MultiView MV800's combination of industry-leading innovation, sophisticated design and the ultimate in user-friendly features, ensure total mobility, premium picture quality and maximum enjoyment. The Samsung MultiView is the perfect tool to not just capture an image but to tell a fun and creative story on the move.
For more information on the Samsung MultiView MV800, please visit: www.samsung.com/multiview
Specifications
Samsung MultiView MV800
Image sensor Type CCD
Size 1/2.3?
Effective Pixel Approx. 16.2 megapixels
Total Pixel Approx. 16.4 megapixels
Lens Brand Schneider-KREUZNACH
Optical Zoom ratio Optical 5x
Digital Zoom ratio 5x (total : 25x)
Focal Length (f) 4.7~23.5mm
Focal Length 35mm Conversion 26~130 mm
F No. F3.3(W)~F5.9(T)
Image Stabilizer Dual IS (OIS + DIS)
* OIS (Optical Image Stabilization), DIS (Digital Image     Stabilization)
Display Device Type TFT LCD
Size 3.0"W (7.62cm)
Bright Adjust Yes
Touch panel Yes
Viewfinder
N/A
Focusing Type TTL auto focus
Range Normal : 80cm ~ infinity(Wide), 150cm ~ infinity(Tele)
Macro :5cm ~ 80cm (Wide), 100cm ~ 150cm (Tele)
Auto Macro : 5cm ~ Infinity (Wide), 100cm ~ Infinity (Tele)
Multi AF Yes
Center AF Yes
Face Detection AF Yes
Object Tracking AF Yes
Smart Face Recognition AF Yes
One Touch Shooting AF Yes
Shutter Speed Program : 1 ~ 1/2,000 sec.
Night : 8 ~ 1/2,000 sec (AEB, continuous : 1/4 ~ 1/2,000 sec.),
Smart Auto: 1/8~ 1/2000 sec
Exposure Control Program AE
Metering Multi
Spot
Center Weighted
Face Detection AE
Compensation ±2EV (1/3EV steps)
ISO Equivalent Auto, 80, 100, 200, 400, 800, 1600, 3200
Flash Modes Auto
Auto & Red-eye reduction
Fill-in flash
Slow sync
Flash Off
Red-eye fix
Range Wide: 0.2 m~3.2 m(Auto ISO)
Tele: 0.5 m~1.8 m(Auto ISO) - TBD
Recharging Time Approx. 4 sec.
Sharpness
Soft+, Soft, Normal, Vivid, Vivid+
White Balance Auto
Daylight
Cloudy
Fluorescent_H
Fluorescent_L
Tungsten
Custom
Mode 1.Smart Auto
2. Program
3. Movie
4. 3D (3D Still) - App
5. Live Panorama (2D, 3D)-App
6. Scene
7. Smart Movie
8.Self Shot
9.Picture in Picture
Capture Scene Magic Frame -App
Beauty-Shot - App
Object Highlight -App
Night - App
Landscape
Text
Sunset
Dawn
Backlight
Beach&Snow
Pose guide
Funny face
Intelligent portrait
* Drive : Single, Continuous, AEB, Motion Capture
Size 16M : 4608x3456       14M P : 4680×3040,
10M : 3648x2736,      12M W : 4608×2592,
5M : 2592x1944,        3M : 1984x1488,
2MW : 1920×1080,      1M : 1024x768
File format JPEG, MPO
DCF, EXIF 2.21, DPOF 1.1, PictBridge 1.0
Smart Auto Portrait
Night Portrait
Backlight Portrait
Night
Backlight
Landscape
White
NaturalGreen
BlueSky
Sunset
Macro
Macro Text(Smart Grid)
Macro Color
Tripod
Action
Fireworks
Drive Single, Continuous, AEB, Motion Capture
Self Timer Off, 2 sec., 10 sec., Double
Smart Filter (Capture) Miniature
Vignetting
Soft Focus
Old film 1
Half Tone Dot
Sketch
Fish Eye
Classic
Retro
Oil-paint
Water-paint
Cartoon
Cross-filter
Zooming Shot
Image Adjust (Capture) Sharpness
Contrast
Saturation (5 steps)
Image Play Mode Single image
Thumbnails
Advanced Slide show
Movie Clip
Smart Album
PB ZOOM 1.0X~12.5X (depends on image size)
Slide show Slide show with Effect & Music
Smart Filter (Play back) Miniature
Vignetting
Soft Focus
Old film
Half Tone Dot
Sketch
Fish Eye
Classic
Retro
Oil-paint
Water-paint
Cartoon
Cross-filter
Zooming Shot
Image Adjust (Play back) Face Retouch
Brightness
Contrast
Saturation
Red Eye Fix
Add Noise
Image Edit Resize
Rotate
Trimming
Photo Editor 2.0 - Rotate, Trimming, Effect (App)
Storyboard Maker (App)
Smart Album category Type
Date
Week
Face
Date Imprinting Off
Date
Date & Time
Voice File format N/A
Voice Memo N/A
Movie Clip Feature * 5X Optical Zoom enable (Max Recording time : 20min)
* Due to the noise while optical zooming, user can select to record sound or not.
(Voice recording selectable : Sound Alive On/ Sound Alive Off/ Mute)
File format MP4(Video: MPEG-4/H.264, Audio:AAC)
Smart Movie Landscape
Blue Sky
Natural Green
Sunset
Size 1280x720 (30fps, 15fps)
640x480 (30fps, 15fps)
320x240 (30fps, 15fps)
Smart Filter Palette Effect 1
Palette Effect 2
Palette Effect 3
Palette Effect 4
Miniature
Vignetting
Half Tone Dot
Sketch
Fish Eye
Classic
Retro
Edit
(Playback) Pause during Recording and Playing, Still Image Capture, Time Trimming
Storage Internal Approximately 10MB
* Internal memory capacity may not match these specifications.
External Micro SD Card(up to 2GB)
Micro SDHC (up to 32GB)
Interface Digital Output Connector USB 2.0
Audio Microphone : Mono
Internal Speaker : Mono
Video output AV : NTSC, PAL (user selectable)
HDMI 1.3 : NTSC, PAL (user selectable)
HDMI Type D
DC power input 5.0V
Power Supply Power Source Rechargeable battery : BP70 (Typ. 740mAh/ Min. 700mAh)
Charger : SAC-48(AC Adapter)
Connector Type : Micro USB (5Pin)
* Included items may vary depending on sales region.
Physical
Specification Dimensions (W×H×D) 92 x 56.2 x 18.3 mm
Weight 121 g (without battery and memory card)
Operating Temperature 0~40 °C
Operating Humidity 5~85%
Software Camera Driver N/A
Application Intelli-studio (Built-in)
Special Features 16MPixel
26mm 5X Zoom
3.0" Wide Touch Flip-out LCD (WQVGA)
HD movie with ZNR
720@ 30fps Movie recording / H.264 Format + HDMI (D Type)
Dual IS
Live panorama (2D, 3D), 3D Photo
Funny Face
Storyboard Maker
Magic Frame
Intelligent Portrait
Smart Filter 3.0
Photo Editor
Self Pose Shot
Intelli-Studio Built-in
All functionality, features, specifications and other product information provided in this document including, but not limited to, to benefits, design, components, performance, availability and capability of the product are subject to change without notice or obligation.
About Samsung Electronics Co., Ltd.
Samsung Electronics Co., Ltd. is a global leader in semiconductor, telecommunication, digital media and digital convergence technologies with 2010 consolidated sales of US$135.8 billion. Employing approximately 190,500 people in 206 offices across 68 countries, the company consists of nine independently operated business units: Visual Display, Mobile Communications, Telecommunication Systems, Digital Appliances, IT Solutions, Digital Imaging, Memory, System LSI and LCD. Recognized as one of the fastest growing global brands, Samsung Electronics is a leading producer of digital TVs, semiconductor chips, mobile phones and TFT-LCDs. For more information, please visit www.samsung.com.
Image Gallery
Click on a thumbnail to see the full version.
Your Comments