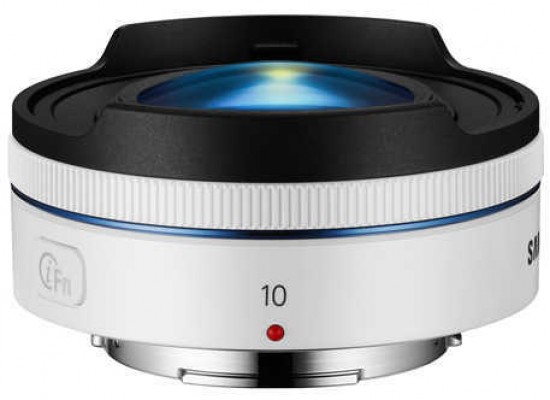 Samsung has announced a 10mm fisheye lens for its NX system. Billed as the smallest AF fisheye lens on the market, the Samsung 10mm f/3.5 weighs in at only 72 grams, and has a diagonal angle of view of 180 degrees. The optical formula comprises 7 elements in 5 groups including one aspherical element, and an iris diaphragm with 7 rounded blades. The Samsung 10mm F3.5 Fisheye Lens will be available to buy in the UK later this year.
Samsung Press Release
SAMSUNG ANNOUNCES THE SLIMMEST AND SMALLEST FISHEYE LENS ON THE MARKET FOR NX SYSTEM

New super wide 10mm F3.5 Fisheye Lens captures unique images
11 June 2013, London, UK – Photography enthusiasts and advanced hobbyists can now shoot wider than ever before with the launch of the new Samsung 10mm F3.5 Fisheye Lens. The smallest AF fisheye lens on the market, this super wide angle lens is half the size and weight of its competitors, offering photographers a convenient way of expanding their creative horizons without having to carry weighty accessories.

The new lens represents Samsung's innovation in 180-degree lens technology, and is compatible with the award winning NX system, including the new NX300. Its expanded field of view makes the new 10mm fisheye lens the perfect companion for landscape photographers – allowing them to compose images of sprawling cities, picturesque scenery and beautiful skies that stretch further than the eye can see. The lens' ultra-wide fisheye perspective also allows them to create unique portrait images, producing interesting effects and striking portraiture, so they can have more fun with their photography.

At 72g, this compact lens easily fits into a camera bag or purse for lightweight travel and outdoor shooting. Image quality is paramount to Samsung's lens design, and this silent AF ultra-wide angle lens delivers high quality photographs in virtually any situation.

For the ultimate photographic experience, the lens comes with a number of iScene options, including Beauty Shot, Portrait, Night, Backlight, Children and Sports, making it adaptable for the needs of every photographer. The 10mm F3.5 Fisheye is also fitted with a Circular Aperture Diaphragm to bring the subject of your images front and centre.

The Samsung 10mm F3.5 Fisheye Lens comes in stylish white or black to complement the NX series of cameras, and will be available to buy in the UK later this year.
Your Comments