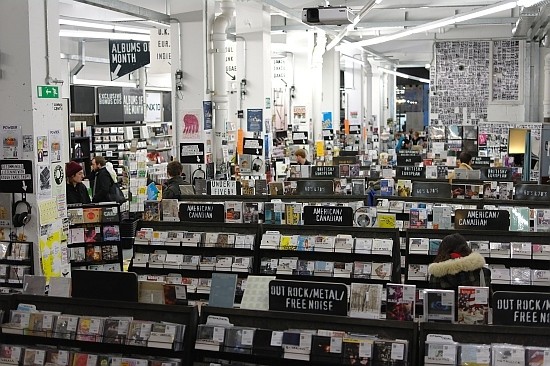 Samsung today announced a new partnership with iconic record store, Rough Trade East. The partnership with Samsung centres upon the NX digital cameras, namely the NX10, NX11 and NX100. Commenting on the partnership, Stephen Godfroy, Director of Rough Trade, said: "Music and photography have always been inexorably linked, we're continuing that tradition with a typical Rough Trade DIY ethos, involving staff, audience and artists to capture the magic of a place like Rough Trade East."
Samsung Press Release
Samsung partnership with Rough Trade East
17 March 2011 – Samsung, one of the world's leading manufacturers of consumer electronics, is delighted to announce a new partnership with iconic record store, Rough Trade East.
Rough Trade East, in Spitalfields' historic Truman Brewery, is Europe's largest record store.
At approximately 6000 sq/ft in size, Rough Trade East is home to only the most exciting music, both recorded and live in-store performances, an epicentre of music celebration, a place where people of all ages and musical taste gather to soak up the inspiring cultural atmosphere.
Samsung is supporting Rough Trade East as part of the stores continuing love affair with photography, which also includes partnering Steidl Publishing to offer 100 Steidl titles as the official Steidl London store.
The partnership with Samsung centres upon the NX digital cameras, namely the NX10, NX11 and NX100. Store staff have been given NX models to document the uniquely inspiring, eclectic activity that revolves around this cultural agora. Whether that be in-store performances, Q&A sessions, or just the magical ebb and flow of visitors that find their way East, Samsung empowers the capture of these with NX quality.
Commenting on the partnership, Stephen Godfroy, Director of Rough Trade, said: "Music and photography have always been inexorably linked, we're continuing that tradition with a typical Rough Trade DIY ethos, involving staff, audience and artists to capture the magic of a place like Rough Trade East. We're really excited to be working with Samsung to celebrate this relationship in store."
Steve Mitchell, General Manager, Marketing, Samsung Digital Imaging added: "Samsung's NX range of compact system cameras are ideal for music photography, incorporating innovative design, advanced features, and professional quality into a compact form .
"We're absolutely delighted to be working with Rough Trade, to support their wish to celebrate the relationship between music and photography in store, and hopefully to provide some insight in to what makes Rough Trade special, and so loved by legions of music fans."
Your Comments