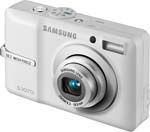 The Samsung S1070 is a new 10 megapixel entry-level digital camera. Highlights of the S1070 include a 3x optical zoom lens, Intelligent 2.7-inch LCD screen, Face Detection and Digital Image Stabilisation. The Samsung S1070 is priced at £99 and will be available from September 2008. All Samsung cameras include a two year warranty.
Samsung UK Press Release
Samsung's 10.2 Mega-Pixel S1070 further strengthens Samsung's range

16 July 2008 - Samsung Cameras, is building on the success of its S Series range of cameras with the launch of the S1070, a highly featured compact camera with a premium quality 10.2 megapixel image sensor. Incorporating a 3x optical zoom lens and Intelligent 2.7" LCD screen, the S1070 combines all the hardware today's picture takers require with intuitive ease-of-use, at an affordable price.
The S1070 boasts Samsung's Face Detection technology which detects the subject's face, automatically adjusts auto focus and auto exposure to ensure better composition and image quality for portraits.
An extremely stylish 10.2 megapixel compact camera the S1070 is packed with Samsung's imaging technology and features such as Digital Image Stabilisation, which helps compensate unwanted camera movement and subject blur - so pictures are always in sharp focus.
Other features include:
• An ISO equivalent of 1600
• 10 scene modes including Night, Portrait, Children, Landscape, Close-up, Sunset, Backlight, Fireworks and Beach & Snow
• Movie mode, which lets users pause and zoom in while recording movies
The S1070 is priced at £99 and will be available from leading high street and online retailers from September 2008. All Samsung Cameras include a two year warranty. Customers requiring further information should call 0845 726 7864 or visit samsungcamera.co.uk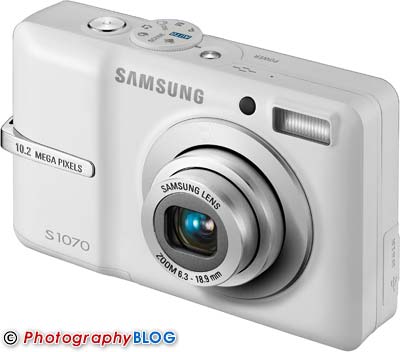 Your Comments