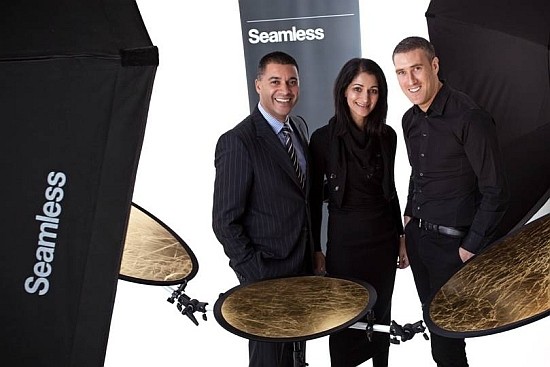 The new Seamless Internet store offers photographers easy access to the tools that they need most, while also providing a creative hub with inspirational resources from the worlds's finest photographers. Carrying a wide-range of products such as complete studio lighting solutions, exquisite lens filters and more, Seamless offers free shipping all over Europe. "The products that we have on offer are of the highest standard," says Padraic Deasy, Irish Photographer of the year 2011. "The build, the design and the durability of Seamless accessories puts the necessary tools into the hands of photographers and frees them to achieve their unique vision.""
Website: Seamless
Seamless Press Release
Announcing Launch of Online Photography Product Company Seamless

With Worldwide Distribution, Seamless is Poised for the Christmas Season with their Own-brand of Photography Accessories at www.seamlessphoto.com.
Seamless is fast becoming a world-class photographic brand that supplies key photographic equipment online to photography lovers all over the planet. With free shipping all over Europe, the Seamless internet store has been designed to allow photographers easy access to the tools that they need most, while also providing a creative hub with inspirational resources from the worlds's finest photographers.
Seamless is delighted to bring choice and competitiveness to the consumer in the form of a new photographic accessory brand. Seamless provides a wide-range of products such as complete studio lighting solutions, exquisite lens filters and presentation folders that are proving very popular with photographers all over the world. Having established customers in most Europan countries, Seamless has also sold photography equipment to camera users in America, Australia, New Zealand and India.
Part of the Seamless story is to provide wold-class training in the from of seminars by some of the top photographers working today. This has gained Seamless the trust of the photographic community with camera-users in Ireland, the UK, Germany and the Netherlands being among Seamless' best customers.   
Stepping out onto the world stage from today, Seamless has been a labour of love for Padriac Deasy FIPPA, a recent recipient of the European Portrait Photographer of the Year Award, his wife Sonia Deasy and her brother Robert Sood. Seamless aims to fill a gap in the creative industry market through a fusion of a highly successful photographic partnership, provided by Padraic and Sonia at Deasy Photographic, and a formidable business presence from Robert of Stone Merchant, one of Ireland's biggest importers of natural stone and ceramic tile.
The Seamless brand is presented in a modern aesthetic, inspired by current trends in the fashion world. Seamless offers the creative customer exactly what they want with worldwide delivery.
At the Seamless launch Robert Sood said, "For years I have been telling Padraic we should do something together by combining my sourcing/distribution experience with his talent for photography. I have experience importing from all the major hubs so it made absolute sense to do this. It has all just come together at the right time. Padraic's connections with pro photographers worldwide will provide us with a good platform to drive traffic to our website through product endorsements and "how to" and "be inspired" stories."
Padraic Deasy said, "At Seamless we aim to restlessly innovate and inspire your photographic journey. The products that we have on offer are of the highest standard. You only have to hold one of our flagship products, such as a Neutral Density Filter, and instantly realise that it is unlike anything you have ever used in the same price range. The build, the design and the durability of Seamless accessories puts the necessary tools into the hands of photographers and frees them to achieve their unique vision."
Sonia Deasy said, "At the core of the Seamless brand is a team of people that genuinely care about photography. Almost everyone involved has a background in photography or media and it was important to us that we produce products that we ourselves would be proud to use. Seamless is not just a new shop, it is a push to forward the development of photographic practice by knowing exactly what the industry is crying out for and having the business experience to put a Seamless product into the working world of all photography lovers."
Your Comments