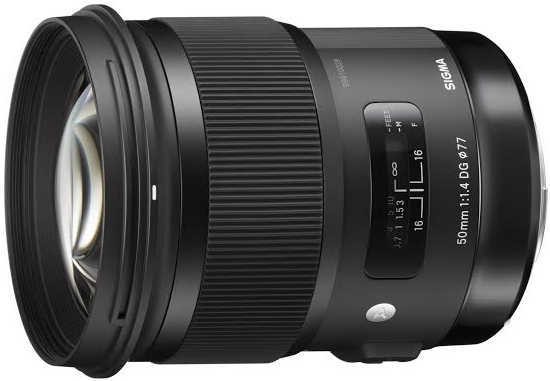 Sigma has announced the recommended price of the new Sigma 50mm f/1.4 DG HSM Art lens. The Sigma 50mm f/1.4 DG HSM has an optical formula featuring 13 elements in 8 groups and an iris diaphragm with 9 rounded blades. The lens incorporates a floating system that adjusts the distance between lens groups while focusing, thereby reducing the amount of lens movement required. A Hyper Sonic Motor (HSM) enables fast and quiet auto focus operation. The 50mm f/1.4 DG HSM Art lens will be available later this month for $949 in the USA. In the UK it will cost £849 with Canon and Sigma fits available in May, Nikon fit following in June, and Sony and Pentax still to be determined.
Sigma Press Release
Sigma Corporation of America Announces Pricing and Availability of 50mm F1.4 DG HSM Art lens
New, prime Art lens on US shelves for $949 in late April
RONKONKOMA, N.Y. -- (BUSINESS WIRE) -- Sigma Corporation of America, a leading researcher, developer, manufacturer and service provider of some of the world's most impressive lines of lenses, cameras and flashes, is pleased to announce that the newest addition to its Global Vision Art camera lens lineup, the 50mm F1.4 DG HSM Art, will be available late April for the street price of $949.
The much anticipated 50mm F1.4 DG HSM Art is a pro-level performer for full-frame DSLRs and is ideal for many types of videography and photography, including portraits, landscapes, studio work and still-life. It has been redesigned and re-engineered with SLD glass and has been optimized for rich peripheral brightness, with improved large aperture performance by positioning wide elements into the front groups.
Other updates to this new lens include an optimized autofocus algorithm for smoother focusing and a floating focusing system to reduce lens movement while focusing. Under the Global Vision line, it features a new matte finish, an updated AF algorithm and every lens undergoes Sigma's proprietary modulation transfer function (MTF) "A1" testing before being shipped. It has 13 elements in eight groups, compared to the previous eight elements in six groups, and it also has improved close focusing at 15.7 inches and a maximum magnification ratio of 1:5.6.
"Our Art lenses, such as the 35mm F1.4, 24-105mm F4 and 18-35mm F1.8 have been incredibly well received to date, and we couldn't be more thrilled with the excitement around the news of this upgraded 50mm F1.4," said Mark Amir-Hamzeh, president of Sigma Corporation of America. "Clearly, the industry is hungry for reasonably priced, powerful, high-quality, multi-purpose lenses – and they've seen the image quality that's being produced by our new Global Vision lenses. There are no sacrifices with these products, and the new 50mm F1.4 is sure to be another star in our lineup."
The 50mm F1.4 was first announced at the Consumer Electronics Show this year. It incorporates Sigma's Hyper Sonic Motor (HSM) system to produce quiet, high-speed auto focus. In addition, it includes Super Multi-Layer Coating to reduce flare and ghosting, and to ensure the highest-quality images. The 50mm F1.4 DG HSM lens is also compatible with Sigma's USB dock and the company's Mount Conversion Service.
The Sigma 50mm F1.4 DG will be available in Sigma, Sony (D), Nikon (D), and Canon mounts.
For information about Sigma Corporation of America, visit www.sigmaphoto.com.
About Sigma Corporation
Since 1961, Sigma has worked toward a single, simple goal: To imagine and develop photographic technologies that push the envelope, empower photographers and produce unparalleled imagery. We've honored this commitment by maintaining control of our design, research and development, and manufacturing processes in our own Aizu Factory. Our products are built with premium materials and are known worldwide for quality and performance. Our family-owned organization is the largest, independent SLR lens manufacturer in the world, producing more than 45 lenses that are compatible with most manufacturers, including Sigma, Canon, Sony, Nikon, Olympus, Panasonic and Pentax. Sigma Corporation also produces digital SLR cameras and high-definition digital compact cameras. The company is headquartered in Japan, with offices strategically located throughout Europe, Asia and North America. Photography is all we do, and it's all we've ever done.
Your Comments