Sigma Announces Pricing for 18-35mm f/1.8 Lens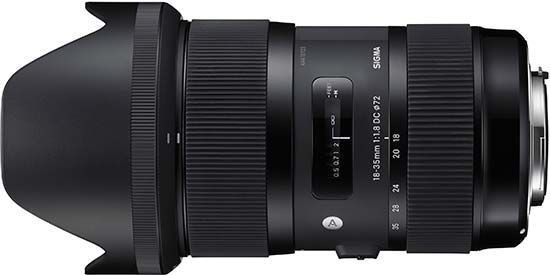 Sigma has announced pricing and availability details for its 18-35mm f/1.8 DC HSM Art lens. Billed as the first zoom lens ever to achieve a maximum aperture of f1.8 throughout the zoom range, the Sigma 18-35mm f/1.8 DC HSM is designed for digital SLR cameras with APS-C size sensors, and offers a focal range equivalent to 27-52.5mm in the 35mm format. The lens will arrive in the United States early July for the street price of $799. The UK RRP will be £799.99 including VAT. This new lens will be available in Canon and Sigma mount in early July with Nikon mount following towards the end of July. Availability for Sony and Pentax mount is to be announced at a later date.
Sigma Press Release
Sigma Corporation Announces Pricing and Availability for New 18-35mm F1.8 Lens
World's first F1.8 constant aperture zoom lens to arrive in U.S. early July
RONKONKOMA, N.Y.--(BUSINESS WIRE)--Sigma Corporation of America, a leading researcher, developer, manufacturer and service provider of some of the world's most impressive lines of lenses, cameras and flashes, today announced that its new Sigma 18-35mm F1.8 DC HSM Art lens will arrive in the United States early July for the street price of $799.
As the market's first zoom lens to achieve a maximum aperture of F1.8 throughout the entire zoom range, the 18-35mm was created for DSLR cameras with APS-C size sensors, which translates to a focal range of 27-52.5mm on a 35mm camera. This lens will be available early July in Sigma and Canon mounts, with Nikon, Sony and Pentax mounts to follow.
"Sigma users are really excited about this lens. They've been watching the new Art line very closely – and their reaction to our initial announcement of this lens has been fantastic," said Mark Amir-Hamzeh, president of Sigma Corporation of America. "More than 50 years of innovating with photography equipment has helped us build new generation lenses like the 18-35mm F1.8. We're confident that photographers who focus on landscape, portrait, still-life, studio, close-up and casual shots will love this lens."
The 18-35mm F1.8 is the latest addition to the company's Art line of lenses, designed under the new Global Vision. The Global Vision lenses have a sleek new design with the manufacturing year stamped on the barrel, and are categorized by use into one of three groups: Art, Contemporary and Sports. The Art category delivers high-level artistic expression through sophisticated and abundant expressive power.
The new 18-35mm F1.8 lens features Sigma's improved AF/MF switch and the use of Thermally Stable Composite (TSC) compound material, which has a high affinity to metal parts, consistently performs well at extreme temperatures, and reduces the size and weight of the lens. The lens' Super Multi-Layer Coating reduces flare and ghosting and provides sharp and high contrast images, even in backlit conditions. Sigma's Hyper Sonic Motor (HSM) ensures a silent, high-speed AF function, while its nine-blade, rounded diaphragm creates an attractive, round bokeh at large-aperture settings.
The 18-35mm F1.8 lens is also compatible with Sigma's new USB Dock, which is available for the street price of $59, enabling photographers to update lens firmware and adjust focus parameters from their computers.
For information about Sigma Corporation of America, visit www.sigmaphoto.com.
About Sigma Corporation
For 50 years, Sigma Corporation's expertise and innovation has driven the company's core philosophy of "knowledge, plus experience, plus imagination," with an emphasis on producing high-quality, high-performance photographic technology at moderate prices. This family-owned organization is the largest, independent SLR lens manufacturer in the world, producing more than 50 lenses that are compatible with most manufacturers, including Sigma, Canon, Sony, Nikon, Olympus and Pentax. Sigma Corporation also produces digital SLR cameras and high-definition digital compact cameras. The company is headquartered in Japan, with offices strategically located throughout Europe, Asia and North America. For information, please visit www.sigmaphoto.com.
Your Comments