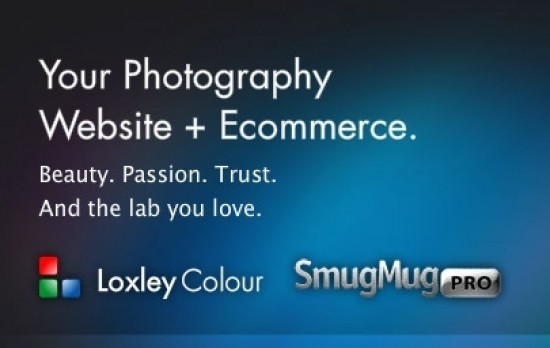 SmugMug and UK-based pro lab Loxley Colour have announced a new alliance offering a turnkey online business solution, enabling photographers to easily and cost-effectively showcase and profit from their work. Said Ian Loxley, managing director at Loxley Colour: "This integration means that photographers will never again have to manually take and fulfil orders for high quality prints. This new ecommerce solution gives customers the ability to sell prints and digital downloads for their photo and video inventories."
Smugmug Press Release
SmugMug and Loxley Colour launch groundbreaking online ecommerce solution for Europe's photographers
Professional and serious amateur photographers across Europe are set to benefit from a groundbreaking new integration with international photo-website leader SmugMug and pioneering UK-based prolab Loxley Colour.
The new deal offers a turnkey online business solution, enabling photographers at all skill levels to easily and cost-effectively showcase and profit from their work.
Chris MacAskill, co-founder and president of Smugmug said: "Most photographers want to focus on their creativity. They are mainly time-poor and have little interest in the challenges of setting up and managing their online presence, or fulfilling orders for high quality prints. But they still want to capitalise on their creativity – and that is where SmugMug and Loxley Colour enter the frame. We have created a seamless solution whereby photographers, across the full range of photo-disciplines, can easily showcase, market, sell and deliver their work to their clients."
Multi-award-winning Scottish portrait photographer Trevor Yerbury added: "This alliance is exactly what the industry has been waiting for. Photographers need to concentrate on what they do best - capturing great moments. This new commercial integration between two internationally acclaimed players means we can now simply upload our images, add our price lists and let SmugMug and Loxley Colour do the rest. We can still use our own custom domain, watermarks and logos. Plus, we can control the look and the feel of our website and Loxley then handles all the output requirements. It's a perfect fit all round."
SmugMug Pro subscriptions start from under $20/month (~ £15)  or $150/year (~ £100)  – and the new service guarantees zero ads and spam, 24/7 customer support, easy SEO and site stats, and unlimited photo and video uploads.
Said Ian Loxley, managing director at Loxley Colour: "This integration means that photographers will never again have to manually take and fulfil orders for high quality prints. This new ecommerce solution gives customers the ability to sell prints and digital downloads for their photo and video inventories."
The new SmugMug and Loxley Colour service goes live on March 23, 2012.
For more information: http://smu.gs/xGBJmG and smugmugpro.com
About SmugMug:
SmugMug Pro shares your passion for photography. Whether you shoot babies or brides, you get a complete ecommerce solution for your business. Simplify your life with unlimited uploads, a fully customizable website, guaranteed fulfillment and easy marketing tools.  Heroic support, pro labs and hundreds of print options—we have it all. Impress, market and sell with SmugMug Pro for just $20/month or $150/year. Learn more at www.smugmugpro.com.
About Loxley Colour
Loxley Colour has been involved in the photographic industry for over 50 years, providing a solid foundation for future development. The company's goal is to drive professional imaging firmly into a new and highly successful field, providing excellence of service and a strong commitment to clients, unmatched anywhere else in the industry. Close bonds with all the major professional photographic associations ensures that Loxley Colour remains focused on client needs while providing an ever expanding range of fantastic products and services. More detailed information is available at www.loxleycolour.com
Your Comments