Sony Updates NEX Lens Roadmap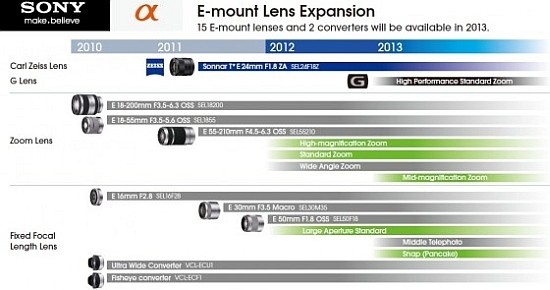 Sony has updated its roadmap for E-mount lenses. Currently, the NEX system offers seven Sony and Zeiss branded lenses alongside a few recently announced Sigma, Tamron and Kenko/Tokina products. As this is a relatively narrow selection of optics. especially when compared to the dozens of lenses available for the system's main rival, Micro Four Thirds, Sony has decided to introduce eight new lenses in the course of less than two years. On top of the wide zoom, high-performance standard zoom and medium telephoto lenses that were already on the roadmap, the company has now added a new standard zoom, a new superzoom, a large-aperture standard prime, a "mid-magnification zoom" and a pancake lens. This should bring the total number of E-mount Sony/Zeiss lenses to 15 by the end of 2013.
The specifications of the new lenses have not been released yet.
Source: Sony Blog
Your Comments