Steidl Publishes Reprint of American Prospects and Stranger Passing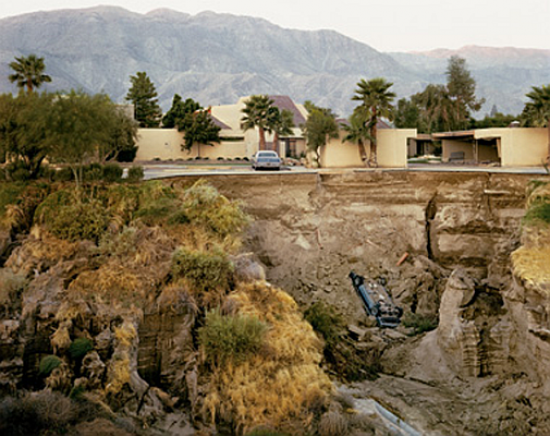 Steidl has announced new editions of two of Joel Sternfeld's classic photobooks. The reprint of his seminal American Prospects (€88 / £75) features new photographs, and a revised format and cover. The subjects of the now classic American Prospects include a fireman shopping for a pumpkin while a house burns behind him; motorcyclists at the side of the road taking in a stunning, placid view of Bear Lake, Utah; the hi-tech world headquarters of the Manville Corporation in picturesque Colorado, obscured by a defiant boulder; and a lone basketball net in the desert near Lake Powell in Arizona. The other book, Stranger Passing, (€65 / £50 / $88) contains portrait photographs that form in Douglas R. Nickel's words, an "intelligent, unscientific, interpretive sampling of what Americans looked like at the century's end."
Steidl Press Release
Introducing the reprint of American Prospects and Stranger Passing by Joel Sternfeld…
American Prospects
Joel Sternfeld
Essays by Kerry Brougher, Andy Grundberg and Anne W. Tucker
Book design by Joel Sternfeld and Gerhard Steidl
160pages15.4x12in./39x30.5cm
70 photographs
Four-colour process
Clothbound hardcover with a tipped-in photo
€ 88.00 / £ 75.00
ISBN 978-3-88243-915-1
October 2012
This is the definitive edition of Joel Sternfeld's seminal American Prospects, developed in close association with Sternfeld and featuring new photographs, and a revised format and cover. The subjects of the now classic American Prospects include a fireman shopping for a pumpkin while a house burns behind him; motorcyclists at the side of the road taking in a stunning, placid view of Bear Lake, Utah; the hi-tech world headquarters of the Manville Corporation in picturesque Colorado, obscured by a defiant boulder; and a lone basketball net in the desert near Lake Powell in Arizona. The book is a search for the truth of a country not just as it exists in a particular era, but as it is in its ever-evolving essence. It is a sad poem, but also a funny and generous one that recognizes endurance, poignant beauty and deter- mination within its sometimes tense, often ironic juxtapositions of man and nature, technology and ruin.
Stranger Passing
Joel Sternfeld
Passing Essays by Douglas R. Nickel and Ian Frazier
Book design by Joel Sternfeld and Gerhard Steidl
132 pages, 60 photographs 34 x 29 cm
Four-colour process
Clothbound hardcover with a tipped-in photo
Price: €65.00 / £50.00 /$88.00
ISBN 978-3-86930-499-1
October 2012
Over a period of fifteen years Joel Sternfeld travelled across America and took portrait photographs that form in Douglas R. Nickel's words, an "intelligent, unscientific, interpretive sampling of what American's looked like at the century's end." Unlike historical portraits which represent significant people in staged surroundings, Sternfeld's subjects are uncannily "normal": a banker having an evening meal, a teenager collecting shopping carts in a parking lot, a homeless man holding his bedding. Using August Sander's classic photograph of three peasants on their way to a dance as a starting point, Sternfeld employed a conceptual strategy that amounts to a new theory of the portrait, which might be termed "The Circumstantial Portrait". What happens when we encounter the other in the mist of a circumstance? What presumptions, if any, are valid? What, if anything, can be known of the other from a photographic portrait?
Your Comments