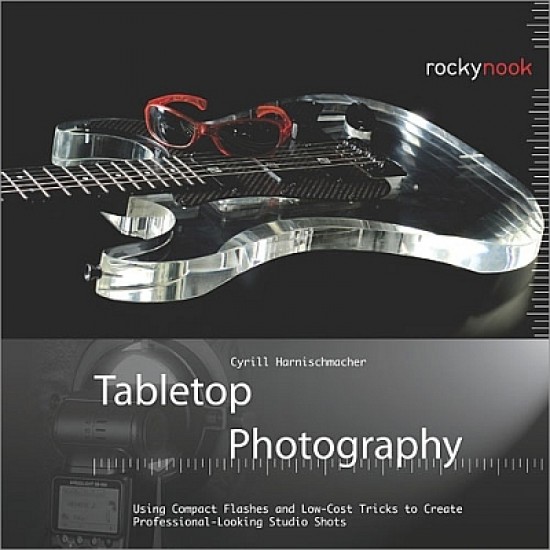 Tabletop Photography by Cyrill Harnischmacher is a new title from Rocky Nook. In this book, the author guides readers through a variety of exposure and lighting techniques, and covers how to achieve excellent results using small flash units. Topics covered include lighting setups, reflectors, diffusers and other accessories, softboxes and umbrellas, strobe flashes, multi flash exposures, product and food photography, and more. The 144-page volume can be pre-ordered now for $24.95, with an electronic version available for $11.95.
Press Release
Tabletop Photography — New from Rocky Nook
Using Compact Flashes and Low-Cost Tricks to Create Professional-Looking Studio Shots
Santa Barbara, CA — July 10, 2012 — Imagine capturing stunning, professional-looking product shots without needing a studio filled with expensive equipment and large flash units. Tabletop Photography (Rocky Nook, $24.95 USD) teaches all the steps for creating your own tabletop photography studio.
Affordable compact flashes offer a number of creative lighting options within your tabletop studio; and the appropriate lighting and backdrop, and the creative use of your camera's features are key to a perfect image.
Author Cyrill Harnischmacher guides you through a variety of exposure and lighting techniques, and covers how to achieve excellent results using compact flash units. Whether you wish to capture product images for use in print or on the web, or you want to improve your photos for personal use, this book will provide you with everything you need to know to get great results.
Topics include:
·      Lighting Setups
·      Reflectors, Diffusors, and Accessories
·      Soft Boxes and Umbrellas
·      Strobe Flashes
·      Combining Long Exposures with Flashlights
·      Multi-Flash Exposures
·      Composition and Arrangements
·      Creating Backdrops
·      Product Photography
·      Smoke, Fog, and Special Effects
·      Food Photography
·      And much more…
About the Author
Cyrill Harnischmacher is a photographer and designer who lives and works in southern Germany. His first book Low Budget Shooting won him the prestigious Fotobuch-award of the German Booksellers Association in 2005. Cyrill is a studio photographer by profession and a nature and infrared photographer by passion.
Cyrill has authored four beautiful, accessible, and successful books published by Rocky Nook. Earlier titles include Low Budget Shooting, Closeup Shooting, Digital Infrared Photography, and The Wild Side of Photography.
Your Comments