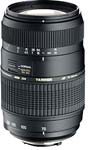 Tamron are releasing a new version of their popular 70-300mm telephoto lens that's compatible with the Nikon D40/D40x DSLRs. The revamped AF 70-300mm F/4-5.6 Di LD Macro 1:2 lens will have a built-in motor AF system. The price of the new Tamron 70-300mm for Nikon in the US is $189.00 and it will ship this week. It will be launched in Japan on February 1st 2008.
Tamron Press Release
TAMRON ANNOUNCES THE LAUNCH OF DIGITALLY INTEGRATED TELEPHOTO MACRO ZOOM, AF70-300MM F/4-5.6 Di LD MACRO 1:2 (MODEL A17NII) WITH BUILT-IN MOTOR FOR NIKON
January 21, 2008, Commack, NY, —Mr. Morio Ono, president and CEO of Tamron Co., Ltd., announced that the company will launch its popular telephoto macro zoom for full-size format — AF 70-300mm F/4-5.6 Di LD Macro 1: 2 ?Model A17NII?— with a Built-In Motor for Nikon.
SPECIFICATIONS
Model Name: A17
Focal Length: 70-300mm
Maximum Aperture: F/4-5.6
Angle of View: 34° 21' - 8° 15'
Lens Construction: 13 elements in 9 groups
Minimum Focus Distance: 1.5m (59") in normal setting, 0.95m (37.4") in macro mode (f=180mm-300mm range)
Maximum Mag. Ratio: 1:2 (at f=300mm MFD 0.95m)
Filter Diameter: Ø 62mm
Overall Length: 116.5mm (4.6") *
Maximum Diameter: Ø 76.6mm (3.0")
Weight: 458g (16.2oz)
Diaphragm Blades: 9 blades
Minimum Aperture: F/32
Standard Accessory: Hood
Values given are for Nikon AF-D cameras. The cosmetic design and specs are subject to change without notice.
1. A17NII does not function in the AF mode with some Nikon cameras since the lens uses a built-in motor AF system. Only the MF mode is functional. 
2. A17NII is not equipped with an aperture ring. Accordingly, there may be limitations and restrictions in use.
Your Comments