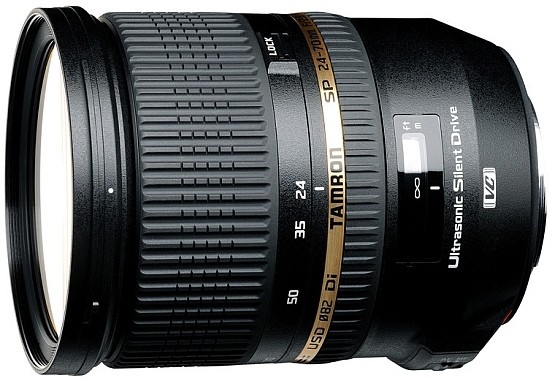 Tamron has announced the development of a new fast, optically stabilised, splashproof standard zoom for full-frame cameras. The Tamron SP 24-70mm F/2.8 Di VC USD will feature the manufacturer's Vibration Compensation (VC) technology and an ultrasonic focus motor for quiet AF operation. The optical formula comprises 17 lens elements in 12 groups, including three low-dispersion, two high-refractive-index and three glass-moulded aspherical elements as well as a hybrid aspherical element; and an iris diaphragm with nine rounded aperture blades. As the world's first 24-70mm f/2.8 lens with VC technology, the Tamron SP 24-70mm F/2.8 Di VC USD will be available in Canon and Nikon fit. A special A-mount version with no Vibration Compensation will be marketed to Sony DSLR users. Pricing and availability to be communicated.
Tamron Press Release
New Tamron SP 24-70mm F/2.8 VC USD lens with Vibration Compensation
.
Full-size, high-speed standard zoom with class-leading resolution and Tamron's proprietary VC (Vibration Compensation)
Tamron Co., Ltd., a leading manufacturer of optical equipment, announced the development of the SP 24-70mm F/2.8 Di VC USD (Model A007), a full-size high-speed standard zoom lens equipped with VC (Vibration Compensation)  image stabilization and USD (Ultrasonic Silent Drive), with resolution at the top of its class.
Product Features
1. A full-size, high-speed standard zoom with built-in VC (Vibration Compensation). Even when shooting in low-light conditions with a slow shutter speed to render sharpness, Tamron's acclaimed VC allows for stable handheld camera work, to more fully enjoy the benefits of this high-speed zoom lens.
2. Uses special high-grade glass in the three LD elements, three glass molded aspherical lenses, one hybrid aspherical lens and two XR (Extra Refractive Index) glasses, delivering top-of-the-class quality images suited to this high-grade lens. Using a rounded diaphragm, the lens achieves gorgeous blur effects. This rounded diaphragm retains a nearly circular shape even when taken two stops down from its fully open state.
3. Features Tamron proprietary USD (Ultrasonic Silent Drive) to power a speedy AF drive together with a continuous manual mechanism. 
4. This high-speed standard zoom lens has a wide-end focal length of 24mm that expands the photographic area.
5. The lens adopts the new technology including the latest optical design, VC (Vibration Compensation) image stabilization and USD (Ultrasonic Silent Drive), all in a lighter and more compact package.
6. Moisture-resistant construction helps prevent water from penetrating the lens.
Specifications
Model: A007
Focal length: 24-70mm
Maximum aperture: F/2.8
Angle of view (diagonal): 84°04'-34°21' (for full frame 35mm format cameras)
60°20'-22°33' (for APS-C format cameras)
Lens construction: 17 elements in 12 groups
Minimum focus distance: 0.38m (15.0 in)
Maximum magnification ratio: 1:5 (at f=70mm: MFD 0.38m)
Filter size: ?82mm
Length1: 108.5mm*
Entire Length2: 116.9mm*
Diameter: ?88.2mm
Weight: 825g* 
No. of diaphragm blades: 9 (rounded diaphragm)
Minimum aperture: F/22
Standard accessories: Flower-shaped lens hood
Compatible mounts: Canon, Nikon, Sony3
Specifications, appearance, functionality, etc., may be changed without prior notice.
1.Length, entire length and weight values given are for the Nikon mount.
2.Entire length is the distance between the tip of the lens and the tip of the protrusion.
3.The Sony mount does not include VC, because the body of Sony digital SLR cameras includes image stabilization functionality. The product name for Sony cameras is "SP 24-70mm F/2.8 Di USD" without the VC designation.
VC (Vibration Compensation)
VC (Vibration Compensation) is Tamron's proprietary image stabilization system. Tamron's VC is a three-coil system, whereby three driving coils activate the shake-compensating VC lens group electromagnetically via three steel balls. The VC lens elements are held in place only by contact with the steel balls, achieving smooth movement with little friction. This provides a stable viewfinder image with excellent tracking performance. And as the VC lens may be moved in parallel using only the motorized control, the mechanical structure has been simplified, enabling the creation of a more compact lens.
New VC system (moving coil method) 
Tamron's original VC image stabilization mechanism utilized a moving magnet system whereby a heavy magnet was positioned near the moving VC lens element. In the new VC unit the positions of the magnet and the coil are reversed, because of this the VC optical lens element is attached to the coil. The new VC mechanism employs a moving coil mechanism with a lightweight coil, and the lighter coil reduces the load on the drive system. Thus, the lighter, more compact new VC unit contributes to the lens's overall light weight and compact size.
Because the 24-70 mm F/2.8 Di VC USD is a high-speed zoom lens with maximum aperture of F/2.8, its VC system must drive a lens that is larger and heavier than other zooms. Therefore, the shape, size and layout of the drive coils are all designed to obtain sufficient thrust.  The result is a full-size, high-speed zoom that provides the same high level of compensation effect.
About the ultrasonic motor
In the ultrasonic motor, a piezoelectric element arranged in a ring formation generates ultrasonic vibrations in a metallic ring stator, and the vibration energy is used to rotate a metallic ring rotor that is attached to the stator. The rotation energy is in turn transferred from the metallic ring rotor to operate the focus lens.
Notice of Classification Code Change for Nikon Mounts
Since the introduction by Tamron of the first Nikon mount lens featuring an internal AF motor, the AF28-300mm F/3.5-6.3 XR Di VC (Model A20), all Nikon mount lenses with the internal AF motor had used the classification code "N II."  Lenses using a coupler system* without an internal AF motor were designated as "N." Because future Nikon lenses will have the internal AF motor as a standard feature, Tamron has decided to simplify the designation and consolidate all Nikon mount lenses as "N," eliminating the "N II" designation for future models.  This classification code change will be effective beginning with the 18-270mm F/3.5-6.3 Di II VC PZD (Model B008).
The "N" classification lenses with coupler systems are: AF28-300mm F/3.5-6.3 XR Di (Model A061); SP AF200-500mm F/5.6-6.3 Di (Model A08); and SP AF180mm F/3.5 Di (Model B01).
*Coupler system refers to a system that uses a shaft to harness the AF motor built into the camera body to operate the lens
Price and availability
Availability and price TBA.
Your Comments