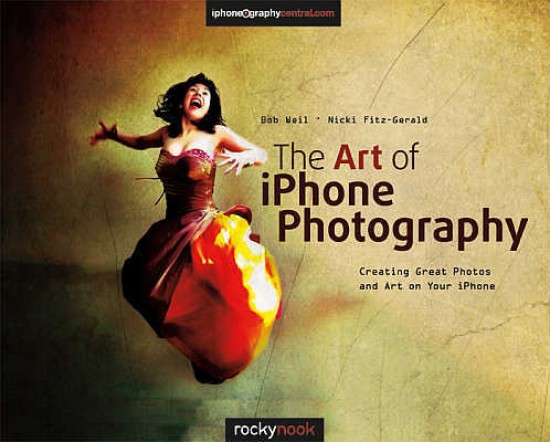 The Art of iPhone Photography by Bob Weil and Nicki Fitz-Gerald is a new title from Rocky Nook. The book explores how 45 of today's most creative iPhonegraphers from around the world conceived, composed, and edited some of their finest and best-known pieces—all in their own words. In addition, it includes explanations for the practical use of nearly a hundred photography apps that you can use to take, edit and share photos with your iPhone. The 352-page volume is available for $44.95.
Press Release
The Art of iPhone Photography: New From Rocky Nook
Santa Barbara, CA, August 15th, 2013 - Always on, always at hand, and inconspicuously deployed, today's smartphones empower us to record the world in ever newer and more personal ways. By leveraging the photo-editing applications found on the iPhone, professional and amateur photographers alike are able to create not only editorial imagery, but also creative works of art.

The Art of iPhone Photography explores how 45 of today's most creative iPhonegraphers from around the world conceived, composed, and edited some of their finest and best-known pieces—all in their own words. Their visions, techniques, and creative decisions are presented in a way that will allow iPhoneographers of all levels to immediately apply what they learn to take their own photographic art to the next level.

Included in the book:
• A wide variety of genres: landscapes, street photography, abstracts, architecture, portraits, concept pieces, and more
• Step-by-step tutorials: works by contributing photographers with descriptions of how each piece was created from both creative and technical standpoints
• Explanations for practical use of nearly 100 apps
• iPhoneography gallery: a stunning showcase of works by the contributing artists

Marty Yawnick, from the website Life in LoFi said, "The Art of iPhone Photography" is an outstanding gathering of iPhoneographers and iPhone artists, sharing their techniques and telling their stories. It's also a revealing look at the toolbox - the apps, hardware...that the artists use regularly to create these works....The book itself is beautiful."
About the Author

Bob Weil leads something of a double life: marketing professional by day and covert iPhoneography creative and evangelist by night. Bob's work was exhibited at the LA Mobile Arts Festival 2012, the Orange County Center for Contemporary Art, and the Darkroom Gallery in Vermont. Five of his pieces were awarded at the 2013 Mobile Photo Awards and exhibited at the Soho Gallery in New York City, and 12 were on display at Macworld/iWorld 2013. Bob was also a featured artist in Dan Marcolina's eBook, Mobile Masters. He was a 2013 American Aperture Awards juror and was selected as a Photographer of the Year by the iPhone Photography Awards in 2013. Bob co-manages  iPhoneographyCentral.com with Nicki Fitz-Gerald, and he writes and speaks on iPhoneography topics.
Nicki Fitz-Gerald earns her living as a graphic designer. She balances iPhoneography and family life—and often joyfully mixes the two. Her iPhone photos have been featured in a number of online and gallery exhibitions, including the first Eyephoneography exhibition in Madrid and FORMAT, a UK photography festival. Nicki's image Flamin' Amy, shown on the cover of this book, won fourth place in Life In LoFi's Faved of the Year 2011. Her image Fish Oil won the top prize, and four of her other images won honorable mentions in the Appstract Digital Painting category of the Mobile Photo Awards 2013. All five images were displayed at the Soho Gallery for Digital Art in New York City. Nicki founded the website iPhoneographyCentral.com in 2011 and now co-manages it with Bob Weil.
Your Comments