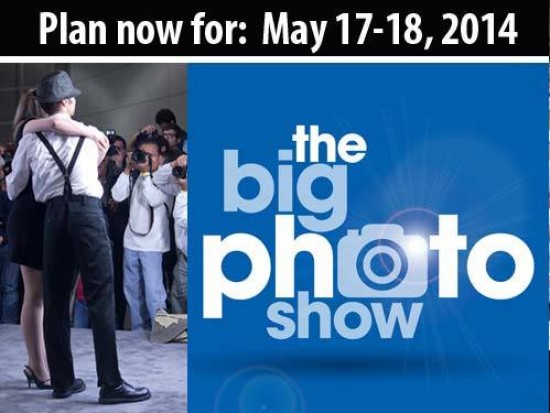 After the success of the first Big Photo Show event in Los Angeles this past May, PMA has announced that The Big Photo Show will return to the Los Angeles Convention Center in 2014, on May 17-18. "The purpose of The Big Photo Show is to grow the imaging industry by increasing people's passion and enthusiasm for photography," said PMA President Allen Showalter. "We accomplished that goal in a major way with the first Big Photo Show in LA this year. PMA is excited to build on that great momentum with another LA show in May of 2014, with additional Big Photo Show events and locations yet to come."
PMA Press Release
PMA announces The Big Photo Show will return to Los Angeles May 17-18, 2014
JACKSON, Mich. – After the smashing success of the first Big Photo Show event in Los Angeles this past May, PMA is pleased to announce The Big Photo Show will return to the Los Angeles Convention Center in 2014, on May 17-18.
More than 16,180 photo enthusiasts, advanced amateur and professional photographers attended the inaugural event, which featured manufacturer and retailer exhibits, two education theaters, live model shooting zones, and more. The huge crowd, and their hunger for all things imaging, has exhibitors clamoring to take part in upcoming Big Photo Show events.
"Based on the extreme success of this year's Big Photo Show in LA, Samy's is eagerly looking forward to next year's event! The enthusiastic response from the community, along with the feedback from the attendees, has us already working on ways to improve our space for next year. Customers loved the interaction with the vendors that participated and the ability to instantly make their purchase decisions and walk out with their new camera or lens. The educational aspect of the show helped them make their choices, and even having some hands-on photo opportunities created an excitement many had not experienced before," commented David Dimont of Samy's Camera. "A great customer experience, and huge word-of-mouth for next year's event, should make The Big Photo Show of 2014 even bigger and better than ever."
"Sigma took a leap of faith by exhibiting at the first Big Photo Show in LA. We could not have been more thrilled with that decision!" said Sigma Corp.'s Christine Moossmann. "The event drew huge crowds of photo enthusiasts, and gave us a remarkable opportunity to make them aware of Sigma products and expand our market. We are excited about future events and look forward to further growth of The Big Photo Show."
"The 2013 Big Photo Show was a great kick off to a new PMA tradition. Sony was proud to support this show's launch in the U.S. and will look forward to The Big Photo Show LA again in 2014," said Mike Kahn of Sony.
"We were blown away and not prepared for the large crowds at the 2013 Big Photo Show! Our sales were amazing, and we sold out of a lot of products on Saturday. We made back the money we invested in exhibiting many times over. Tuttle Camera will definitely exhibit in The Big Photo Show next year; in fact, we will be first in line," added Eric Vitwar of Tuttle Camera.
"The purpose of The Big Photo Show is to grow the imaging industry by increasing people's passion and enthusiasm for photography," said PMA President Allen Showalter. "We accomplished that goal in a major way with the first Big Photo Show in LA this year. PMA is excited to build on that great momentum with another LA show in May of 2014, with additional Big Photo Show events and locations yet to come."
For more information about exhibiting or sponsorship opportunities at The Big Photo Show, contact Jeff Frazine at jfrazine@pmai.org.
About The Big Photo Show
The Big Photo Show is a series of photography events for the millions and millions of U.S. consumers who consider themselves photo enthusiasts. The Big Photo Show offers exhibits from imaging suppliers, retailers and service providers; as well as an array of educational opportunities for attendees taught by professional photographers, framers and other experts. Among many other things, attendees learn how to take better photos; what new innovations are available in equipment and services; and the coolest new ways to creatively display their images.
About PMA – The Worldwide Community of Imaging Associations
As a professional trade association, PMA® helps the worldwide photo imaging community achieve business success and adapt to new technologies. Its commitment to members in 100-plus countries is part of an 88-year legacy that connects business owners to a network of knowledge and support. PMA furthers this purpose through the development of educational programs, marketing research, publications, and trade shows. As a not-for-profit organization, any success PMA achieves in its endeavors directly benefits the industry, providing the means to continually develop services and activities for members.
Your Comments