Toshiba Camileo X-Sports Action Camcorder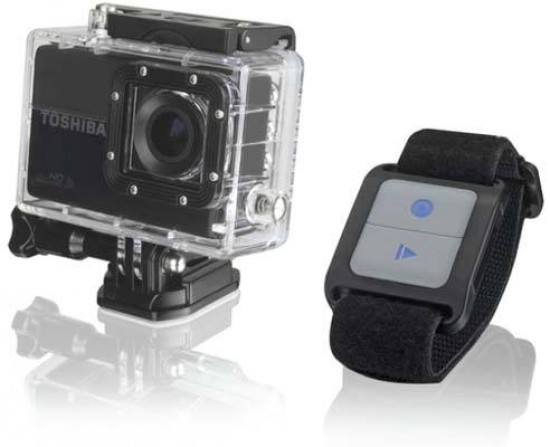 Toshiba UK today announced the new Full HD Camileo X-Sports action cam with an ultra-wide angle lens and integrated 2" LCD monitor. The Camileo X-Sports is available with a waterproof casing that's effective up to 60 metres, so whether the user is biking, swimming, skiing or snowboarding, they can operate the camera without worrying about water damage. Without the waterproof casing, the Camileo X-Sports is shockproof from a drop of up to 1.5 metres. Additionally, with a remote control designed to be worn on the wrist, users can control the action without being hindered by the need to hold the camera or take their eyes off the piste, wave or cliff face. The Camileo X-Sports action camcorder will be available in Europe during Q4 2013, with pricing to be confirmed.
Toshiba Press Release
Introducing the Toshiba Camileo X-Sports sportscam - built to be tough, designed for life in motion
Ultra-wide angle lens and 2.0" embedded LCD display makes it easy to capture and view more of the action.
Includes rugged casing that's waterproof up to 60m and a wristband remote control for easier operation.
Mounting accessories allow users to use the camcorder in different ways for a variety of activities and sports.
London, UK, 5th September 2013 – Toshiba UK today announces the new Camileo X-Sports sportscam with 5.08cm (2.0") embedded LCD display. Made for filming the most action-packed moments, it's perfect for a wide range of users – whether it's a person capturing their favourite concert, a family creating a holiday video to share, sports fans or adrenaline seekers.

Protection against water, snow and shocks
The Camileo X-Sports is available with a robust waterproof casing that's effective up to 60 metresi, so whether the user is biking, swimming, skiing or snowboarding, they can operate the camera with ease – without worrying about water damage. Without the waterproof casing, the Camileo X-Sports is shockproof from a drop of up to 1.5 metres so doesn't inhibit users who enjoy taking part in sports or activities where camera equipment can easily be knocked or dropped.

• Ultra-wide angle lens and 2.0" embedded LCD display makes it easy to capture and view more of the action.
• Includes rugged casing that's waterproof up to 60m and a wristband remote control for easier operation.
• Mounting accessories allow users to use the camcorder in different ways for a variety of activities and sports.

Hands-free remote control
With a remote control designed to be worn on the wrist, users can control the action without being hindered by the need to hold the camera or take their eyes off the piste, wave or cliff face. The remote control's LED interface shows the status of the Camileo X-Sports camcorder through a series of simple light combinations, and allows users to switch between photo and video modes in an instant. Waterproof up to 3 metres, shockproof up to 1.5 metres and with a battery life of 5 hours, this robust and convenient remote control is always on hand and ready for action.

Wide range of convenient mounting accessories
The Camileo X-Sports is an affordable priced action camcorder packed with added value. Bundled with several accessories, allowing users to easily mount the Camileo X-Sports on other equipment. With the flat clip and adhesive mounts, it can be stuck onto a helmet or surfboard for the best shot while snowboarding, cycling or riding the waves. Alternatively it can be screwed directly onto the back or side of a bike for fluid filming, using the bike mount. The Camileo X-Sports shockproof camcorder can also be used on the tripod mount without the waterproof casing, for added flexibility and professional-looking results. Optional mounting accessories are also available including a chest and head strap mount.

Upload photos and videos wirelessly
The Camileo X-Sports is Wi-Fi® enabled and when used with Toshiba's own 'Wi-Fi Connect' app it allows users to even operate the camcorder from their smartphone or tabletii. As well as being able use their device as a viewfinder to find the perfect angle, the app also provides the option to zoom in or out on subjects, play back content and edit settings for increased flexibility. The app also offers quick and simple access when sharing action-packed videos and photos with friends on social networks – including Facebook and YouTube®.

Record every detail of the action
The Camileo X-Sports has an ultra-wide angle lens to capture the full picture and, with a Full HD 1080p resolution up to 60 frames per second and a high performance 12MP CMOS sensor, there's clarity in every detail viewed on the 5.08cm (2.0") embedded LCD display. Users can also choose whether to capture photos, video or both simultaneously – photos can be shot continuously, in bursts or at set time intervals, while action scenes can be recorded as looping video.

An Electronic Image Stabiliser helps stabilise the image in motion, while the smart yet robust design was made to take on any challenge. With a micro-SD, mini-HDMI and micro-USB onboard, users can view and transfer stored content, as well as share on a bigger screen by connecting to an HD TV.

The Camileo X-Sports action camcorder will be available in Europe during Q4 2013.

Toshiba Camileo X-Sports action camcorder:
• Full HD resolution up to 1920 x 1080p (60fps)
• 12MP CMOS Sensor
• 5.08cm (2.0") embedded LCD screen
• 10x digital zoom
• Ultra-wide angle lens
• Electronic image stabiliser
• Connectivity: Micro-USB and Mini-HDMI®
• Micro-SDTM / SDHCTM/ SDXCTM card slot
• WiFi 802.11 b/g/n connectivity via 'WiFi Connect' app
• Additional features: Photo burst, time lapse, simultaneous video and photo,continuous photo, upside down, spot meter, looping video, self time, date printing
• Dimensions: 73 x 49.5 x 29.5mm
• Weight: 94g (battery included)
• Colour: black
• Bundled accessories:
   - Waterproof casing (up to 60 metres), wristband remote control, flat clip mount, flat adhesive mount, curved adhesive mount, side mount, bike mount, vented helmet mount, surfboard mount, tripod mount
• Optional accessories:
   - Long clip mount, head strap mount, chest strap mount
Your Comments