Two TIPA Awards for Kodak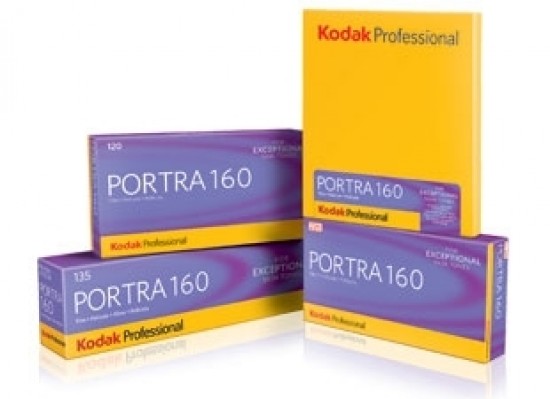 The Kodak Pulse digital photo frame and the new Kodak Portra 160 film have been honoured with TIPA awards. Named the 'Best Accessory' by the TIPA jury, the Kodak Pulse digital photo frame features Wi-Fi connectivity, a customisable e-mail address and a touch-sensitive viewing panel. Announced this February, the new Kodak Professional Portra 160 (pictured) is an all-new colour negative film that incorporates the manufacturer's Advanced Cubic Emulsions, Kodak Vision Film Technology and Antenna Dye Sensitisation in the magenta emulsion layers. Replacing the Portra 160NC and VC offerings, the new Kodak Professional Portra 160 film is available in 35mm, 120/220, 4x5 and 8x10 sheet formats.
Kodak Press Release
Technical Image Press Association Recognises Kodak Innovation
KODAK Pulse Digital Frame W1030S Voted Best Accessory in 2011
KODAK PROFESSIONAL PORTRA 160 Film Voted Best Film for 2011
London, April 21, 2011 – The Technical Image Press Association (TIPA), one of the largest families of independent global photo & imaging magazines made up of expert editors, have named Kodak's new wireless frame, the KODAK PULSE Digital Frame W1030S, and new fine-grain colour negative film, KODAK PROFESSIONAL PORTRA 160 Film, the Best Accessory and Best Film, respectively, in 2011. The awards, voted for by the TIPA members at the Voting Session on April 9th in Istanbul, highlight Kodak's ongoing innovation and commitment to the imaging industry.
"Any time an organisation such at TIPA acknowledges the excellence of your products, you're extremely honored. At Kodak, we strive to bring the best, most relevant products to the marketplace, designed to serve all our customers, ranging from large multi-nationals to individual consumers. We're thrilled to once again receive this award," said Philip Cullimore, Kodak's Managing Director, Consumer and Commercial Businesses, European, African & Middle Eastern Region.
The Best Accessory award recognises the connectivity and energy efficiency offered to consumers by Kodak's unique digital frame.
"With the enhanced sharing and social networking features of the PULSE frame, Kodak is making it simple and fun to stay connected and share life's moments. We're thrilled that we can add TIPA to its list of awards," added Cullimore. "For consumers, images are powerful channels of communication and self-expression – that really motivates us and lies at the very heart of Kodak's product development."
TIPA, acknowledged Kodak's ongoing commitment to fulfilling the connectivity needs of today's consumers, "Kodak's PULSE Digital Frame allows users to receive photos wirelessly via Email through a WiFi connection, even from mobile phones and Facebook. The Quick Comment button makes it possible to communicate back to picture senders directly from the display, with short colloquial phrases," said the TIPA jury while also recognising the energy efficient design of the frame. "To save energy, the PULSE contains a built-in activity sensor that automatically turns the frame on when someone is nearby and off when nobody is around."
The Best Film award marks the 4th time in 5 years that Kodak has won this award. KODAK PROFESSIONAL PORTRA 160 Film features a significantly finer grain structure in a 160-speed colour negative film and incorporates Kodak's Advanced Cubic Emulsions to achieve this finer grain. Like the new KODAK PROFESSIONAL PORTRA 400 Film, KODAK PROFESSIONAL PORTRA 160 Film also employs KODAK VISION Film technology and Antenna Dye Sensitization in the magenta emulsion layers. Photographers can trust the new KODAK PROFESSIONAL PORTRA 160 Film to deliver exceptional skin tones, the hallmark of the KODAK PROFESSIONAL PORTRA Film family.
"As filmmaking technology evolves, we continue to seek ways to improve our films to better serve the professional film shooter, so we're honored to have these efforts acknowledged by TIPA. We look across our entire portfolio to leverage technologies that we can incorporate into our products and enhance the experience of professional photographers, and in this case through optimised scanning and enlargement in today's workflow," said Lars Fiedler, Business and Product Development Manager, Film Capture - Europe
, Middle East & Africa Region.
According to TIPA officials, "Kodak PORTRA 160 is evidence that the emulsion-builders' art is not lost and indeed continues to be refined and perfected. The colour negative film features a significantly finer grain structure for improved scanning and enlargement capability in today's workflow. PORTRA 160 delivers exceptionally smooth and natural skin tone reproduction, and because of its superior 'scanability' it is as an excellent choice for portrait, fashion and commercial photography as well."
Your Comments