UK's First Sony PRO Support Centre Opens for Business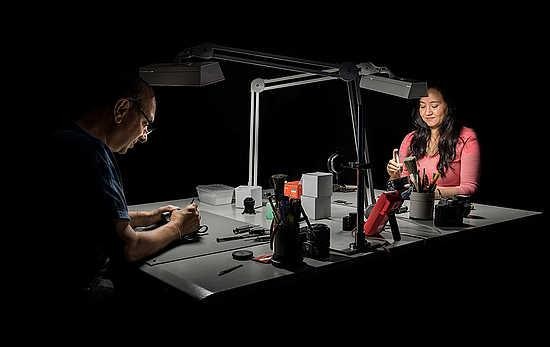 The first UK walk-in service centre for Sony professional camera users is now officially open at Fixation HQ (250 Kennington Lane, London SE11 5RD). Plans for the pioneering Sony PRO Support Service centre were announced in June at a special joint presentation by Yosuke Aoki, Sony Europe Digital Imaging Vice President and David Garratt, CEO at Wex Group (Fixation's parent company) - with a planned a target opening date of September 1st. "We are delighted to announce we have met that deadline pledge. This is a truly groundbreaking partnership with Sony - and a very important development for Fixation," David Garratt said. "Now the growing numbers of Sony professional camera shooters can simply drop their kit off at Fixation for service and support rather than having to despatch it to the Sony plant in Wales."
Press Release
Sony's first UK PRO Support Service Centre opens for business at Fixation HQ
The first UK walk-in service centre for Sony professional camera users is now officially open at the London, SE11-based Fixation HQ.
Plans for the pioneering Sony PRO Support Service centre were announced in June at a special joint presentation by Yosuke Aoki, Sony Europe Digital Imaging Vice President and David Garratt, CEO at Wex Group (Fixation's parent company) - with a planned a target opening date of September 1st.
Said David Garratt: "We are delighted to announce we have met that deadline pledge. This is a truly groundbreaking partnership with Sony - and a very important development for Fixation.
Now the growing numbers of Sony professional camera shooter can simply drop their kit off at Fixation for service and support rather than having to despatch it to the Sony plant in Wales."
He added: "Our long experience in this business tells us professionals want choice, advice, convenience and continuity. Our new service promises free estimates, free sensor cleaning opportunities and fast turnaround times on service and repairs, and incorporates all Sony E-Mount bodies and lenses and all RX-range compacts. Enhanced services will be offered as part of the Sony PRO Support Programme."
Yosuke Aoki said: "This new centre demonstrates our intent to support professional photographers to the fullest extent. The very latest Sony capture products, including the new A9 means there are now huge opportunities for professional photographers to create many new and original images."
He added: "But it's not just about the sale of the camera, it's also about providing highly professional support and service."
Barry Edmonds senior workshop manager at Fixation added: 'Sony are upping their game for professional photographers and we're seeing more and more of our customers realising the benefits of their mirrorless cameras. It's important for us to be able to offer these users the same level of support that we've been renowned for over many years.'
www.fixationuk.com
Your Comments