Manfrotto 290 Series Tripod Kit Winners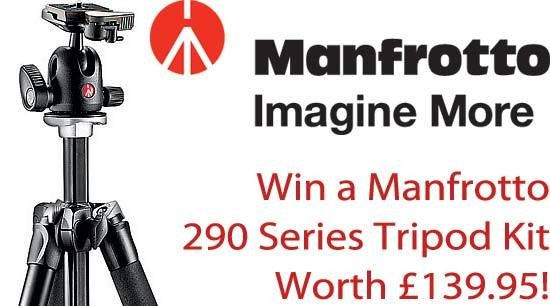 The two winners of a fantastic new Manfrotto 290 Series Tripod Kit have been randomly chosen.
They are Nick Thompson and Arabella Bazley.
This contest closed on Friday 22nd April 2011 at 12.00 Midday GMT.
The new MK294A3-A0RC2 294 Kit is the larger 3 section kit combined with the detachable aluminium ball head. It is the best solution for stability and rapid movements. The anti-shock collar protects your camera from accidental impact, whilst the 3 faced design column prevents rotation to allow for increased accuracy and steadfastness. The leg locks provide a rock-solid support and with their innovative adjustability they provide a consistent and excellent performance.
For more information on Manfrotto products please visit: www.manfrotto.co.uk
Manfrotto – Imagine More
Terms and Conditions
This competition closes on Friday 22nd April 2011 at 12.00 Midday GMT.
By entering this competition you will also be opting in to Manfrotto UK's monthly e-newsletter and Photography Blog's weekly e-Newsletter, but you have the option to unsubscribe at any time.
One entry per person only.
No entries accepted from employees of Photography Blog or Manfrotto Distribution Ltd.
Winners will be announced on the Photography Blog and Manfrotto UK sites following the closing date and contacted via email only so valid email address required.
Your Comments