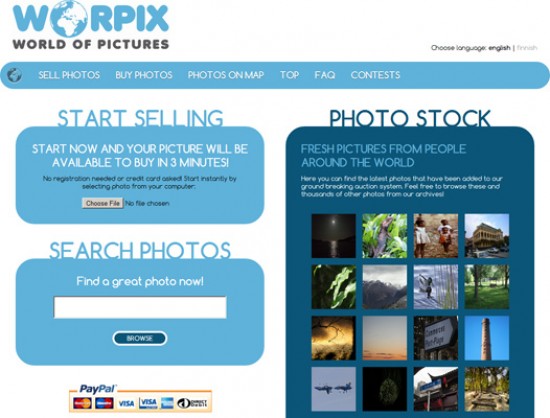 Worpix.com is a new online marketplace for geotagged photos. Created by Omegapython, a Finnish company based in Helsinki, Worpix is a global service that works without registration. Photographers retain the right to determine the pricing of their own photos, with Worpix getting a commission of 15% (or a minimum of $2) on every transaction. Additionally, photographers also have the option to auction the photos.
Website: Worpix
Omegapython Press Release
World's first photo service that does not require registration
Media release, Helsinki 9.5.2012.
Omegapython Ltd has opened a new global photo service at www.worpix.com.
Worpix.com is a market place to buy and sell photos that all have been geotagged.

Worpix.com offers the photographers the best return in the market as the commission is only 15% of the sell price. The photographers themselves will determine the pricing of the photos.
The photographers have also the option to auction the photos. This way the buyers can make offers which can be lower than the asking price. There are only two ways to offer the photos for sale: with Usage Rights or with Full Rights. 

The buyers will always receive the photo with full resolution and their chosen rights. The photos are priced from 5 euros.
Omegapython Ltd is a Finnish company based in Helsinki that provides software services globally. Based on our extensive research Worpix.com is the most price competitive way in the world to sell pictures.
Your Comments