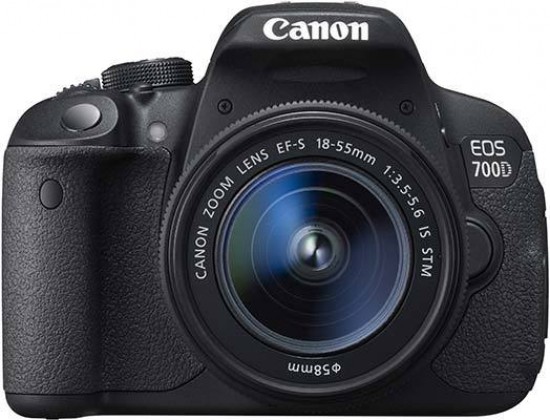 Conclusion
The Canon EOS 700D / Rebel T5i seems to have been released just to accompany the new EF-S 18-55mm f/3.5-5.6 IS STM kit lens. The only other notable changes from the previous 650D / Rebel T4i model are a subtly different finish to the body, a 360-degree shooting mode dial, and the ability to preview the Creative Effects, hardly anything to shout about. Indeed, the 650D / Rebel T4i seems to have disappeared completely from some parts of the world, leaving the 3-year old 600D / Rebel T4i as the next model down in the EOS range. Despite there being no significant reasons to upgrade from the 650D / Rebel T4i, this new model remains the best mid-range Canon DSLR and crucially still competitive in today's market, so don't let the lack of new features put you off what is a very accomplished camera.

More than ever before, the EOS 700d is designed to appeal to owners of compacts who have outgrown their camera and want to step-up to something that gives better results without being too complicated. The touch-screen operation has been seamlessly integrated, offering the ability to take a picture with one press of the screen. Even if you prefer using the viewfinder and hate touch-screens and the need to hold the camera at arm's length to use it, you'll still appreciate the ability to review your images by swiping from side to side and pinching to magnify them (at least we did).

Other stand-out features that add up to a great DSLR include effective continuous auto-focusing during movie recording, something that DSLRs have always struggled with or simply not offered at all, stereo rather than mono sound recording, 14-bit DIGIC 5 processor, fast 5fps burst shooting, built-in HDR and hand-held night shooting modes, and a slightly more refined user interface. The innovative Hybrid AF system still doesn't solve the camera's sluggish Live View auto-focusing, though, something that Sony's SLT range in particular has already overcome.

The official launch price of the Canon EOS 700D / Rebel T5i has dropped slightly compared to the previous model's full RRP, perhaps its most attractive feature when compared directly against its predecessor, especially as the STM kit lens is a better partner, especially for shooting video. So while the EOS 700D / Rebel T5i may not advance the mass-market EOS camera in any way, it is at least cheaper and comes with a better lens, and just as importantly its main rivals haven't overtaken it, making the EOS 700D / Rebel T5i still deserving of our Highly Recommended award.
Ratings (out of 5)
Design
4.5
Features
5
Ease-of-use
4.5
Image quality
4.5
Value for money
4.5