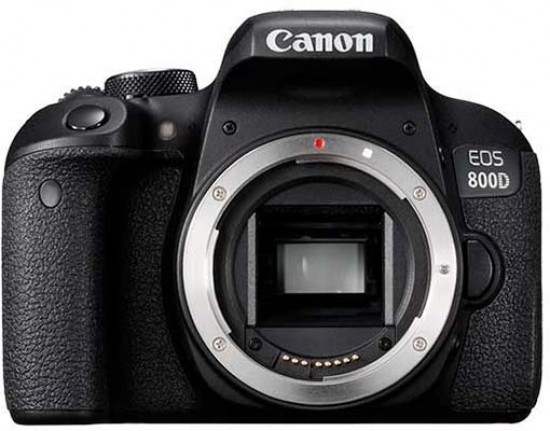 Conclusion
For those just starting out with DSLR photography, the Canon EOS 800D represents an attractive choice. It sits above the most basic camera in the company's offering, the EOS 1300D, with a range of features which have come from Canon's higher-end cameras. 
Although this camera doesn't represent a huge overhaul from its predecessor, the biggest improvement comes in the shape of the 45-point all cross-type AF system. The accuracy and speed of this system is great for an entry-level camera, and while it's true you won't be bothering professional sports shooters with this model, it should serve you well for some types of moving subject. 
The design of the 800D sticks true to Canon DSLR form. That's not necessarily a criticism as the design works well to give you lots of direct access to key settings. The touch-sensitive screen complements the physical buttons, meaning you don't have to rely exclusively on either input method if you have preferences towards one particular way of working. The redesigned user interface gives the 800D a fresh and modern look, as well as helping beginners to get to grips with some of the terminology used by the camera. 
Videographers aren't particularly well served by the 800D. It sticks with the Full HD format, which, at a time when even smartphones are equipped with 4K is starting to look a little bit old hat. Still, if you're essentially a photographer who may just want to grab the odd video, you probably won't be too bothered by not having the ultra high resolution format to hand. 
The 800D was announced at the same time as the 77D. The latter camera costs just a little bit more than the 800D, but for the extra money you get a top-plate LCD screen, dual control dials and electronic image stabilisation for video. Ostensibly, for photographers at least, both the cameras are the same with just a slight tweak in design - whether you want to pay extra for the differences will be entirely up to you. 
Overall the Canon EOS 800D puts in a solid performance for an entry-level camera. There's enough here to tempt in those new to photography, and they shouldn't need to upgrade too quickly either. Thanks to the helpful interface, this is truly a DSLR a beginner can learn and grow with. That said, the price is a little off-putting. Entry-level users may baulk at the high asking price, which is currently around £869 for the camera with the 18-55mm kit lens.
Ratings (out of 5)
Design
4
Features
4
Ease-of-use
4.5
Image quality
4
Value for money
3.5