Introduction
Ease of Use

Front of the Canon EOS 90D
In terms of body design, the Canon 90D is not a huge departure from the 80D, and if you're somebody who likes the look and feel of a reasonably bulky DSLR then you'll be happy that Canon hasn't abandoned its DSLR line-up altogether.
There's a very chunky grip, while the whole body has a textured coating which gives it a high-quality feel. It's not 100% weatherproof, but it does have water and dust resistance so it should stand up reasonably well to the elements - perhaps don't leave it outside during a thunderstorm, though.
Another bonus of having a larger body than the dozens of mirrorless models which have been announced since the 80D made its arrival, is that the Canon 90D has plenty of space for buttons and dials, of which there are many to be found.

Rear of the Canon EOS 90D
On the top of the Canon EOS 90D you have a secondary LCD screen which shows you key settings at a glance, while there's also a mode dial which houses the various modes that the 90D offers.
You'll find all the usual semi-automatic and manual modes, as well as fully automatic, scene, and filter options as well as two slots for groups of saved settings, which are useful if you're often shooting a specific type of scene.
Above the secondary LCD screen is a row of direct-access buttons for certain settings, including AF operation, drive mode, ISO and metering. There's also a button for turning on the secondary screen's illumination as well as one for choosing AF point selection type (Spot AF, 1pt AF, Zone AF, Large Zone AF, Auto Selection AF).

Front of the Canon EOS 90D
A dial sits where your forefinger would naturally rest which you can use for a variety of functions depending on the shooting mode you're in - for example, in aperture priority it controls aperture, while you can also use it to help navigate through menus.
Flipping to the back of the Canon 90D and most of the buttons and dials are grouped on the right hand side of the camera, which makes changing settings with your right thumb quick and easy.
A new addition for the EOS 90D is a joystick which you can use to select AF points and navigate through menus, and is a welcome improvement for helping to make quick changes.

Top of the Canon EOS 90D
A Q button takes you directly to a range of commonly used settings, such as white balance, file type, picture style and so on. You can use the physical buttons to move around both this Quick menu and the more extensive main menu, but you can also use the touch-sensitive screen - or a combination of both, whatever makes the most sense to you.
Other buttons of note include one for switching on Live View or video recording, playback button and the AF-on button. If you've ever used a Canon DSLR before, you'll be very familiar with the layout and setup - which is great news if you're upgrading from something like a 200D, or even the camera the 90D directly replaces, the 80D.
You might also consider the Canon 90D as a back-up for something like the 7D Mark II, or at a push, one of Canon's full-frame models.

The Canon EOS 90D In-hand
The final two buttons are found just next to the viewfinder and are the menu button and the info button. The menu button is for accessing the extensive main menu is probably one you won't find you need to use as regularly as the other buttons, so it makes sense for it to be tucked out of the way here.
The info button changes the display - you can press it to activate a spirit level display, which is useful when shooting landscapes (but note you can't see it through the viewfinder as it's optical).
Speaking of the viewfinder, an optical device is one of the main reasons why some still prefer DSLRs over mirrorless. Here we have a particularly good example of an optical viewfinder as it offers 100% coverage of the scene.

The Canon EOS 90D's Pop-up Flash
That means that you won't see any stray subjects wandering into the edge of your frame without you realising, while it gives you a bright and clear view of the scene.
If you've never used anything but optical viewfinders then you'll likely be very happy with the Canon 90D's offering, but after spending some time using very high resolution electronic options, working in this way feels a little restricted as you can't see how exposures will turn out, nor zoom in to check critical focus, or playback your images - but that's a matter of personal preference.
The screen is another way you can compose your images if you switch to Live View. The Canon 90D has a 1040k-dot 3.2-inch fully articulating TFT LCD. It's great for composing from awkward angles, as well as being useful for recording selfies and vlogging-type videos. You can also fold the screen away to protect it when not in use, which is useful.

Top of the Canon EOS 90D
If you're into making videos, the Canon EOS 90D is a good option for you as it offers uncropped 4K video recording, which is another big improvement from the 80D, and sets it apart from other Canon DSLRs. There's also a headphone and microphone socket on the side of the camera which also appeals to video-makers.
Just as we saw in the 80D, the Canon 90D offers 45 all cross-type autofocus point, which are sensitive down to -3EV. All of the points are centred around the middle of the frame, so if you're trying to focus on something on the outer edges, you'll need to focus and recompose.
Since this is a DSLR, autofocusing is different depending on whether you're using the viewfinder or the screen (Live View). If it's the latter, you will have more choice over where to place the active AF point, where the excellent Dual Pixel CMOS AF comes into play. As an upgrade from the 80D, this kind of focusing is now also available while recording 4K video.

Front of the Canon EOS 90D
On the whole, when using the viewfinder, focusing is quick and accurate, especially when the light is good. In darker conditions, you might find that the lens hunts a little more - although some lenses perform better than others. The 18-135mm we've been using puts in a reasonable performance and is a good all-round lens for capturing a wide variety of different types of subject.
Tracking focus has been improved since the 80D, while there has also been a boost to the frame rate (10fps/11fps with Live View) is now available. In practice that makes the Canon 90D well-suited to photographing moving subjects, particular where the said subject is moving in a reasonably predictable pattern.
Image Quality
All of the sample images in this review were taken using the 32 megapixel Fine JPEG setting, which gives an average image size of around 8Mb.
The new high-resolution sensor of the Canon EOS 90D is great news for those who want to get the most detail possible from their shots. If you're somebody who likes to shoot macro images, for example, you'll be able to reproduce more detail than was available before from a Canon APS-C DSLR.
That said, having so many pixels without inbuilt image stabilisation in the body can mean you need to be a little bit careful with how you keep your images as sharp as possible. To that end, keeping shutter speeds as quick as possible, while a tripod for close-up work is a good idea.
JPEGs directly from the Canon 90D are very pleasing, with excellent vibrant colours which are just the right side of realistic. On the whole, automatic white balance does a good job of keeping colours in check in a variety of lighting conditions, while the all-purpose (evaluative) metering works well to produce balanced exposures.
As Canon's metering system weights exposure towards the active AF point, you might find in certain high-contrast situations, you need to switch to spot metering for best results, but for most everyday situations it's a great performer.
When it comes to high ISO performance in low light situations, if you can keep the ISO setting to ISO 6400 and below you'll find you have the best quality images. ISO 12800 is usable at smaller sizes, but a loss of detail and image noise is apparent at A4.
Noise
ISO sensitivity can be set between ISO 100 and ISO 25600 in full-stop increments, and a boosted setting of ISO 51200 is also available. Here are some 100% crops which show the noise levels for each ISO setting, with JPEG on the left and the RAW equivalent on the right.
| | |
| --- | --- |
| JPEG | RAW |
| ISO 100 (100% Crop) | ISO 100 (100% Crop) |
| | |
| | |
| ISO 200 (100% Crop) | ISO 200 (100% Crop) |
| | |
| | |
| ISO 400 (100% Crop) | ISO 400 (100% Crop) |
| | |
| | |
| ISO 800 (100% Crop) | ISO 800 (100% Crop) |
| | |
| | |
| ISO 1600 (100% Crop) | ISO 1600 (100% Crop) |
| | |
| | |
| ISO 3200 (100% Crop) | ISO 3200 (100% Crop) |
| | |
| | |
| ISO 6400 (100% Crop) | ISO 6400 (100% Crop) |
| | |
| | |
| ISO 12800 (100% Crop) | ISO 12800 (100% Crop) |
| | |
| | |
| ISO 25600 (100% Crop) | ISO 25600 (100% Crop) |
| | |
| | |
| ISO 51200 (100% Crop) | ISO 51200 (100% Crop) |
| | |
Flash
The flash settings on the Canon EOS 90D are Auto, Manual Flash On/Off, and Red-Eye Reduction. These shots of a white coloured wall were taken at a distance of 1m.
Flash Off - Wide Angle

Flash On - Wide Angle

Flash Off - Telephoto

Flash On - Telephoto

And here are a couple of portrait shots. As you can see, neither the Flash On setting nor the Red-Eye Reduction option caused any amount of red-eye.
Flash Off

Flash On

Flash Red-eye Reduction

Long Exposures
The Canon EOS 90D's maximum shutter speed is 30 seconds and there's a Bulb mode for even longer exposures, which is excellent news if you're seriously interested in night photography. The shot below was taken using a shutter speed of 30 seconds at ISO 100.

Sample Images
This is a selection of sample images from the Canon EOS 90D camera, which were all taken using the 32 megapixel Fine JPEG setting. The thumbnails below link to the full-sized versions, which have not been altered in any way.
Sample RAW Images
The Canon EOS 90D enables users to capture RAW and JPEG format files. We've provided some Canon RAW (CR3) samples for you to download (thumbnail images shown below are not 100% representative).
Sample Movies & Video
Product Images












Conclusion
A brand new DSLR is a rare thing in 2019, but there is still a big market for cameras like this which appeals to the enthusiast photographer.
The Canon EOS 90D is a nice camera to use if you like the traditional styling and handling of a DSLR, while if you're already equipped with a range of EF/EF-S lenses then it makes a lot of sense to make the 90D your next purchase.
If you're already working with a Canon DSLR, such as one of the entry-level models like the 200D, then the 90D is a great upgrade which will see your shots elevated thanks to better frame rate, focusing and a higher resolution sensor. Even if you already have the 80D, there's a lot to tempt you with the 90D - while videographers will be pleased to finally see uncropped 4K making an appearance on a Canon APS-C DSLR.
If you're somebody who likes to shoot subjects like wildlife and sport, the larger body of the Canon 90D (when compared to mirrorless options) works well with the longer lenses you'll likely be using to capture those subjects.
However, if you don't shoot much wildlife/action and if you're not already in the Canon DSLR system, and can therefore be a little bit more flexible about which camera you go for - you might also want to think about the Canon EOS M6 Mark II, which was announced at the same time as the 90D. It features the same sensor but is housed in a much smaller and more travel-friendly body.
In some ways it's good to see that Canon still cares about its DSLR-audience, but we have suspicions that the 90D could be one of the last DSLRs to be announced by the camera giant, with the future being tilted towards more favourably towards mirrorless as time goes in. If you're a traditionalist this could be one of your last chances to get hold of a DSLR as we know them today.
Overall, the Canon EOS 90D is a great option for those who like DSLRs. Being a good all-rounder it's good for those who shoot lots of different kinds of subject. It does well at sports and action, as well as being suited to landscape, portraits and pretty much any kind of subject you care to shoot. It's also reasonably priced for what you get, so it comes highly recommended.
Ratings (out of 5)
Design
4
Features
4.5
Ease-of-use
4.5
Image quality
4
Value for money
4
Main Rivals
Listed below are some of the rivals of the Canon EOS 90D.
Review Roundup
Reviews of the Canon EOS 90D from around the web.
Specifications
News
Canon has launched two high-speed, high resolution cameras - one DSLR and one mirrorless - the EOS 90D and the EOS M6 Mark II.
The Canon 90D will be available from 12th September 2019 priced at £1,209.99 / €1,449.99 / $1199 body only, $1349 for EF-S 18-55mm f/3.5-5.6 IS STM kit and $1599 for EF-S 18-135mm f/3.5-5.6 IS USM kit
The Canon M6 Mark II will be available from 26th September 2019 priced at £869.99 / €1,029.99 / $849.99 body only or £1,119.99 / €1,329.99 / $1099 with the EF-M 15-45mm IS STM lens and EVF-DC2 viewfinder, and $1349.00 for EF-M 18-150mm f3.5-6.3 IS STM and EVF-DC2 kit.
Canon Press Release
Canon strengthens the EOS line up with a new mirrorless and DSLR, delivering high-speed shooting and incredible resolution
United Kingdom, Republic of Ireland, 28 August 2019 - Canon Europe today announces the launch of two high-speed, high resolution cameras - one DSLR and one mirrorless - designed to take enthusiast photographers to the next skill level. Canon has a camera to suit any user - EOS 90D is a fast and reliable DSLR, with a familiar, robust body perfect for sport and wildlife photographers. For everyday life, EOS M6 Mark II is a compact, yet powerful mirrorless delivering beautifully sharp images - for photographers on the move. Alongside the two new Canon RF lenses announced today, these high-quality, fast models build on Canon's popular EOS 80D DSLR and EOS M6 mirrorless cameras to provide a full choice for enthusiasts across the entire line-up.
Never miss a moment
With Canon's new EOS 90D and EOS M6 Mark II cameras, photographers can capture and share life's most fleeting moments. Both models are equipped with Canon's latest generation DIGIC 8 processor which achieves fast processing speed, responsiveness and the latest in photo and movie functionality. The lightning-quick electronic shutter speed of 1/16000 second is perfect for shooting momentary subject movements, giving photographers confidence in time-sensitive shooting scenarios. With this shutter speed the aperture can be opened even wider to create a greater depth of field even in ambient lighting.
Ideal for wildlife or sports photography, the EOS 90D shoots 10fps with autofocus tracking and 11fps in Live View. The optical viewfinder reduces lag time and enables the responsiveness needed to shoot wildlife, such as birds in flight, while an intelligent function gives complete visibility of the composition and shooting settings within the display. Where subjects are both quick and unpredictable, this fast frame rate and 58 L JPEG burst rate enables photographers to shoot continuously for a greater choice in imagery. EOS 90D also has an extended battery life with up to 1300 shots (CIPA standard) which allows enthusiasts to shoot all day, unencumbered by battery limitations.
The mirrorless model, EOS M6 Mark II, is capable of a 14fps continuous frame rate and staggering 30fps RAW burst both modes with autofocus tracking, producing a quick and compact model which guarantees enthusiasts can photograph even the unexpected. To give photographers the best chance of shooting spontaneous action, this latest mirrorless camera from Canon has UHS-II card support with a burst rate of 80 L JPEG. Additionally, focus bracketing in both models makes it easy to achieve an extended depth of field by combining multiple shots in DPP.
Unbeatable image quality
Delivering high quality, detailed images free from shake and artefacts, these new cameras leverage a new 32.5-megapixel APS-C CMOS sensor, which achieves full frame levels of resolution but with the additional benefit of reach provided by the APS-C format. Coupled with the DIGIC 8 processor, both newly launched models are enabled with the latest features from the EOS range which means photographers have greater reach, can crop further and take more detailed images than ever before. The processor also unlocks lens correction tools including the Digital Lens Optimiser and Diffraction Correction, which produce excellent images straight out of the camera. With incredible raw image quality and WiFi and Bluetooth capabilities, content creators can share images direct to social channels to create stunning, live content. For crisp, true to life photos which capture natural expressions and movements, Canon has incorporated a fast and accurate eye autofocus tracking solution in both cameras. In the EOS 90D, this works in collaboration with the 220,000-pixel RGB+IR metering sensor with Flicker Detection, for faithful face detection and greater control of overall exposure. This new sensor achieves greater resolution without compromising on low light performance, thanks to a high ISO of 100 – 25,600. Improving on the EOS M6, EOS M6 Mark II focuses at EV-5 when used with lenses with f/1.4 or larger aperture – to perform even in cloudy moonlit conditions, as well of course as within buildings or shade.
Future-proof content in 4K
EOS 90D and EOS M6 Mark II are versatile cameras for stills and videos, capable of 4K resolution video utilising the full angle view of the lens attached and fast, Full HD up to 120 fps giving enthusiasts greater options for shooting, such as slow motion, cropped or super high resolution. 4K in cropped mode is also available from the EOS 90D, giving content creators the same great image quality, but with a further reach. This means operators can shoot high quality video even from a distance – a feature which provides enthusiasts the ability to capture stunning film in situations where they are unable to get up close to the action – like on safari.
Canon's renowned Dual Pixel CMOS AF system is available in both Full HD and 4K video modes and offers a wide area coverage of (88 x 100%), producing smooth, high-performance focus tracking in movies for professional-looking footage. When capturing moving subjects this ensures sharp subjects and a blurred background, while eye tracking defines the eyes of subjects, for sharper, more compelling movies.
A microphone port gives vloggers and content creators alike the ability to use an external microphone to achieve clear, undistorted sound, while the EOS 90D also has a headphone port so content creators can have greater control over sound quality in videos while filming. This produces a good feed when the action is further away and minimises the amount of editing required in post-production as enthusiasts can manage sound levels as they record. For filming on the go, the portable EOS M6 Mark II has a handy tilting screen which ensures even selfie-style content is perfectly framed.
Greater control and handling
The ergonomic design of these models supports seamless and familiar handling to provide enhanced control for any style of photography. As the latest DSLR to join the EOS range, EOS 90D has a familiar, yet lighter body with a large grip for better handling and balance, particularly when using long lenses ideal for shooting sports or wildlife photography. With two multi-function dials – including one newly incorporated multi-controller, as found in the professional range on the rear of the camera - and customary EOS buttons, photography enthusiasts looking to enhance their skills can shoot instinctively and confidently with greater focus point selection and access to useful settings at their fingertips The EOS 90D is equipped with a number of customisable features which can be set to give a consistent look and feel to both photos and videos. Its 7.7cm Vari-Angle touch screen provides greater visibility of image composition whether shooting in high brightness or at a challenging angle.
The compact size of EOS M6 Mark II enables a point and shoot style of photography needed to capture spontaneous moments on the go. A dial with function, main dial, customisable autofocus/manual focus selection switch and autofocus-start button are intuitively positioned for improved responsiveness in fast-paced shooting scenarios. The detachable viewfinder is raised and centrally aligned to create space and intuitive comfort for an immersive shooting experience, while the tilt-screen offers more creative capture and unrestricted video capabilities.
Also launching today are two RF lenses - the RF 15-35mm F2.8L IS USM and RF 24-70mm F2.8L IS USM - expanding the pioneering lens line-up for the EOS R System. The EOS 90D is now available to pre-order from Canon's online store and both will be on general sale from September 2019.
For more information on the Canon EOS 90D please visit: http://www.canon.co.uk/cameras... and for the Canon EOS M6 Mark II please visit: http://www.canon.co.uk/cameras...
Pricing and availability
The Canon EOS 90D will be available from 12th September 2019 with the following RSPs:
• EOS 90D body only £1,209.99 / €1,449.99
The Canon EOS M6 Mark II will be available from 26th September 2019 with the following RSPs:
• EOS M6 Mark II body only £869.99 / €1,029.99
• EOS M6 Mark II with EF-M 15-45mm IS STM + EVF-DC2 £1,119.99 / €1,329.99
Image Gallery
Click on a thumbnail to see the full version.
First Impressions
We've spent some time shooting with the Canon EOS M6 Mark II and the EOS 90D DSLR cameras. Here are our initial first impressions...
Canon is aiming to do the double and deliver high-resolution files and high speed captures with its latest two APS-C sensor incorporating interchangeable lens cameras – the mirrorless Canon M6 Mark II, and the Canon 90D DSLR.
"We want to inspire our customers to explore a world of opportunities and tell their stories," Canon UK's Marketing Manager Didi Goddard told us at the London unveiling, "We're still after every category that we have going." She went on to share a market overview suggesting that Canon is still leading the DSC market, for which its G7 X Mark II is currently its best seller, while for CSC in the UK it has a 'strong' number two position. That's according to data from industry watcher GFK.
She also revealed that Canon was still number one within the DSLR category for both APS-C models ("which is still a massive focus for Canon") and full frame offerings such as the EOS 5D IV, EOS R and RP.
Canon UK's Product Specialist David Parry added that: "People want the choice, so we're sticking behind our ranges and growing them to get the best out of the technology that is available at the moment."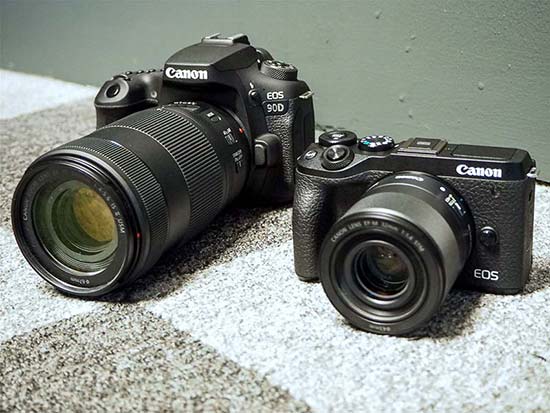 A case in point is its two new generation 32.5-megapixel sensor-incorporating models. These are a replacement for the current 80D in the new EOS 90D, plus the EOS M6 Mark II, which replaces the original M6. David told us that, compared with its forebear, the Mark II is a 'super charged' replacement, due the spec having been ramped up in comparison. The result, claimed David, is that internally the EOS 90D and EOS 6D Mark II's technology "is almost exactly the same – it's how you arrive at that final image that is different".
It's not a great surprise to learn that the EOS 90D is aimed at the same type of user as the 80D – namely one who is into sports and wildlife photography. The new camera is, said David, all about resolution, speed and handling.
By contrast, we were told, the M6 Mark II is more about capturing spontaneous moments, would be good for street photography, and is aimed at the technical enthusiast. "So you'd use this camera in a different way than you'd use the 90D."
Both are robust-feeling cameras when held in the palm, without being prohibitively heavy, even with lenses attached and batteries inserted. The weight of the 90D has even dropped by around 25g when compared to its predecessor and it now weighs a very manageable 701g without lens.
Canon EOS 90D
The EOS 90D's APS-C sensor is combined with a Digic 8 processor, Dual Pixel CMOS AF like the rest of Canon's current DSLR range, the ability to shoot 4K 'movies' with no crop this time around at 30fps or 25fps, plus the ability to shoot up to 120fps in Full HD mode. Your videographer customers will want to know that the camera also delivers 'clean' HDMI output, and is capable of shooting stills up to 10fps (or 11fps if AF is fixed), making it, David suggests, a good step up for anyone owning a 70D or 80D.
We also get 45 cross type AF points (the standard AF system as also found on the 80D), focus bracketing, electronic shutter mode, an ISO100-25600 core range expandable to ISO51200, Wi-Fi and Bluetooth connectivity, fully articulated vari-angle touch screen control, two multi controller joysticks on the rear of the camera (a first for the range), plus a considerably improved 1300 shot battery life (CIPA standard) even though it uses the same battery as the previous generation. There's also microphone and headphone input here for video shooters. The compatible battery grip for the EOS 90D is the same as that for the 80D (i.e the BG-E-14), David added.
Canon EOS M6 Mark II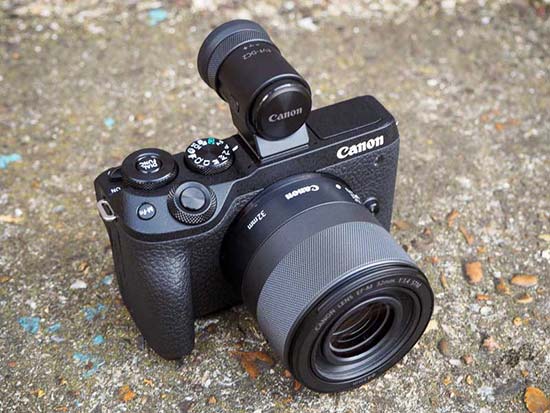 Moving on, key selling points of the physically smaller EOS M6 Mark II – on which Canon admitted design has not changed 'massively' compared with the earlier M6, except that the grip is slightly larger – include the fact that it boasts a 'market leading' 14fps capture speed with AF, plus 1/16000 sec electronic shutter.
Like the 90D it boasts the new 32.5 MP APS-C sensor, Dual Pixel CMOS AF, and Digic 8 processor, while ISO range is the same as its bigger DSLR 'brother' too. Exposure compensation can be dialed down to -5EV, there's a tilting touch screen once again, plus support for touch and drag AF functionality.
The camera weighs 408g without any lens, is compatible with its optional EVF-DC2 viewfinder and can be bought in a kit that includes both EVF and zoom lens. Further features include 4K video capture with no crop, or Full HD shooting at 50/60P. The camera is also Wi-Fi and Bluetooth equipped.
Full-frame RF Series Lenses and EOS R/RP Firmware Update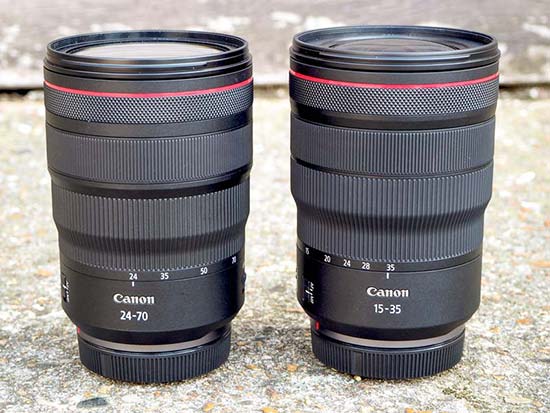 Two new Canon lenses for its mirrorless 'R' and 'RP' cameras originally teased back at The Photography Show in March are also being made available for sale on the same day at the same time in the RF 15-35mm f/2.8 L IS USM and RF 24-70mm f/2.8 L IS USM. These are described as super sharp, portable, durable and just as good at movies as stills, thanks to 'nano USM' technology that means they're quiet as well as fast, as well as combined image stabilization (Canon has sensor as well as lens based IS). We couldn't shoot with these pre-production lenses at the launch, but were at least allowed to hold them and size them up for feel and weight. Manual focus operation is claimed to be really smooth
Finally the brand has announced an EOS R/RP Eye AF firmware update. The improvement is that eye detection starts a lot earlier on the camera and is more accurate, it's claimed.
Hands On
Want to see exactly what the new 32-megapixel Canon EOS 90D DSLR camera looks like in the flesh?
Check out our extensive hands-on gallery of photos of the Canon EOS 90D APS-C DSLR camera.
A gallery of hands-on photos of the Canon 90D APS-C DSLR camera.
Image Gallery
Click on a thumbnail to see the full version.
Preview Images
Ahead of our full review, here are sample JPEG and Raw images and a 4K movie taken with the new Canon EOS 90D DSLR camera. The Canon EOS 90D is a 35mm APS-C digital SLR camera with a 32 megapixel sensor.
A gallery of sample images and movies taken with the Canon 90D DSLR camera.
Canon EOS 90D Sample Images
Sample RAW Images
The Canon EOS 90D enables users to capture RAW and JPEG format files. We've provided some Canon RAW (CR3) samples for you to download (thumbnail images shown below are not 100% representative).
Sample Movie & Video
Your Comments