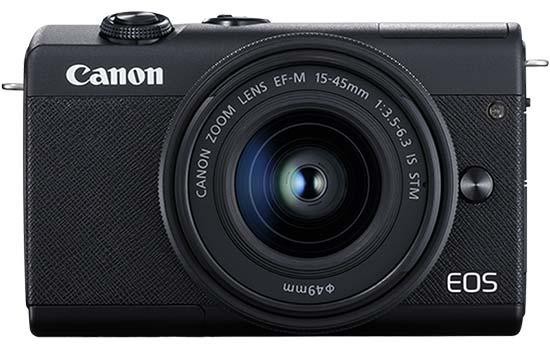 Specifications
Image Sensor
Sensor Cleaning
EOS integrated cleaning system
Lens
Lens Mount
EF-M (EF and EF-S lenses compatible via Mount adapter EF-EOS M)
Focal Length
Equivalent to 1.6x the focal length of the lens
Image Stabilisation
Optical Image Stabilizer on compatible lens
Movie: In-camera Digital IS available. Further stabilisation enhancements from lenses compatible with Dynamic IS
Focusing
Type
Dual Pixel CMOS AF System. Phase detection pixels built onto imaging sensor1
Contrast detection method is used during 4K Movie and 4K Timelapse Movie
AF System / Points
Maximum 143 points depending on lens.
Max 25 frames in Zone AF2
Freely position 1 AF point/ 1 AF Zone via manual selection (area available lens dependent)
AF working range
EV -4 - 18 (room temperature, f/1.4, ISO 100, One-Shot AF), Movie: EV -2 - 18 (room temperature, f/1.4, ISO 100, One-Shot AF, 29.97fps/25fps)
AF Point Selection
Face + Tracking (Eye Detection AF available)
Zone AF
1-point AF
Spot AF
Selected AF point display
AF Lock
Locked when shutter button is pressed half way or AE Lock Button
Manual Focus
With EF & EF-S lenses - Select via AF/MF switch on lens
With EF-M lenses - Select via menu
MF Peaking available
AF+MF available (Manual focus adjustment after One-Shot AF)
Magnify image available during MF (5x or 10x)
Exposure Control
Metering modes
Real-time metering from the image sensor
(1) Evaluative metering (384 zones)
(2) Partial metering at center (approx. 5.8% of Live View Screen)
(3) Center weighted average metering
(4) Spot metering (approx. 2.9% of Live View Screen)
Metering Range
Still image: EV -1 - 20 (at 23 °C, ISO 100)
Movie: EV 0 - 20 (at 23 °C, ISO 100)
AE Lock
Auto: In One-shot AF mode with evaluative metering exposure is locked when focus is achieved.
Manual: By AE lock Button in creative zone modes.
Exposure Compensation
+/-3 EV in 1/3 stop increments
ISO Sensitivity
100 - 25600 in 1/3 stop increments. Max in Auto can be set from 400 - 25600
4K Movie: 100 - 6400 in 1/3-stop increments. Full HD and HD Movie: ISO 100 - 12800 in 1/3-stop increments. ISO can be expanded to 25600
Shutter
Type
Vertical-travel mechanical focal-plane shutter, electronically controlled at all speeds
Speed
30 - 1/4000 sec (1/3 stop increments), Bulb (Total shutter speed range. Available range varies by shooting mode)
White Balance
Type
Auto white balance with the imaging sensor
Settings
Auto (Ambience Priority), Auto (White Priority), Daylight, Shade, Cloudy, Tungsten light, White
Fluorescent light, Flash, Custom, Colour Temperature (100 Kelvin increments)

White balance compensation:
1. Blue/Amber +/-9 levels
2. Magenta/ Green +/-9 levels
Custom White Balance
Yes, 1 setting can be registered
LCD Monitor
Type
7.5 cm (3.0") Touchscreen LCD (TFT). 3:2 aspect ratio. Approx. 1,040,000 dots. Electrostatic capacitive type. Tilting approx 180° upward
Viewing Angle (horizontally/vertically)
Approx 170° horizontally and vertically
Brightness Adjustment
Adjustable to one of seven levels
Display Options
Customisable and toggle via INFO. Button
(1) Liveview image with exposure info
(2) Liveview image with basic info
(3) Liveview image with full info

Customisable settings:
Grid overlay (x3 formats), Histogram (Brightness/ RGB), Multi aspect ratios, Hints and Tips
Flash
Built-in Flash GN (ISO 100, meters)
Built-in Flash Coverage
Maximum coverage at approx. 15mm (35mm equivalent: approx. 24mm)
Built-in Flash recycle time
Flash Exposure Compensation
+/- 2 EV in 1/3 increments
Second Curtain Synchronisation
External Flash Compatibility
Shooting
Modes
Scene Intelligent Auto, Hybrid Auto, Creative Assist, SCN(Self-Portrait, Portrait, Smooth Skin, Landscape, Sports, Close-up, Food, Night Portrait, Handheld Night Scene, HDR Backlight Control), Creative Filters (Grainy B/W, Soft Focus, Fish-eye Effect, Water painting effect, Toy camera effect, Miniature effect , HDR Art standard, vivid, bold, embossed), Program AE , Shutter priority AE, Aperture priority AE, Manual exposure, Movie (Movie auto exposure, Movie manual exposure, Time-lapse movie)
Picture Styles
Auto, Standard, Portrait, Landscape, Fine Detail, Neutral, Faithful, Monochrome, User Defined (x3)
Image Processing
Highlight Tone Priority (standard and enhanced)
Auto Lighting Optimizer (4 settings)
Long exposure noise reduction
High ISO speed noise reduction (4 settings + Multi Shot NR)
Lens peripheral illumination correction
Chromatic aberration correction
Diffraction correction
Digital Lens Optimizer

Creative Assist:
Presets
Background Blur (5 settings)
Brightness (19 levels)
Contrast (9 levels)
Saturation (9 levels)
Color Tone 1 & 2 (19 levels)
Monochrome (Off/Black and white/Sepia/Blue/Purple/Green)
Drive modes
Single, Continuous, Self timer (2s, 10s, Continuous)
Live View Mode
Coverage
Approx. 100% (horizontally and vertically)
File Type
Still Image Type
JPEG: Fine, Normal (Exif 2.31 compliant) / Design rule for Camera File system (2.0)
RAW: RAW (CR3 14-bit),
Digital Print Order Format [DPOF] Version 1.1 compliant
RAW+JPEG simultaneous recording
Yes, RAW + various JPEG compression possible
Image Size
RAW: (3:2) 6000 x 4000, (4:3) 5328 x 4000, (16:9) 6000 x 3368, (1:1) 4000 x 4000

JPEG 3:2: (L) 6000 x 4000, (M) 3984 x 2656, (S1) 2976 x 1984, (S2) 2400 x 1600
JPEG 4:3: (L) 5328 x 4000, (M) 3552 x 2664, (S1) 2656 x 1992, (S2) 2112 x 1600
JPEG 16:9: (L) 6000 x 3368, (M) 3984 x 2240, (S1) 2976 x 1680 (S2) 2400 x 1344
JPEG 1:1: (L) 4000 x 4000, (M) 2656 x 2656, (S1) 1984 x 1984, (S2) 1600 x 1600

In-camera RAW processing & Image Resize available in playback
Movie Type
MP4 [Video: MPEG-4 AVC/H.264, Audio: MPEG-4 AAC]
Movie Size
4K - 3840 x 2160 (23.98, 25 fps)
Full HD - 1920 x 1080 (59.94, 50, 29.97, 25fps)
HD - 1280 x 720 (119.9, 100, 59.94, 50 fps)
Movie Length
Max duration 29min 59sec, Max file size 4GB
Folders
New folders can be created and selected
File Numbering
(1) Continuous, Auto Reset
(2) Manual Reset
Other Features
Metadata Tag
User copyright information (Author's Name, Copyright Details)
Image rating (0-5 stars)
Playback zoom
15 steps plus smooth pinch-to-zoom
Display Formats
(1) Single image with information (toggle options)
(2) Single image
(3) Index display (4/9/36/100 images)
(4) Jump Display (1/10/custom number image, by shot date, by rating, by folder, by movies only, protected only)
Slide Show
Playback time: 1/2/3/5/10/30 seconds
Repeat: On/Off
Transition Effects: Off, Slide in 1-2, Fade 1-3
Image Erase/Protection
Erase: Single image, Selected images, Selected range, All images
Protection: Selected images, Selected range, All images. Unprotect all images
Menu Categories
(1) Shooting menu (x8)
(2) Playback menu (x4)
(3) Connectivity menu (x2)
(4) Setup menu (x5)
(5) Display menu
(6) My Menu
Menu Languages
29 Languages
English, German, French, Dutch, Danish, Portuguese, Finnish, Italian, Norwegian, Swedish, Spanish, Greek, Russian, Polish, Czech, Hungarian, Romanian, Ukrainian, Turkish, Arabic, Thai, Simplified Chinese, Traditional Chinese, Korean, Malay, Vietnamese, Indonesian, Hindi, Japanese
Firmware Update
Firmware update possible by the user.
Interface
Direct Print
Canon Printers
Canon Compact Photo Printers and PIXMA Printers supporting PictBridge
PictBridge
Canon Compact Photo Printers and PIXMA Printers supporting PictBridge
Storage
Type
SD, SDHC, SDXC (UHS-I compatible)
Supported Operating System
PC & Macintosh
For individual software see service and support sections
Software
Image Processing
Digital Photo Professional, DPP Express for iPad
Other
Picture Style Editor, EOS Utility, Image Transfer Utility 2
Camera Connect app available on iOS and Android devices8
Power Source
Batteries
1 x Rechargeable Li-ion Battery LP-E12
Battery life
Approx. 315 shots (conforms to CIPA)9
Eco Mode: Approx. 485 shots
Movie Recording: Approx. 90 mins
Playback time when playing back a slideshow of still images: Approx. 4 hrs 55mins
Power saving
Display off (15, 30 sec or 1, 3, 5, 10, 30 mins)
Auto Power Down (30 sec or 1, 3, 5, 10 mins, Disable)
ECO mode
Power Supply & Battery Chargers
Battery charger LC-E12
Compact Power Adapter CA-PS700 DC Coupler DR-E12
Accessories
Lenses
EF-M lenses
All EF and EF-S lenses compatible via Mount adapter EF-EOS M
Remote Controller / Switch
Other
Interface cable IFC-600PCU
Mount Adapter EF-EOSM
All data is based on Canon standard testing methods except where indicated.
Subject to change without notice.
Dual Pixel CMOS AF - AF is possible over an area of approx. 80% Vertical x 80% Horizontal of the frame.
Maximum number of AF frame is dependent on selected image aspect ratio.
When battery is fully charged.
Continuous shooting speed is measured with EF-M 15-45mm f/3.5-6.3 IS STM and requires SDHC/SDXC UHS Speed Class 1 memory card. Total number of frames captured and continuous shooting speed may vary depending on camera exposure settings, type of lens used, battery level, light level and memory card used.
Continuous shooting speed is measured with EF-M 15-45mm f/3.5-6.3 IS STM and requires SDHC/SDXC UHS Speed Class 1 memory card. Under Servo AF, maximum continuous shooting speed and total number of frames captured depends on subject condition, camera settings and lens used.
Wi-Fi use may be restricted in certain countries or regions.
Equipped with Bluetooth® low energy technology. The Bluetooth® word mark and logos are registered trademarks owned by the Bluetooth SIG, Inc. and any use of such marks by Canon Europe Ltd. is under license. Other trademarks and trade names are those of their respective owners.
Bluetooth functionilty with Camera Connect app requires smart device to be equipped with Bluetooth version 4.0 (or later). Also requires smart device to be using operating system iOS 8.4 (or later) or Android 5.0 (or later).
Based on the CIPA Standard and using the batteries and memory card format supplied with the camera, except where indicated.