Canon PowerShot A480 Review
March 17, 2009
|
Mark Goldstein
|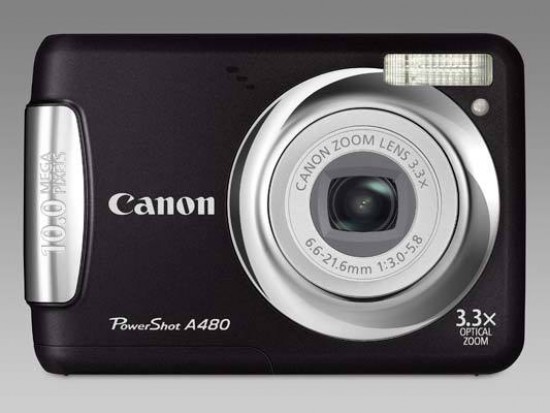 Conclusion
The Canon Powershot A480 is a refreshingly simple, back-to-basics camera that eschews the recent trend of auto-everything modes in favour of a more holistic approach. This isn't the camera for you if you want smile and blink-detection, face recognition and tracking, Intelligent Auto and other hand-holding modes. Instead the A480 offers a relatively simple but proven 9-face-detection system with 5 AF points, or the time-honoured method of a single central AF point combined with a half-press of the shutter button to lock the focus, in combination with the traditional Auto, Program and 15 different scene modes. The lack of an optical stabilisation system is a more regrettable omission, although as this camera's target audience is likely to take most pictures outdoors in bright sunlight, it's not as serious as it sounds in practice.

The Canon Powershot A480's simplicity hasn't been achieved by just stripping the camera of features - indeed, I was surprised at what has been inherited from the more expensive A-series models. Detailed shooting info and a histogram during playback, easy access to ISO speeds, the same intuitive menu system, 1cm super macro mode, and 200 shot battery life are all features that equal or even surpass what the A1100 / A2100 models offer, impressive when you consider they cost twice as much or more than the A480. The same thing can also be said about the build quality - Canon certainly haven't skimped in this department, despite the budget price-tag.

The move to more megapixels - up to 10 from the A470's 7.1 - thankfully hasn't come at the cost of image quality, although the A480 still suffers from less than stellar images in low-light due to obvious noise appearing at ISO 400 and faster. Other key disappointments include the low-resolution LCD screen, an agonizingly slow continuous shooting speed of 0.8fps, and an annoying flash recycle time of around 4 seconds. Disappointingly for UK buyers, the launch price has shot up from £99 to £129, although to be fair to Canon comparable price rises are happening across the industry as Sterling struggles against the Yen.

Overall the Canon Powershot A480 is an easy-to-use and well-balanced camera that produces good photos, making it an excellent choice for the first-time camera buyer. It may even find its way into the pockets of more experienced photographers looking for a straight-forward point-and-shoot that won't break the bank.
Ratings (out of 5)
Design
4
Features
3.5
Ease-of-use
4.5
Image quality
4
Value for money
4.5