Canon PowerShot S120 Review
October 8, 2013
|
Mark Goldstein
|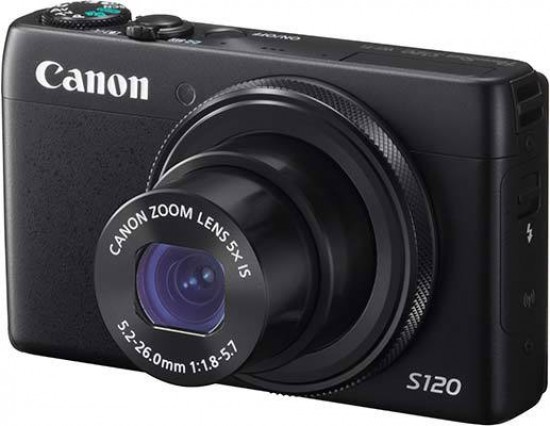 Conclusion
The Canon PowerShot S120 is a rather modest update of last year's S110 camera, principally making things faster and adding a few new features and shooting modes into the now familiar mix. We like the faster auto-focus and burst shooting speeds, while the slightly faster maximum aperture of f/1.8 helps in low-light situations, but overall there's not too much to tempt S110 owners to upgrade to this new model. This new model still lacks a useful hand-grip, the battery life continues to be pretty shocking, GPS is only available via pairing with a smartphone, and the price remains sky-high.
Image quality also remains excellent, thankfully, with a perfectly usable ISO range of 80-1600 and fast f/1.8 maximum aperture, albeit only at the 24mm wide-angle lens setting, making the S120 very well-suited to low-light, hand-held photography. It's also possible to capture the blurred backgrounds and sharp subject that most compacts struggle to achieve, while the 5x zoom offers a longer reach than some rivals, albeit with a somewhat inevitable increase in the maximum aperture to a rather slow f/5.7 at 120mm. Full 1080p video at 60fps with continuous auto-focusing, stereo sound and full use of the zoom is the icing on the imaging cake.
The price of the S120 is an eye-watering £449.00 / $449.99, up £20 in the UK, which puts it on a price-par with the class-leading Sony Cyber-shot RX100, itself bested by the RX100 Mark II, albeit at an even higher price-point. Despite the improvements, we still feel that the RX100 with its much larger sensor delivers even better results than the S120, making it our choice in the "pocketable compact camera for enthusiasts" sector of the market. The new Canon PowerShot S120 still remains one of the smallest premium compacts around, though, and is an excellent camera to boot, so it's still well worth considering alongside its main rivals.
Ratings (out of 5)
Design
4.5
Features
5
Ease-of-use
4.5
Image quality
4.5
Value for money
3.5