Fujifilm FinePix HS20 EXR Review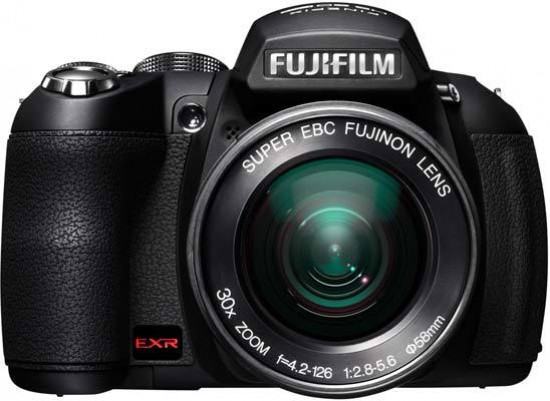 Conclusion
The Fujifilm FinePix HS20 EXR builds on the success of the original HS10 predominantly by using a new 16 megapixel EXR sensor, which expands the ISO range up to 12,800, maintains a fast continuous shooting speed and slow-motion movies, and adds the useful EXR modes which improve your images in certain situations. It's not all good news, however, as the 16 megapixel sensor also results in more noise and loss of fine detail than on the 10 megapixel HS10, first appearing at the slow speed of ISO 200 and becoming all too obvious at ISO 400. The HS20 EXR also suffers from the same slow RAW processing speeds and high price tag that adversely affected its predecessor.

As the HS20 is so similar to last year's HS10, it offers the same main benefit of being a real all-in-one alternative to a DSLR. with no need to buy or change lenses thanks to the 30x lens, which is remarkably distortion-free and admirably fast at either end. There's no need to buy or change lenses thanks to the 30x lens, which is remarkably distortion-free and admirably fast at either end. The manual zoom and focus rings further reinforce that DSLR feeling, as do the external flash hotshoe, command dials, tilting LCD screen, full range of manual shooting modes and even RAW format support. Full 1080p movie recording with stereo sound is the icing on the cake, making the HS20 a viable replacement for your video camera too.

There are a couple of areas where the Fujifilm HS20 just can't compete with a DSLR, though, most notably the pedestrian processing speeds for RAW files and the poorer image quality once you get above ISO 200. Having to wait more than 5 seconds between every RAW image quickly becomes annoying, despite the headline-grabbing 8fps burst mode, and noise quickly rears its ugly head at ISO 400, becoming progressively worse throughout the rest of the ISO range. The average quality electronic viewfinder is also no match for even the cheapest optical viewfinder on a DSLR. To be fair most other super-zoom compacts don't do well in these areas, so as long as you don't expect the HS20 to offer DSLR-like quality and performance, you won't be disappointed.

The final bugbear is price. Although slightly cheaper in the UK than the HS10 on launch, £399 / $499 still feels like a lot to pay for a compact camera. Again it makes less or more sense depending upon what you're comparing it to. Taken as a super-zoom, the HS20 is one of the most expensive models on the market, but also one of the most capable in terms of features. As a DSLR alternative, it clearly makes a lot of economic sense if you want a similar handling experience but don't mind a significant drop in image quality or responsiveness.

We really liked last year's HS10, but can't shake off the feeling that this year's upgrade represents a step backwards rather than forwards, principally because of the 16 megapixel sensor and the resulting drop in image quality. The Fujifilm FinePix HS20 EXR is still a good camera, with a long list of stand-out features and a logical, well-thought-out interface, but ultimately the photos that it produces just aren't as good as the model that it has replaced.
Ratings (out of 5)
Design
4.5
Features
5
Ease-of-use
4.5
Image quality
3.5
Value for money
3.5