Fujifilm FinePix XP10 Review
June 25, 2010
|
Mark Goldstein
|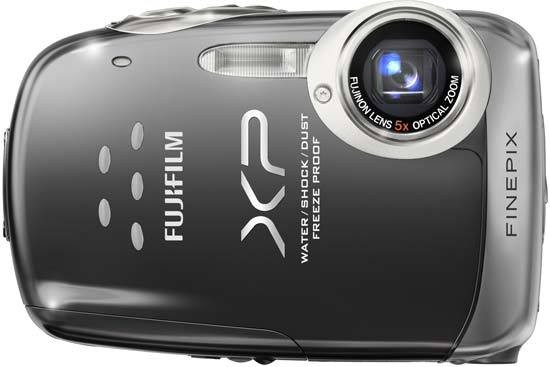 Conclusion
It may not have the most bells and whistles or take the greatest pictures in the world, but the Fujifilm XP10 is still a compellingly easy-to-use and cost-effective compact camera that should survive the rough and tumble of family life.

The XP10 is firmly aimed at the family sector of the photographic market with a range of snazzy colours, neat non-extending lens and solid build quality given its budget price tag. It's also easy enough to use for every family member from youngest to oldest, with a range of scene mode and the clever Automatic Scene Recognition mode doing virtually all of the work for you. And it should survive more than a few adventures too, making the XP10 a perfect camera for use in more extreme environments.

The merely average image quality is something of a disappointment, with noise and softening of detail all too apparent at ISO 400, obvious barrel distortion at the 36mm focal length, a poor macro mode and limiting maximum shutter speed of 4 seconds. You probably won't notice any of these flaws if you mostly take photos in good light - just don't try to push the XP10 too far and you'll be satisfied, if not delighted, with what this camera can achieve. 720p HD video with full use of the 5x zoom lens partly makes-up for the less than stellar still images..

As with most of Fujifilm's 2010 camera range, the XP10 is certainly competitively priced at £169.99 / $199.95, much cheaper than competitor's all-action offerings and a veritable bargain for a camera that should outlive most other compacts. Despite the so-so still images, it's still easy to recommend the Fujifilm XP10 as an easy-to-use and versatile camera for all the family.
Ratings (out of 5)
Design
4
Features
4
Ease-of-use
4.5
Image quality
3
Value for money
4.5