Fujifilm Instax Mini 11 Review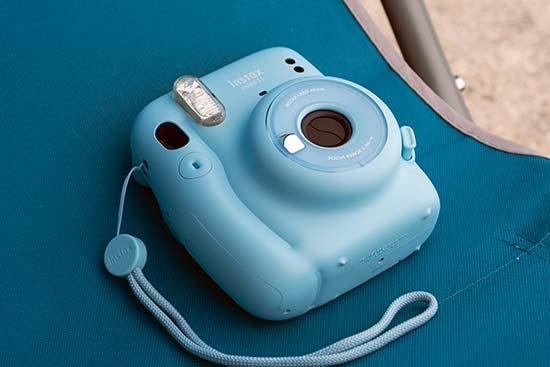 News
The Fujifilm instax mini 11 is the successor to the mini 9 , adding an "Automatic Exposure" function, Selfie Mode and custom shutter buttons.
The instax mini 11 instant camera will be available from 5th March 2020 priced at £69.99 / $69.99.

FUJIFILM unveils its next-generation instant camera
London, 26 February 2020 – FUJIFILM is pleased to announce the launch of instax mini 11, the latest innovation in its long line of popular instax instant cameras and Smartphone printers.
The instax mini 11 has been designed with portability in mind along with a fresh, stylish look. Available in five colours, the new mini 11 boasts the following new features and benefits:
Automatic Exposure function for better pictures day or night
The "Automatic Exposure" function instantly senses the level of ambient light when the shutter button is pressed, and optimising the shutter speed and flash output according to the condition. It allows even inexperienced users to take photos that are automatically perfectly exposed regardless of lighting conditions, producing high- quality instant photo prints on the spot.
Selfie Mode for quick and easy selfies
Users can activate the Selfie Mode, perfect for taking selfies and close-up shots, by simply pulling out the front edge of the lens after powering the camera on. The mini 11 also features the iconic mirrored panel from instax, making it super easy to take selfies and close-up pictures.
Custom shutter buttons for style and personalisation
The mini 11 comes with two stylish interchangeable shutter button stickers; a fun way to easily personalise the camera and alter the way the button looks.
Updated design with attention to detail
instax mini 11's rounder, softer, modern and compact look is a direct homage to its mini 9 predecessor. Contrasting design elements on the mini 11 are achieved by using a different material around the lens from the rest of the camera body. The mini 11 is available in five pastel tones – Blush Pink, Sky Blue, Charcoal Gray, Ice White, and Lilac Purple.
Also accompanying the launch of this exciting new instant camera are two new instax instant film varieties: instax mini Blue Marble film and instax SQUARE White Marble film. Both have marble-patterned print frames transforming everyday photos into unique, fun keepsakes.
Product Specification – instax mini 11
Film FUJIFILM instax mini instant film
Lens 2 components, 2 elements, f = 60 mm, 1:12.7
Viewfinder Real image finder, 0.37×, with target spot
Shooting Range 0.3 m and beyond (use selfie mode for 0.3 m to 0.5 m)
Shutter Programmed electronic shutter 1/2 to 1/250 sec.
Slow synchro for low light
Exposure Control Automatic, Lv 5.0 to 14.5 (ISO 800)
Film Ejection Automatic
Film Developing Time Approx. 90 seconds (varies depending on the ambient temperature)
Flash Constant firing flash (automatic light adjustment),
Recycle time: 6.5 seconds or less (when using new batteries),
Effective flash range: 0.3 to 2.7 m
Power Supply Two AA-size alkaline batteries (LR6),
Capacity: approx. 10 instax mini film packs of 10 exposures each
Auto Power Off Time After 5 minutes
Other Includes film counter and film pack confirmation window
Dimensions/Weight 107.6mm×121.2mm×67.3mm 293g (without batteries, strap, and film)
Package contents Two AA-size alkaline batteries (LR6), Hand Strap, Shutter Accessory set
*The above specifications are subject to change
Pricing
instax mini 11 instant camera will be available at a manufacturer's suggested retail price of £69.99 and is expected to be available for purchase on 5th March 2020. UK retailers will include Fujifilm House of Photography, Amazon, Urban Outfitters, Skinny Dip, John Lewis, Currys PC World, Harrods and Dixons. For more information about the instax mini 11 visit: https://www.instax.co.uk/insta...
instax mini Blue Marble film will have an SRP of £8.99 and instax SQUARE White Marble film will have an SRP of £9.99 and is expected to be available for purchase on 5th March 2020.