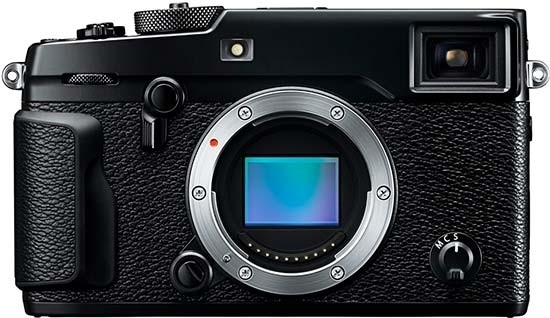 Conclusion
It may look outwardly very similar to its 4-year-old predecessor, but the new X-Pro2 represents a big step forward in almost every area for Fujifilm's X-series camera range - we'd definitely expect to see virtually all of the X-Pro2's new features on any future X-T2. From the impressive new sensor, to the speedy processor and faster auto-focus system, the new Fujifilm X-Pro2 significantly raises the bar, particularly if you're a fan of the myriad of external controls and rangefinder-like experience that this camera offers. The inclusion of the Advanced Hybrid Multi Viewfinder does make the X-Pro2 necessarily more expensive than it might have been - £1399 / $1699 just for the body is still an awful lot of money in the compact system market - but for some photographers this will be reason enough alone to buy the X-Pro2.
Fujifilm have addressed all of our criticisms of the original X-Pro1, and then some - the slightly sluggish auto-focusing, awkward manual focusing, and slow write speeds have all been vastly improved upon. Only the so-so video mode remains an area of concern, with Fujifilm claiming that the X-Pro2 is capable of delivering 4K video, but failing to offer it at launch. There are a few other minor criticisms of note - the exposure compensation dial and dioptre control are far too easy to knock out of position, the new ISO speed dial takes some getting used to and is the only way of changing the ISO, and we miss the X-T1's tilting screen and better balance with longer, heavier lenses, especially as there's no battery grip accessory for the X-Pro2. Still, these are fairly minor criticisms of what is otherwise an impeccably well-thought out camera.
Thankfully the X-Pro2's new 24 megapixel image sensor and lack of low-pass filter delivers truly excellent image quality. Despite the resolution increase, noise is noticeable only by its almost complete absence throughout the ISO range of 100-51,2000, the JPEG quality is so good that you could conceivably never need the Raw files, and the extensive range of 21 lenses are almost uniformly well-regarded by reviewers and photographers alike. The X-Pro2 is certainly right up there with the best APS-C sensor cameras on the market, and some full-frame models too, living up to Fujifilm's bold claims.
In short, the new Fujifilm X-Pro2 is a genuinely lovely camera to shoot with, and one that produces great images time after time. Some users may prefer the DSLR-like format of the X-T-series and resent having to pay a price premium for the complex viewfinder, but for everyone else, the Fujifilm X-Pro2 is a compelling interchangeable lens camera (and not just a compact system camera).
Ratings (out of 5)
Design
4.5
Features
5
Ease-of-use
4.5
Image quality
5
Value for money
3.5