Nikon Coolpix S1200pj Review
November 10, 2011
|
Mark Goldstein
|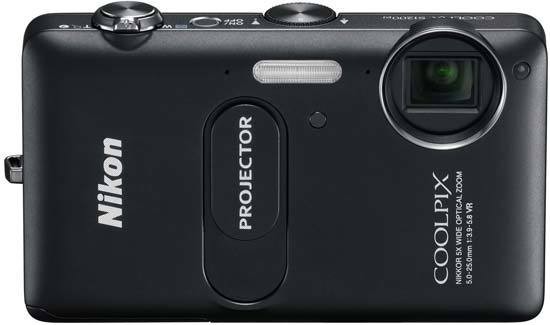 Conclusion
The thrid-generation Nikon Coolpix S1200pj is still the only camera with a built-in projector on the market, further refining last year's model mainly by signifcantly improving the projector unit and ditching the S1100pj's touch-screen interface. The camera element of the S1200pj is virtually identical, though, producing the same so-so image quality and being geared more towards point-and-shoot users.

The projector is much brighter, more vivid and can create a bigger projection than before. It can also now display images from a compatible Apple device using the supplied Belkin cable, although we can't actually vouch for its effectiveness as the S1200pj wouldn't play ball with out iOS 5 iPhone. Still, in theory at least it widens the camera's appeal even further, maybe even beyond its core business users.

Unfortunately similar improvements haven't been made to the S1200pj's picture quality. Noise at slow ISO speeds, light fall-off and inconsistent sharpness at the edge of the frame, and a poor night mode contribute to merely adequate photographs. Video performance is better thanks to the 720p mode, the ability to use the optical zoom during recording and the economical MOV format, although the video features on offer are still somewhat basic.

The S1200pj's user interface has been radically tweaked, now employing a conventional button-driven system rather than its predecessors more cutting-edge touch-screen LCD. We don't actually mind this more simplistic approach, as in use it proves to be faster and more reliable, aided in part by the new sliding cover for turning the projector on and off and the clever illumination of certain key controls. The slightly slimmer dimensions and more rounded appearance are also easier on the eye.

The more powerful projector and included Apple connection cable may go some way to explaining the significant increase in the price of the S1200pj, up some $80 / £50 from last year's model. A full retail cost of $429.95 / £399.99 is really going to test how much you want or need the built-in projector, as there are better camera's around for half the price of the S1200pj. Still, as Nikon still have this admittedly small area of the market to themselves, we can just about recommend the Nikon Coolpix S1200pj as an all-in-one device that can take pictures and also display them both from itself and a variety of external sources.
Ratings (out of 5)
Design
4
Features
4.5
Ease-of-use
4.5
Image quality
3.5
Value for money
3