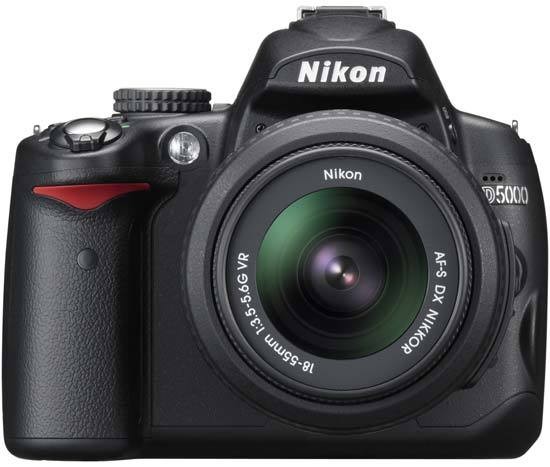 Specifications
Image Sensor Format DX
Image Sensor Type CMOS
Sensor Size 15.8 x 23.6mm
Total Pixels 12.9 million
Effective Pixels 12.3 million
Image Area (pixels)

DX-format
(L) 4288x2848
(M) 3216x2136
(S) 2144x1424
Top Continuous Shooting Speed at full resolution 4 frames per second
LCD Monitor Size 2.7 in. diagonal
LCD Monitor Type
Vari-angle color LCD monitor
LCD Monitor Resolution 230,000 Dots
LCD Monitor Angle of View 170-degree wide-viewing angle
LCD Monitor Adjustments Brightness,7 levels
Shutter type Electronically controlled vertical-travel focal-plane
Slowest Shutter Speed 30 sec. in steps of 1/3
1/2
1 EV
Fastest Shutter Speed 1/4000 sec. in steps of 1/3
1/2
1 EV
Bulb Shutter Setting Yes
Lowest Standard ISO Sensitivity 200 in steps of 1/3
1 EV
Highest Standard ISO Sensitivity 3200 in steps of 1/3
1 EV
Lowest Expanded ISO Sensitivity Lo-1 (ISO 100 equivalent)
Highest Expanded ISO Sensitvity Hi-1 (ISO 6400 equivalent)
Expanded ISO Sensitivity Options

Lo-1 (ISO 100 equivalent) in steps of 1/3 EV

Hi-1 (ISO 6400 equivalent) in steps of 1/3 EV 

Storage Media SD
SDHC
Storage System JPEG: JPEG-baseline-compliant; can be selected from Size priority and Optimal Quality
AVI
Compressed 12-bit NEF (RAW)
File System Compliant with DCF 2.0
DPOF
EXIF 2.21
Exposure Modes Programmed Auto (P) with Flexible Program
Shutter-Priority Auto (S)
Aperture-Priority Auto (A)
Manual (M)
Auto
Auto (flash off) Advanced Scene Modes
Advanced Scene Modes Portrait
Landscape
Close-up
Sports
Night Portrait
Night Landscape, Party/Indoor, Beach/Snow, Sunset, Dusk/Dawn, Pet Portrait, Candlelight, Blossom, Autumn Colors, Food, Silhouette, High Key, Low Key
Exposure Metering System 420 pixel RGB sensor 3D Color Matrix Metering II
Center-weighted
Spot
Metering Range 1) 0 to 20 EV (Matrix or center-weighted metering); 2) 2 to 20 EV (Spot metering) (ISO 100 equivalent, f/1.4 lens, at 20 degrees C/68 degrees F)
Exposure Meter Coupling CPU
Exposure Compensation ±5EV in increments of 1/3
1/2
1
Exposure Lock Yes
Exposure Bracketing Yes
2 or 3 frames in steps of 1/3, 1/2, 2/3, 1 or 2 EV
Shutter Release Modes Live View [LV] mode
Self-timer mode
Continuous [C] mode: 4 Quiet mode
Movie Modes Movie with sound
Stop motion movie
D-Movie
HD 1280 x 720/24 fps VGA 640 x 424/24 fps QVGA 320 x 216/24 fps
White Balance Sun
Shade
Fluorescent
Incandescent
Flash
Preset
Auto
Auto (TTL white balance with 420-pixel RGB sensor) Seven manual modes with fine-tuning; Sun Shade Fluorescent Incandescent Flash Preset Fine Tune by Kelvin Color temperature setting
White Balance Bracketing Yes, Yes
D-Lighting Bracketing 2 exposures
Live View Shooting
yes
Playback Functions Full frame
Thumbnail (4, 9, 16 or 72 segments)
Zoom
Slideshow
Histogram
Shooting data
Highlight point display
Auto image rotation
Sound playback
D-Movie playback
Calendar
Interface Hi-speed USB
NTSC
HDMI
Lens Mount Nikon F bayonet mount
Compatible Lenses

AF-S or AF-I: All functions supported.
• Type G or D AF NIKKOR without built-in autofocus motor: All functions except autofocus supported. IX NIKKOR lenses not supported.
• Other AF NIKKOR: All functions supported except autofocus and 3D color matrix metering II. Lenses for F3AF not supported.
• Type D PC NIKKOR: All functions supported except autofocus and some shooting modes.
• AI-P NIKKOR: All functions supported except autofocus and 3D color matrix metering II.
• Non-CPU: Autofocus not supported. Can be used in mode M, but exposure meter does not function. Electronic rangefinder can be used if lens has a maximum aperture of f/5.6 or faster

Picture Angle 1.5
Viewfinder -2.0 to +1.0 m-1
Viewfinder Frame Coverage Approx. 95%
Viewfinder Diopter Adjustment (-2.0 to +1.0 m-1)
Viewfinder Eyepoint

17.9

Reflex Mirror Quick-return type
Focusing Screen
Type B BriteView Clear Matte Mark V screen with focus frame (framing grid can be displayed)
Interchangeable Focusing Screens No
Viewfinder Magnification Approx. 0.78
Depth-of-field Control No
Autofocus System Nikon Multi-CAM 1000 autofocus module with TTL phase detection, 11 focus points (including 1 cross-type sensor) and AF-assist illuminator (range approx. 0.5-3 m/1 ft. 8 in.-9ft.10 in.)
Maximum Autofocus Areas/Points 11
Autofocus Sensitivity -1 - +19 EV (ISO 100, 20°C/68°F
Focus Modes Single-servo AF (S)
Continuous-servo (C)
Manual (M) with electronic rangefinder
Live View autofocus; Face-priority, wide area, normal area and Subject tracking
Single-point AF Mode Yes
Dynamic AF Mode Yes
Auto-area AF Mode Yes
Focus Lock AE-L/AF-L button
Half press of shutter-release button (single-point AF in AF-S)
Picture Control Standard
Neutral
Vivid
Monochrome
Nine User-customizable settings
Portrait
Landscape
In-Camera Image Editing Trim
D-Lighting
Color Balance
Image Overlay
Filter Effects
Distortion Control
Monochrome
Stop Motion
Color Balance
NEF (RAW) processing
Quick retouch
Straighten
Distortion Control
Fisheye
Small picture
Red-eye correction
Perspective Control Color Outline
Built-in Flash Yes
External Flash Shoe Yes
Built-in Flash Distance 56 at ISO 200 ft.17 at ISO 200m
Dust-Off Reference Photo Yes
Save/Load Camera settings No
Nikon Creative Lighting System Compatibility Yes
Built-in Commander mode not available
Flash Sync Speed up to 1/200
Flash Sync Modes Front-curtain sync (normal)
Slow sync
Rear-curtain sync
Red-eye reduction
Flash Control 1) i-TTL: TTL flash control by 420-pixel RGB sensor, built-in flash, SB-900, SB-800, SB-600, SB-400: i-TTL balanced fill-flash and standard i-TTL flash
2) AA (Auto Aperture-type) flash: Available with SB-900 and SB-800 used with CPU lens
3) Non-TTL Auto: Available with Speedlights such as SB-800, 28, 27, and 22S
4) Range-priority manual flash; available with SB-900 and SB-800
Flash Sync Terminal No
Accessory Shoe Yes
Self-timer 2, 5, 10, 20 seconds duration
World Time Setting Yes
Date, Time and Daylight Savings Time Settings Yes
Battery Type Rechargeable
Battery / Batteries EN-EL9 Lithium-ion Battery
EN-EL9a Lithium-ion Battery
AC Adaptor EH-5a AC Adapter
Battery Charger MH-18a Quick Charger
Image Comment Yes
Battery Life (shots per charge) 510 shots (CIPA)
Tripod Socket ¼-20
Approx. Dimensions Width 5.0 in. (127mm)
Height 4.1 in. (104mm)
Depth 3.1 in. (80mm)
Approx. Weight 19.8 oz. (560g)
Supported Languages Chinese (Simplified and Traditional), Dutch, English, Finnish, French, German, Italian, Japanese, Korean, Polish, Portuguese, Russian, Spanish, Swedish
Supplied Software Software Suite CD-ROM
Other Specifications and equipment are subject to change without any notice or obligation on the part of the manufacturer.
Supplied Accessories

EN-EL9a Rechargeable Li-ion Battery
MH-23 Quick Charger
DK-5 Eyepiece Cap
DK-24 Rubber Eyecup
UC-E6 USB Cable
EG-CP14 Audio Video Cable
AN-DC3 Camera Strap
Body Cap
BS-1 Accessory Shoe Cover
Software Suite CD-ROM

*Supplied accessories may differ depending on country or area.