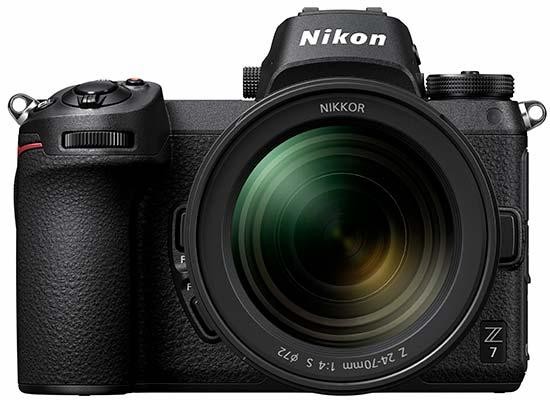 First Impressions
Photography Blog attended the UK launch of the new Nikon Z50 mirrorless camera in central London - find out what we thought of Nikon's brand new camera by reading our detailed first impressions...
After weeks of rumors and leaks, Nikon has finally announced it's first ever mirrorless camera with an APS-C sensor, following hot on the heels of last year's full-frame twins, the Z6 and Z7.

Alongside the Z50, Nikon is launching two DX-format lenses which are all designed to fit the camera's Z-mount. The existing FTZ Mount Adapter that was released with the Z6/7 is also compatible with the new model, which means that existing Nikon Z-mount and even F-mount lenses can be used with the new camera.
Other important features of note include a 2.4-million dot EVF, a 1.04-million dot tilting screen with smartphone-style touch controls, 4K UHD video recording, Snapbridge, Wi-Fi and Bluetooth connectivity, and 11fps burst shooting with AF/AE tracking.
The Nikon Z50 will launch on 7th November 2019 priced at £849 / $857 body only, with a number of kits also available.
Key Specifications
20.9 megapixel APS-C sensor
Hybrid-AF with 209 phase-detection AF pixels
ISO 100-51200
11fps burst shooting
Eye-Detection AF
EXPEED 6 processor
Silent mode
180-degree flip screen
2360k-dot EVF
4K UHD video recording at 30p
395g body
Target Audience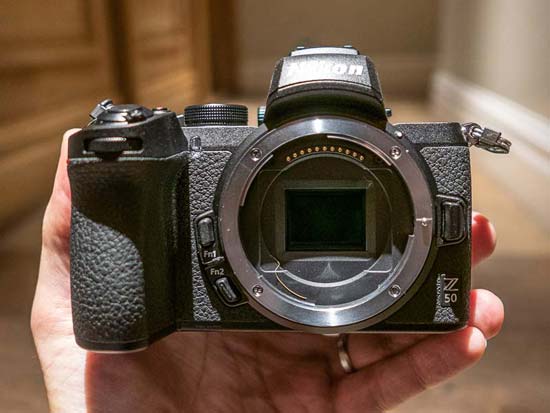 In terms of target users, the Z50 is aimed at people upgrading from D7000-series DSLRs, content creators an influencers looking for a small yet capable camera, and Z6/Z7 owners who want a backup camera.
The introduction of the Z50 means that Nikon now has five full-frame and five APS-C cameras in its current range, with three of them being mirrorless, with the Z50 sitting alongside the D7500 and D500.
Size and Weight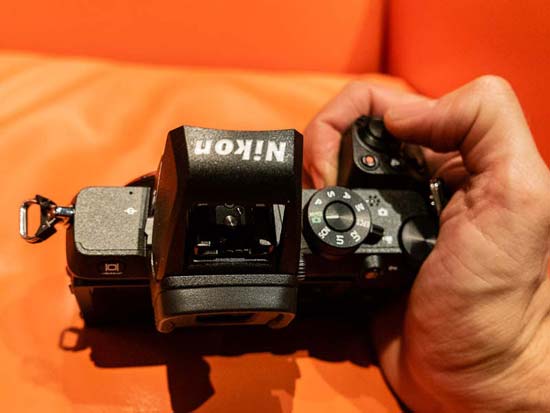 Weighing just 385g and measuring 126.5 x 93.5 x 60mm, the Z50 comes across very much like a Z6/7 that's been shrunk in the wash, no mean feat given that the latter cameras are already pretty small.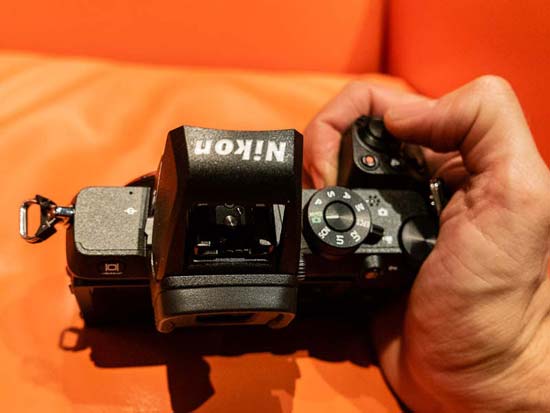 Despite this impressive reduction in size and weight, the Z50 still features a deep grip that can accommodate all of your fingers, already marking this out as camera for serious photographers.
Controls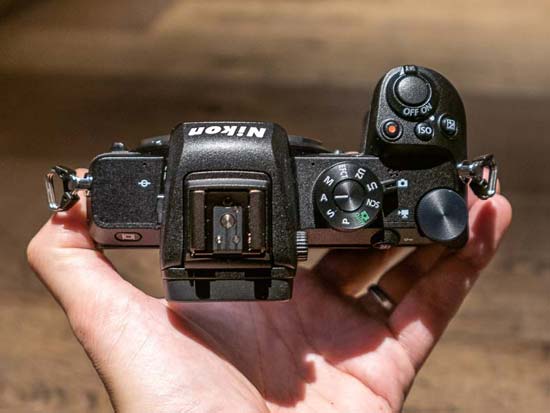 The Z50 inherits the dedicated shooting mode dial from the Z6 and Z7, this time positioned on the top-right of the camera.
There are also two customisable Function buttons on the front of the chassis, and even two control dials, one on the front of the chunky hand-grip and one controlled by your right thumb on the rear.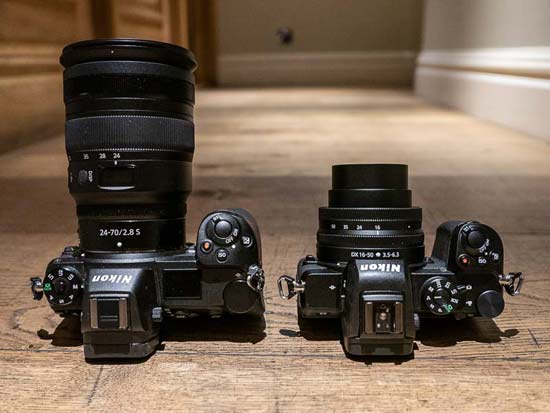 Indeed, with most of the controls positioned on the right, it's clear that Nikon have done everything that they can to make one-handed operation of the Z50 a viable option (for right-handed users at least).
This degree of control and customisation is impressive on what is after all only a mid-range camera for enthusiasts.
Sensor
A brand new 20.9 megapixel APS-C sized CMOS sensor is at the heart of the Nikon Z50.
Nikon claim that the Z50 offers class-leading ISO performance than its main rivals due to the slightly lower megapixel count and therefore slightly bigger pixels.
We were unable to verify this claim at the launch event as the sample cameras that were available were pre-production units running non-final firmware.
The Z50 uses the latest EXPEED 6 processor, which is found in the much more expensive Z6 and Z7 full-frame models.
Video Recording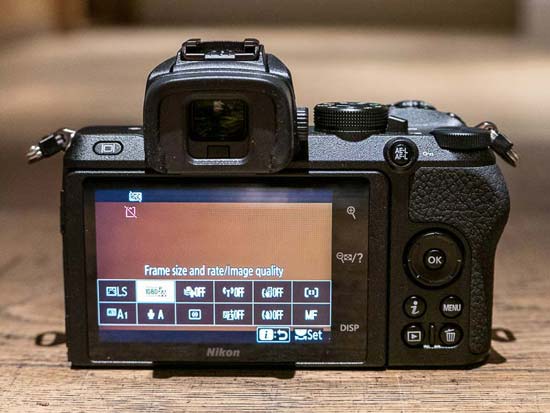 The Z50 can record 4K UHD video at 30p. While it would have been nice to see 4K/60p or even 10-bit recording, the fact that the Z50 doesn't apply any crop to its 4K footage to a lesson to at least one of its main rivals.
There' also a built-in time-lapse feature and interval timer, and slow-motion movies can be recorded complete with sound.
Auto-focusing
Perhaps more important than the number of megapixels is the fact that the sensor has 209 PDAF points, the first ever DX sensor with PDAF onboard.
Coverage is an impressive 90% both horizontally and vertically.
The same Eye AF system as found in the Z6/7 is onboard, and the Z50 is capable of focusing down to an impressive -4EV.
Our initial tests with the two kit zoom lenses in a dimly lit hotel basement certainly seemed promising,with the camera quickly finding focus almost all of the time.
Tilting LCD Screen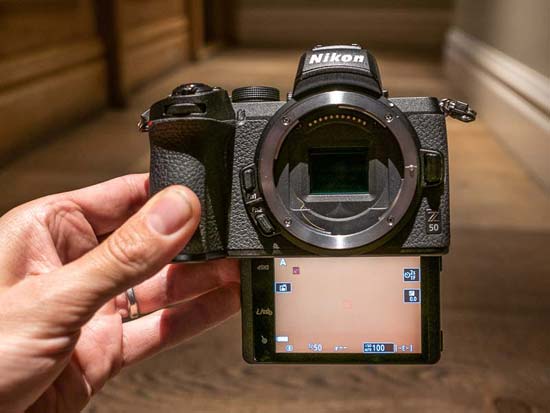 The Z50's 1040K-dot screen can be tilted down below the camera to face forwards for easier vlogging and the inevitable selfies.
While we'd have preferred a design that pivots out to the side, this implementation is at least an improvement on the Z6 and Z7's screen,which only tilts up and down, and not forwards.
Touchscreen
In addition to having a responsive touchscreen that can be used for almost everything (take note here, Sony), the Z50 also has an innovative and permanent column of three controls on the right of the screen.
Starting from the top, there are icons for zooming in, zooming out, and toggling between the various display modes.
It's quite a neat, if somewhat limited idea that's meant to make the transition from a smartphone to the Z50 easier.
Built-in Flash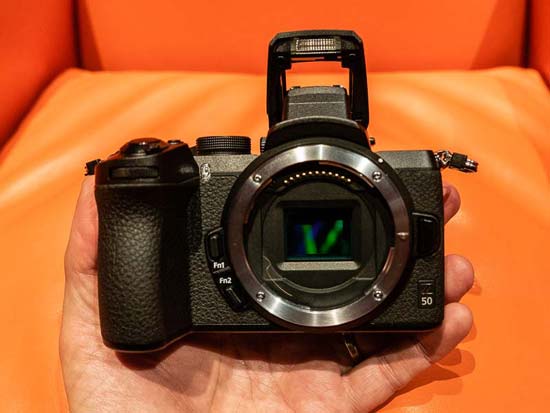 The Z50 may be small, but Nikon have still squeezed a pop-up Speedlite flash into the design, which may prove useful for some fill light if you haven't got a more powerful unit to hand.
Lenses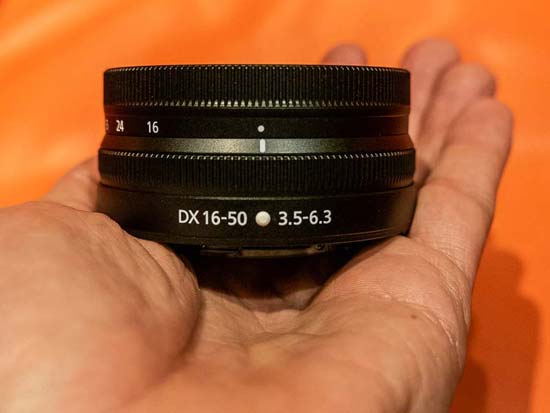 Accompanying the Z50 are two new DX-format kit zoom lenses - the 16-50mm pancake and 50-250mm super-telephoto.
With an all-plastic construction and maximum apertures of f/3.5–6.3 and f/3.5–6.3, they're clearly at the budget end of the lens world, but they do at least provide a quick and inexpensive way to cover a versatile focal range.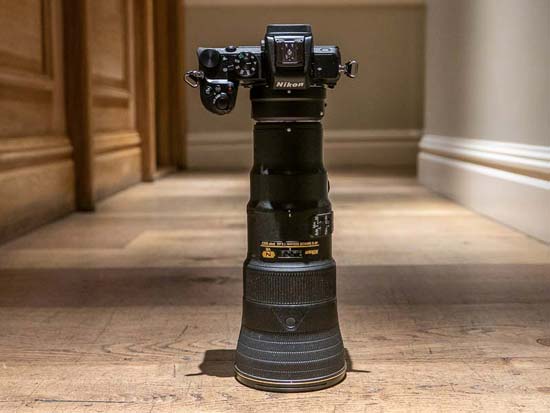 As mentioned above, you can also fit the FTZ mount adapter which enables you to use any full-frame Z-mount or FX-mount lens on the Z50, with a corresponding change in the crop factor. The above image shows the Z50 with the full-frame 500mm lens fitted!
While we can't see too many new owners going down this route, if you're already invested in a Nikon full-frame system, be it DSLR or mirrorless, it's great to see Nikon supporting those lenses on their new DX-format camera.
Especially as in the UK at least, the FTZ adapter is free for everyone who pre-orders the Z50.
Battery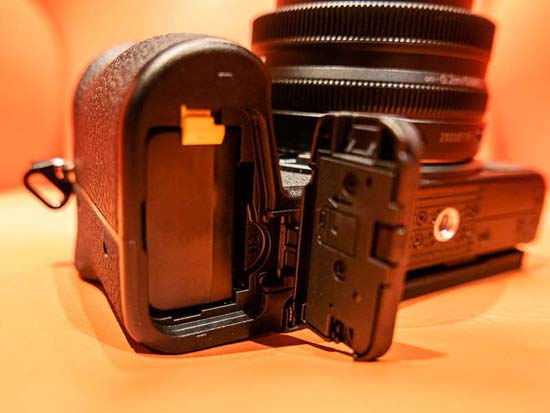 A brand new battery, the EN-EL25, is used by the Z50. Nikon haven't released any CIPA certified figures for the battery life just yet, so we'll have to wait and see what compromises have been made in this department.
Memory Cards
An unfortunate consequence of the Z50's small size is the single memory card slot, rather than a dual system.
Even worse, it's housed in the same compartment as the battery on the bottom of the camera, which will inevitably prove awkward for avid tripod users.
Image Quality
Although we've had a chance to try out the Z50 camera, we weren't permitted to take away any photos for closer examination, as only pre-production models running non-final firmware were available.
However, early indications from looking at stills and video on the screen look promising, as well as some of the sample images taken by photographers and influencers who had early access to the camera.
We'll of course be very keen to put the Z50 properly through its paces as soon as full production samples become available, so watch this space!
Early Verdict
The Nikon Z50 is an impressively small, well thought-out camera that takes Nikon into a new market, namely cropped-sensor mirrorless.
This is hotly contested - Sony may generate a lot of headlines from their full-frame Alpha cameras, but it's actually their APS-C range that generates the most revenue, while Canon have also recently become more aggressive after letting their EOS M line-up languish for a few years. Other contenders include Fujifilm's well-regarded X-series system and the Micro Four Thirds system headed by Olympus and Panasonic.
So it will be very interesting, and maybe even crucial, to see how much of an impact Nikon can make in an already saturated area of the camera market at a time when camera sales are perpetually in decline.
The new Z50 is undoubtedly a promising start, though, and one which we look forward to fully reviewing in the near-future.
Until then,why don't you share your thoughts on the new Nikon Z50 and Nikon's move into cropped-sensor mirrorless cameras by leaving a comment below?