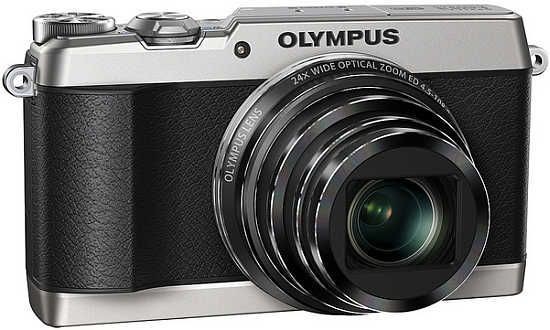 Conclusion
The Olympus SH-1 is arguably one of the most attractive travelzoom cameras we have ever come across. Its retro-styled aluminium-alloy body is reminiscent of the manufacturer's PEN line of film cameras and CSCs. In hand, it feels great courtesy of a small but well-sculpted, textured grip, which provides a surprisingly secure hold and a good resting place for your fingers.
In use, the camera proved to be quite responsive, with quick start-up, focus acquisition and shot-to-shot times. The touchscreen controls such as Touch AF work very well most of the time. One gripe we did have with the camera was that in Super Macro mode – which is unnecessarily tucked away in a long list of Scene modes making it difficult to capture close-up shots in M and P modes – the camera would often focus on the background instead of the subject itself. Focus hunting was also sometimes experienced at normal camera-to-subject distances in low-light situations, especially at the telephoto end.
Other than this, and the lack of an eye-level electronic viewfinder – which is more of the rule rather than the exception with cameras of this size – we found little to complain about in terms of general usage. The high-speed sequential shooting modes, advanced movie recording options and on-board Wi-Fi make the Olympus SH-1 a very well-rounded offering within the travelzoom camera segment.
Image quality is a wholly different story. Even at base ISO, the camera applies so much noise reduction that the images take on a watercolour-like look when viewed at 100% magnification. This means the images cannot be printed as large as the 16-megapixel sensor would have you believe (in fact we think they do not contain much more detail than you would expect from a 5-megapixel camera). At smaller print sizes and most screen resolutions, the photos look much better. The colours are vibrant, the dynamic range is pretty good for a 1/2.3" sensor (and there's an HDR mode to fall back on when shooting in really contrasty light), and chromatic aberrations are kept to a minimum.
If Olympus issued a firmware update giving users the ability to control the amount of noise filtering applied to the images – as is the case with the manufacturer's compact system cameras – we would almost certainly give the Olympus SH-1 a 'Recommended' rating, as its usability and feature set are definitely remarkable. With the excessive detail smudging in the images, though, it's hard to wholeheartedly recommend the camera to anyone wishing to do more with their photos other than posting them on the Web or making small prints.
Ratings (out of 5)
Design
4.5
Features
4
Ease-of-use
4.5
Image quality
3
Value for money
3.5