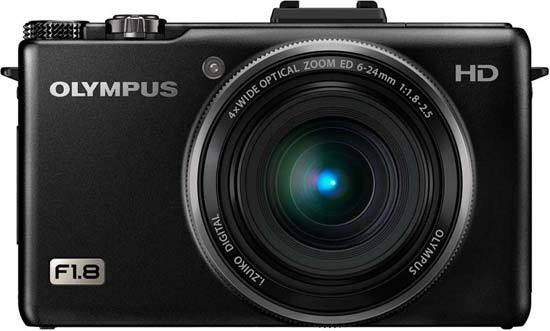 Specifications
Product Type
Product type
Compact digital camera
Memory
SD Memory Card(SDHC/SDXC compatible)  ~64GB
Screen size
1/1.63"
Effective Pixels number
Effective Pixels number
10M (3664 x 2752)
Lens
Structure
11elements in 8groups
Aspheric
6 sides
Focal length(35mm equivalent)
6.0mm to 24.0mm(28mm to 112mm)
Maximum aperture
1.8-2.5
Optical zoom
4x
Digital zoom
4x
Imaging range
Normal:60cm to infinity,
Macro:W:10cm to infinity,T:30cm to infinity.
Super Macro:1cm to TBD,Wide-angle edge fixing
Image Pickup Unit
Product type
1/1.63" High-Sensitivity CCD
Total no. of pixels
4072x2784
Aspect ratio
4:3
Recording(Still)
Recording format
DCF, DPOF compatible/Exif, PRINT Image Matching III
File format
RAW (12-bit lossless compression), JPEG, RAW+JPEG
Recording image size
[RAW] 3648 x 2736 pixels
[JPEG] 3648 x 2736 pixels - 640 x 480 pixels
File Size
RAW: 3648 x 2736 (approx. 1/1.5 lossless compressed) Approx. 17MB
Large: 3648 x 2736 Fine (1/4 compressed) Approx. 5.5MB
3648 x 2736 Normal (1/8 compressed) Approx. 3.1MB
Middle: 3200 x 2400 Fine (1/4 compressed) Approx. 4.4MB
3200 x 2400 Normal (1/8 compressed) Approx. 1.9MB
2560 x 1920 Fine (1/4 compressed) Approx. 2.4MB
2560 x 1920 Normal (1/8 compressed) Approx. 1.3MB
1600 x 1200 Fine (1/4 compressed) Approx. 1MB
1600 x 1200 Normal (1/8 compressed) Approx. 0.5MB
Small 1280 x 960 Fine (1/4 compressed) Approx. 0.7MB
1280 x 960 Normal (1/8 compressed) Approx. 0.4MB
1024 x 768 Fine (1/4 compressed) Approx. 0.5MB
1024 x 768 Normal (1/8 compressed) Approx. 0.3MB
640 x 480 Fine (1/4 compressed) Approx. 0.2MB
640 x 480 Normal (1/8 compressed) Approx. 0.2MB
Recording(Movie)
Recording format
AVI Motion JPEG(30fps)
Movie Mode
HD: 1280(H)x720(V)  Aspect 16:9
SD: 640(H)x480(V)     Aspect 4:3(VGA)
Compression Ratio
1/12
File Size
Max 2GB(limited by AVI format)
Maximum Recording Time
HD: 7min, SD: 14min
Recording(Sound)
Recording format
Wave Format Base
Stereo PCM/16bit, 44.1kHz
Maximum Recording Time
Picture with Sound: 30sec
Movie: depend on Movie Recording Time
Live View
Type
Image Sensor type
Field of view
100%
Display Mode
Normal Mode
Grid Line + Histogram Mode
OFF Mode
Magnification Ratio
Not available
Monitor information
Aperture value, Shutter speed, Auto Bracket, AF mode, IS, Shooting Mode, Battery Check, My Mode,
Face Detection, Histogram, Number of storable still pictures, Record mode, ISO, Sequential shooting,
Self-timer, White Balance 
Display of Face Detection
Max 8 frames of face detection can be displayed 
AF
Imager AF
Image stabilizer
System
Built in (Imager shift image stabilizer)
Mode
2 dimensional activation, OFF
Effective compensation range
Approx.2EV steps
Shutter speed range
2 - 1/2000 sec. (Not available when Bulb is selected)
IS for Movie
Electronic Image Stabilization with Multi-Motion function
Monitor
Product type
OLED
Size
3.0 inches (3:2)
Total no. of pixels
614,000dots
Playback field of view
100%
Brightness control
+2 levels and -2 levels
Colour balance
Not available
Focusing
AF system
Imager Contrast Detection AF system
Focus mode
Single AF (AF) /  Manual Focus (MF) / Macro mode / SuperMacro mode / AF tracking (TR)
Focusing point
11-area multiple AF with the contrast detection system (Auto, selectable in option)
Focusing point selection
Auto from all 11 area, Single area from 11 area
Auto from almost all area when Face detection is ON
Free selection (from 225points) when Magnified View Mode is selected
AF illuminator

Available
Focus tracking
Available
Manual Focus Assist
When rotation of Control dial is detected under  MF mode, LV is magnified automatically
Shooting Modes
P(Program Auto),iAUTO,A(Aperture priority).S(Shutter priority),M(Manual shooting),C(Custom shooting),
Low Light,Art Filter,SCN(Scene)
Exposure Control
Metering system
TTL Image Sensor metering system 
(1) Digital ESP metering (324-area multi pattern metering) (2) Center weighted average metering (3) Spot metering
Metering range
EV0-17
 
Exposure mode
(1) i Auto (2) P: Programme AE (3) A: Aperture priority AE
(4) S: Shutter priority AE (5) M: Manual (6) Low Light (7) Scene select  AE (8) Art Filter
Scene select AE
Portrait, e-Portrait, Landscape, Night Scene, Night + Portrait, Indoor, Self Portrait, Sport, Sunset, Fireworks,
Multi Exposure, Cuisine, Document, Beach & Snow, Under Water Wide, Under Water Macro, Pet, Panorama
ISO sensitivity
AUTO: ISO 100 - 800 / Manual ISO 100 - 6400, 1/3 EV steps, Movie ISO 200-1600, Low light ISO 100-3200
Exposure compensation 
±2 EV in 1/3EV steps
AE lock
Non available
Exposure bracketing
Available
Metering standard value adjustment
 
White Balance
Auto WB system
Available
Preset white balance
6 settings (3000K - 7500K)
Lamp (3000K), Fluorescent 1 (4000K), Fluorescent 2 (4500K), Daylight (5300K), Cloudy (6000K), Shade (7500K) , Under Water Auto, One Touch WB
White balance compensation
±7 steps in each A-B/G-M axis (in Auto WB / Preset WB mode / One touch WB)
CWB (Kelvin setting)
1 setting can be registered at Kelvin temperature (2000K - 14000K)
One-touch white balance
Available
White balance bracketing
3 frames in 2, 4, 6 steps selectable in each A-B/G-M axis.
Colour Mode
Colour space
sRGB
Picture Mode
Mode
Vivid, Natural, Portrait, Muted, Monotone
Adjustment parameter
Contrast, Sharpness and Saturation level available in 5 steps for Vivid, Natural, Portrait and Muted 
Contrast and Sharpness level available in 5 steps for Monotone.
Filter effect
Yellow, Orange, Red or Green filter available for Monotone
Picture tone
Sepia, Blue, Purple or Green tone available for Monotone
Gradation
4 levels (Auto, High key, Normal, Low key)
Shutter
Shutter speed
60 - 1/2000 sec. 
Bulb: up to 16 min.
1/3 steps
Self-timer
Operation time: 12 sec., 2 sec. (cancel available)
Remote cable release
Available  (with optional RM-UC1 Remote cable.)
Drive
Drive mode
Single-frame shooting, Sequential shooting, High-speed Sequential shooting1,High-speed Sequential shooting2,Self-timer
Sequential shooting speed
Approx. 2 frames/sec. in sequential shooting 
Max. recordable pictures
RAW mode: Max. 8 frames.
on sequential shooting
JPEG mode: Depends on compression ratio and no. of pixels
(Large normal mode: approx. 23  with Toshiba Super High Speed type "Class 6" 4GB)
Flash
Built-in flash
Available
Compatible external flash
E-system Flash(FL-36R, FL-20, FL-14,FL-50R)
*FL-50R(Can only be used with wireless. Cannot attach to body)
Flash mode of External Flash
Auto, Red-eye reduction, Red-eye reduction slow sync., Slow sync at 1st curtain, Slow sync at 2nd curtain, Fill-in, Off.
Flash intensity control
Up to ±2 EV in 0.3 EV steps
Art Filter
Mode
Pop Art, Soft Focus, Grainy Film, Pin Hole, Diorama, and Dramatic Tone
Multi Exposure
Number of picture
2 frames
Functions
Auto gain,
Multi Aspect
Aspect Ratio
4:3/3:2/16:9/6:6
Live control
Information (shooting)
Battery information, Shooting mode, Shutter speed, Aperture value, Exposure compensation value, ISO sensitivity,
Live Guide
Exposure compensation indicator, Exposure indicator, Flash intensity compensation indicator, Date, Auto BKT setting, 
WB, Record mode, Flash Status, Image size, Drive mode, Flash intensity compensation value, Metering mode, 
Recordable still image number, Focusing mode, AF frame, IS activating mode, Face detection, My Mode, 
Multi Exposure, Aspect Ratio
Live Guide
Color satuturation, Color image, Brightness, Blur Background, Shooting tips
Playback
Playback mode
Single-frame
Information Display
Index Display(25 frames, Calendar)
Close-up (1.1 - 10X)
Movie (w/sound, FF/REW/Pause)
Slideshow(Still/Movie/Still+Movie, Slide show w/BGM/BGM+Sound/Sound)
Information display
Histgram,Shooting information,OFF
Menu
Languages
39
Reset & custom setting
My mode
1 setting recordable
Image Editing
Erasing function
Single frame, All, Selected frames(from Index)
Protect function
Single frame
RAW picture editing
RAW development based on settings of the camera(including Art Filter)
JPEG editing
Shadow adjustment, Red-eye fix, Trimming, Monotone, Sepia, Saturation (colour depth), Resize (producing another file, 1280x960, 640x480, 320x240), e-portrait
Print
Print function
Print reservation (DPOF), Direct print (PictBridge compatible)
Input/Output
PC interface
USB 2.0 High Speed for storage through Multi-connector(MTP mode is available) 
TV interface
HDMI(HD/Stereo Sound), VIDEO-OUT(SD/Mono Sound)
USB/Video connector
Dedicated multi-connector (Video: NTSC/PAL selectable, Optional Remote cable RM-UC1, USB cable is available)
HDMI
Mini HDMI type-D
Flash attachment
Hot shoe
DC-in
Yes(Multi terminal)
Accessory attachment
Accessory port
Accessories Chart
External Fkash
FL-36R, FL-20, FL-14,FL-50R(Can only be used with wireless.Cannot attach to body)
Viewfinder
VF-2
External microphone
SEMA-1 + ME51SW 
Armlight
MAL-1
Accessory for underwater photography
PT-050
AC cable
F-3AC
Remote Cable
RM-UC1
Charger
LI-50C
Compatible OS
Windows XP SP2, Windows  XP x64Edition, Windows  Vista, Windows  Vista SP1, Windows 7, Mac OS 10.3-10.6
Power Requirements
Battery
Li-50B (included)
Sleep mode
Available (20sec, 1min, 3min, 5min)
No. of recordable pictures (with 50% flash light)
Approx. 320 shots
Power battery holder
Non available
Memory
Internal memory (for shooting)
54.6MB
Dimensions/Weight
Dimensions 
110.6 mm (W) x 64.8 mm (H) x 42.3 mm (D)
Weight
275g (body, battery and media)
Operating Environment
Temperature
0 - 40? (operation) / -20 - 60? (storage)
Humidity
30 - 90% (operation) / 10 - 90% (storage)
Box contents
Body, Lens cap, Lens cap strap, Li-50B , F2AC , USB/Video Multi cable, Shoulder strap, CD-ROM(ib and OLYMPUS Viewer2), Instruction manual, Warranty card.