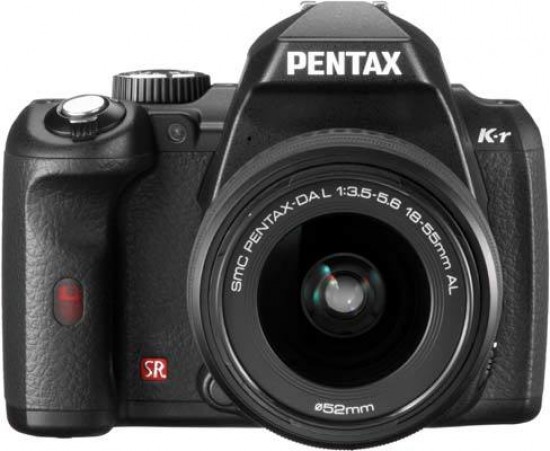 Specifications
Type
Camera Type
TTL autofocus, auto-exposure digital SLR digital-still camera with built-in retractable P-TTL auto pop-up flash
Sensor
Type
High sensitivity CMOS sensor with a primary colour filter
Size
23.6mm x 15.8mm
Effective Pixels
approx. 12.4 megapixels
Still
JPEG: [12M] 4288x2428 pixels, [10M] 3936x2624 pixels, [6M] 3072x2048 pixels, [2M] 1728x1152 pixels
3 levels of quality in JPEG (good, better, best)
RAW: [12M] 4288x2428 pixels
Movie
HD TV: 1280x720 (16:9) at 25fps
VGA: 640x480 (4:3) at 30 or 25fps
Sensitivity
Auto, Manual: ISO 200 to 12800 (1/3EV, 1/2EV or 1EV steps)
Extended sensitivity: from ISO 100 to 25600
Bulb mode: up to ISO1600, Could be expanded to ISO 100-12800
Shake Reduction
Sensor-shift Shake Reduction
Compatible with ALL PENTAX lenses
Sensor Cleaning
Dust Removal mechanism:
Image sensor moving mechanism, SP Coating and Dust alert function?
Lens
Mount
PENTAX KAF2 bayonet mount
Usable lenses
PENTAX KAF3-, KAF2-*, KAF-, and K-mount lenses
 *Power zoom function is not available
K-mount lenses usable with restrictions
S-mount lenses, 67/645 lenses usable with adapter and with restrictions
Focusing System
Type
SAFOX IX autofocus system with TTL phase-matching detection
Functions
Focus modes: AF.A(auto), AF.S(single, with focus lock), AF-C(continuous)
11 AF points (9 cross type in the center)
5-point or 11-point Auto, Select or Center
AF assist
available (at front)
Viewfinder
Type
Penta-mirror
Field of View
approx. 96%
Magnification
approx. 0.85x (with FA 50mm F1.4 lens, at infinity)
Focusing screen
Natural Bright Matte III focusing screen?
Diopter adjustment
approx. -2.5 - +1.5m-1
Screen
Type
3" (7.62cm) TFT colour LCD monitor with AR coating
Adjustable brightness and contrast
Scratch resistant protective glass
170° wide-angle viewing, horizontally and vertically
Resolution
Approx. 921 000 dots
Playback

Single image or index view (up to 81 images), Image comparison, Magnification (up to 16x, scroll available), Rotation, Calendar view, Folder view, Histogram, Slideshow, Bright/Dark area warning, Resize, Cropping, Copyright and detailed Exif information display

Shutter
Type
Electronically controlled vertical-run focal plane shutter
Speed
Auto and Manual : 1/6000 - 30 sec. + Bulb
X-Synchronization
Hot shoe, sync-speed: 1/180 sec., P-TTL, high-speed-sync, wireless-sync with PENTAX dedicated flash
Exposure system
Metering
TTL open-aperture 16-segment metering (coupled with lens and AF information)
Metering modes: Multi-segment metering, Centre-weighted metering or Spot metering?
Exposure Modes
Program (P), Sensitivity-Priority (Sv), Shutter-Priority (Tv), Aperture-Priority (Av), Metered Manual (M) including Bulb, Video
Picture modes: AutoPicture, Portrait, Landscape, Macro, Moving Object, Night scene portrait, Flash off
Scene modes: Night scene, Surf & Snow, Food, Sunset, Kids, Pet, Candlelight, Museum, Stagelight, Night snap, Night scene HDR*

*In Stagelight, Night snap and Night scene HDR, image format is fixed to JPEG
Metering Range
EV1-21.5 (Standard ISO 200 with FA 50mm f/1.4 lens)
Auto Exposure Lock
Assignable to AF/AE-L button through the menu?
Compensation
± 3EV (selectable EV steps: 1/3 or 1/2 steps)
Auto Bracketing
3 frames
Flash
Type
Built-in retractable P-TTL auto pop-up flash
Guide Number
approx. 16 (Standard Output Sensitivity 200/m), approx. 12 (Standard Output Sensitivity 100/m)
Modes
Auto, manual (on/off), red eye reduction, slow-speed sync, rear curtain sync, high-speed sync and wireless sync with PENTAX dedicated external flash?
Synchronization: 1/180 sec., high speed, P-TTL, wireless
Angle of View Coverage
Wide-angle lens, equivalent to 28mm in 35mm forma?t
Exposure Compensation
from -2 EV to +1EV (1/3EV steps)
Exposure Parameters
Modes
One shot, Self-timer (2 or 12 sec), Continuous shooting (Hi, Lo),Remote control (0, 3 sec), Interval up to 999 pictures, Exposure bracketing (3 frames)?
White Balance
Auto, Daylight, Shade, Cloudy, Fluorescent light (D, N, W, L), Tungsten light, Flash, CTE, Manual (configuration on monitor)?
Digital Filter
Rec. mode: Toy Camera, Retro, High-contrast, Extract color, Soft, Starburst, Fish-eye, Custom
Playback: see next paragraphs
Movie
Recording
HDTV: 1280x720 (16:9) at 25fps
VGA: 640x480 (4:3) at 30 or 25fps?
Editing
Movie editing available
Playback
Digital Filter
In Playback mode: Toy Camera, Monochrome, Retro, Color, High Contrast, Soft, Extract Color, Star Burst, Sketch, Water Color, Pastel, Miniature, Slim, HDR, Posterization, Base Parameter Adjustment, Custom
Storage
External
Compatible with SD and SDHC memory cards
File Format

Still images:
RAW 12 bits (PEF, DNG), JPEG (Exif 2.21), DCF 2.0
RAW and JPEG simultaneously recordable
JPEG:3 levels of quality (good, better, best)
Color space: sRGB, Adobe RGB?

Movies:
AVI (Motion JPEG) with monaural sound

?
File Name
Date (100_MMDD…), PENTX (100PENTX...)
Special Features
Features
World Time: 75 cities (28 time zones)
Language
English, French, German, Spanish, Portuguese, Italian, Dutch, Danish, Swedish, Finnish, Polish, Czech, Hungarian, Turkish, Greek, Russian, Korean, Chinese (Traditional/Simpl.), Japanese?
Interface
Interface
AV output, compatible with NTSC and PAL
USB 2.0 mini-B (Hi-Speed)
IrSimple Infrared in/out connection, DC power input?
Power
Source
Main: Rechargeable D-LI109 Lithium-ion battery

Optional: 4 AA batteries (Lithium, Ni-MH, rechargeable, alcaline), with optional AA battery adapter D-BH109**
Optional AC adapter K-AC109E also available
** CR-V3 and Oxyride do not comply with this adapter?
Performance
Approx. 470 shots*** and 300 min in play mode w/ D-LI109
Approx. 1000 shots*** and 620 min in play mode w/ AA batteries
with 50% flash. Tested in compliance with CIPA standard. Actual result may vary according to the shooting conditions/circumstances?? ?
Dimensions
Height
97mm
Width
125mm
Depth
68mm
Weight
544 g body only, 598 g loaded and ready with Li-ion battery and SD card, 625 g loaded and ready with AA batteries and SD card?
Compatibility
PC
Windows XP SP2, VistaTM and 7?
Mac
OS X 10.3.9 or above?
Accessories
Included Software
PENTAX Digital Camera Utility 4?