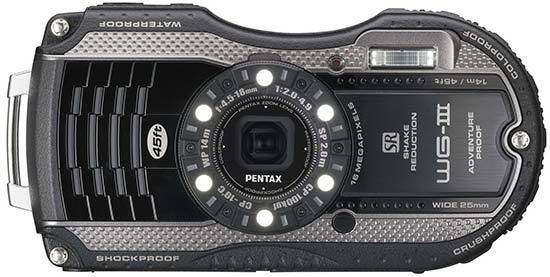 Conclusion
The WG-3 is the 15th generation of Pentax's ruggedized camera range, and it certainly shows. This is a solid product in more ways than one, both in terms of its build quality, ability to withstand most things that you could subject it to, and all-round handling and feature-set. The loud styling might not be to everyone's tastes, but the Pentax WG-3 certainly fits the bill as a nigh-on indestructible camera fit for both family life and more extreme pastimes.
As with most action cameras, though, image quality isn't the WG-3's strong point, and you'll also have to pay a substantial premium for the extra on-board protection and peace of mind that the WG-3 offers. While the overall image quality isn't bad, there are much better "ordinary" cameras available at this price-point, so you really need to make sure that you'll use the WG-3 to the full to warrant the extra outlay.
The Pentax WG-3 also suffers a little in comparison with some of its main rivals in terms of features - yesterday's very similarly specced Panasonic Lumix DMC-FT5 additionally boasted built-in wi-fi connectivity and a manual shooting mode, and you'll have to pay more for the WG-3 GPS version to benefit from geo-tagging. Like the Olympus TG-2, though, the WG-3 does have a fast 25-100mm (eq.) f/2.0-4.9 lens that allows it to stand out from the crowd.
So if you don't mind the lack of built-in GPS and do like the bold styling, the Pentax Optio WG-3 is definitely a good choice for a camera that should withstand the "rigorous and demanding needs of the adventurous photo enthusiast".
Ratings (out of 5)
Design
3.5
Features
4
Ease-of-use
4
Image quality
3.5
Value for money
4