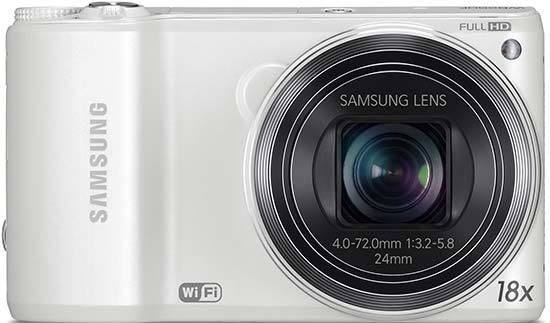 Conclusion
From the outside, the Samsung WB250F digital compact camera looks great. It's an attractive square of picture taking technology, filled with all sorts of features, filters and options. The optical zoom is impressive enough for a camera of this size and price point and the instant upload facility using the built-in wi-fi will attract anyone wanting a camera to go travelling with.
Looking closer at the Samsung WB250F, though, there are a number of flaws. For instance, the lens quality isn't very good. While there's not a great deal of barrel distortion or pincushion, image drop off comes early and chromatic aberration was so obvious, it came up to us and shook our hands.
Coping with noise isn't very good either. Well, that depends on which way you look at it. Our night test showed that the noise was removed completely from the picture at high ISO and a smooth picture was left in it's place. So the noise reduction actually works very well at doing what it's supposed to do. What is it with back-illuminated sensors? We've heard such amazing things about their wonderful ability to collect light, but when it comes to the noise test, we're left disappointed.
In everyday shooting, the Samsung WB250F takes lovely pictures. Colours are nice and the focusing is sharp enough. That's when it works, though. A few too many times, we found that the focusing wouldn't respond when we wanted it to. The zoom has the same issue. We'd have to flick it a couple of times before the zoom started working.
Despite the all over plastic construction, it doesn't feel badly made. Plastic bodies generally feel frail and malleable, but the WB250F feels solid. The buttons are firm and the battery door is solid. It also has a lock and metal plate for added rigidity. We like the idea of the pop-up flash, it's a quirky little feature that will amuse people. It always fascinates people when they see a moving part on a camera.
The Samsung WB250F currently sits just under the £200 mark. That's a little high for a camera of this construction, but the tech makes up for it. From a geek point of view, there's plenty to do with lots of little features and settings to test and play with. From a photographer's point of view, it's a plastic camera with a bad lens and noise at low ISO. If you can look past that, or you don't see what we see, then you'd be perfectly happy with the Samsung WB250F.
Ratings (out of 5)
Design
3.5
Features
4.5
Ease-of-use
4
Image quality
3
Value for money
3.5