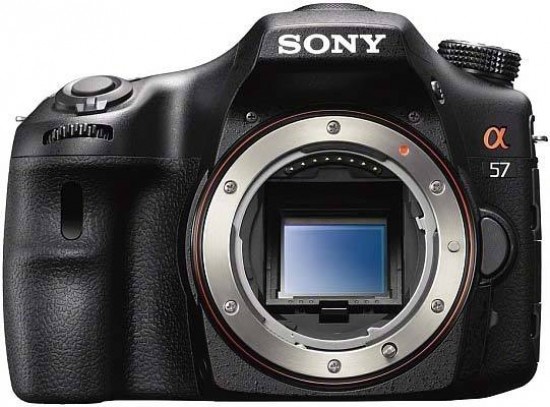 Conclusion
The new Sony A57 is a compelling intermediate SLT/DSLR camera that has a list of features and performance that few other rivals can match. The Sony A57 essentially offers the same excellent handling and features of the more expensive A65 model, but uses a more modest 16 megapixel sensor rather than the A65's 24 megapixels. It also doesn't have built-in GPS tracking, something that the A65 and the previous A55 both offer.

Just like the rest of the SLT family, the Sony A57 turns conventional design on its head to provide what is in many ways a better user experience than traditional DSLRs can achieve, at a competitive price point that Canon and Nikon must surely be worried about. The A57's electronic viewfinder may not be as detailed as the one used by the A65 and A77 models, but it still has enough resolution to rival and even beat a more conventional optical viewfinder. The A57's translucent mirror and EVF open up a world of possibilities for Sony, with headline grabbing burst shooting speeds, fast auto-focus for both stills and video, and 100% scene coverage, all for the modest price of a mid-range DSLR.

Image quality is excellent, with results from the 16 APS-C sensor rivaling the main DSLR competition and in most cases surpassing the Compact System Camera alternatives, especially if you want to achieve shallow depth-of field effects. Noise doesn't rear its ugly head until ISO 3200 for JPEGs, although the A57 does apply some pretty aggressive noise reduction to keep the files clean, resulting in some loss of finer detail. The myriad of creative effect on offer such as HDR, Dynamic Range Optimisation, creative styles, the innovative sweep panorama mode and a new range of in-camera Picture Effects help to get the most out of the A57, especially if you like to experiment away from a computer.

While the A57 may be bigger than the A55 model that it replaces, and it loses its predecessor's GPS functionality, in most other ways it's clearly a better camera, so much so that it even competes with the more expensive and very similar A65 model. There's not too much at all to dislike about the new Sony A57, and we can easily highly recommend it as a very capable and full-featured camera that won't break the bank.
Ratings (out of 5)
Design
4
Features
4.5
Ease-of-use
4
Image quality
4.5
Value for money
4.5