Sony Cyber-shot DSC-HX7V Review
August 10, 2011
|
Mark Goldstein
|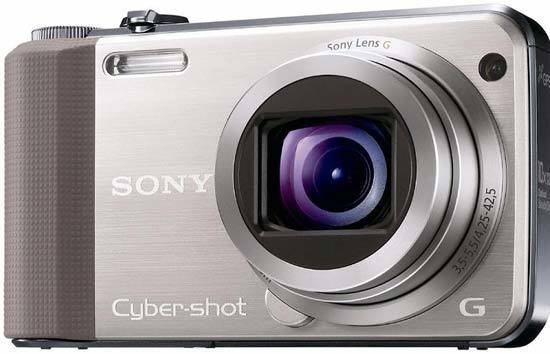 Conclusion
The Sony CyberShot DSC-HX7V is a great alternative to the more expensive HX9V, our favourite travel-zoom, featuring a more modest 10x zoom, slightly slower autofocus, and "only" 1080i video, but otherwise offering all of the same cutting-edge features, great image quality and intuitive handling as the HX9V.

Sony have been able to maintain the excellent image quality that the previous 10 megapixel HX5 offered despite the move to a 16 megapixel sensor. The backlit sensor provides excellent results from ISO 100-800, with only the fastest settings of 1600 and 3200 suffering from too much noise and smearing of fine detail. Chromatic aberrations are well controlled and colours accurate, and the 25-250mm lens commendably doesn't suffer from too much distortion at either end of the zoom range.

The HX7V's Manual mode lets you set a shutter speed of up to 30 seconds for effective night-time shooting, although I missed the Aperture and Shutter Priority modes that several rivals offer, and only having two possible apertures in Manual mode does somewhat limit what you can achieve. As with the HX9V, we also missed support for the RAW format, which really would have been the icing on the prosumer cake. Sony's ever popular Sweep Panorama mode now offers an impressive 42.9 megapixel high resolution mode, while the Backlight Correction HDR feature dramatically increases the detail in the shadow and highlight areas. Beginners shouldn't be scared off the HX7V either, as Sony's excellent hand-holding Intelligent Auto modes are as effective as the competition's.

In addition to the excellent still images, the Sony HX7V offers full 1080i video recording. You can use the 10x zoom during recording, sound is stereo rather than mono, and the AVCHD format ensures that file sizes don't get out of control. The built-in GPS also works well, unobtrusively and reliably recording your every movement, although the camera takes a few minutes to sync with one or more satellites and the battery life is reduced by around 25% if you leave it constantly switched on.

Add in the 3D Sweep Panoramas and 3D Still Images, amazing 10fps burst shooting mode, fantastic 921K dot LCD screen, and a more reasonable price-tag, and it's easy for us to highly recommend the Sony CyberShot DSC-HX7V.
Ratings (out of 5)
Design
5
Features
4.5
Ease-of-use
5
Image quality
4.5
Value for money
4.5