Sony Cyber-shot DSC-TX7 Review
October 18, 2010
|
Mark Goldstein
|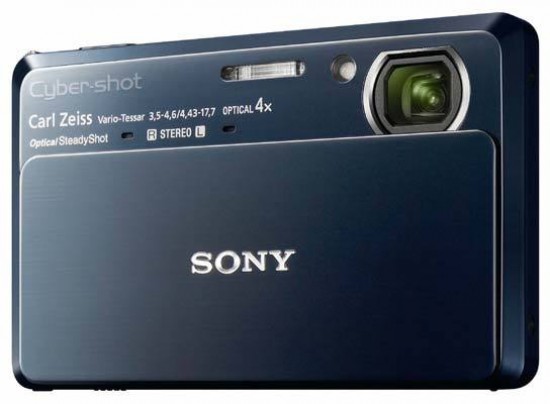 Image Quality
All of the sample images in this Review were taken using the 12 megapixel JPEG setting, which gives an average image size of around 4Mb.
As we were shooting a lot of our test samples on sunny days, the TX7's backlit correction function was kicking in more often that usual; lending images an overall slightly washed out feel. Otherwise colours are well saturated and a reasonable amount of detail is delivered even at maximum telephoto setting if there's sufficient light around and the camera is held good and steady. Although at a pinch there's ever so slight softening of the edges at maximum wide angle setting, most users of the TX7 would be perfectly happy with results straight out of the camera.
In terms of what this diminutive Cyber-shot offers to make it stand out from the crowd, once again the Sweep Panorama feature is fun for anyone wanting extra wide landscapes (wider than the 25mm lens will already allow that is), though the resultant images are somewhat soft when downloaded and viewed on a desktop. Results worked best for us when there were no moving people or objects in the frame - otherwise it's possible to end up with half a car or a third of a person.
Still, it does prompt the user to take a wider range of photographs than they might otherwise and get an overall view of a scene that's closer to what the human eye captures than a camera lens could normally provide.
In terms of low light photography, with an adjustable ISO range stretching from a higher than usual starting point of ISO 125 though to ISO 3200, there is theoretically the ability for the camera to cope with a wide range of lighting conditions. Whilst the additional auto ISO setting works well, surprisingly good results are to be had up to and including ISO 1600, what visible noise there is at this setting comparable with performance at ISO 800 from rival point and shoots, as we found in our review of the TX5. So if you need to push things a bit in low light - despite the fact that there's a lack of anything approaching a decent grip on the camera - the TX7's Exmor R CMOS sensor does seem to live up to its manufacturer's hype.
Noise
There are 6 ISO settings available on the Sony CyberShot DSC-TX7. Here are some 100% crops which show the noise levels for each ISO setting.
| | |
| --- | --- |
| ISO 125 (100% Crop) | ISO 200 (100% Crop) |
| | |
|   |   |
| ISO 400 (100% Crop) | ISO 800 (100% Crop) |
| | |
|   |   |
| ISO 1600 (100% Crop) | ISO 3200 (100% Crop) |
| | |
Sharpening
Here are two 100% crops which have been Saved as Web - Quality 50 in Photoshop. The right-hand image has had some sharpening applied in Photoshop. The out-of-the camera images are a little soft and ideally benefit from some further sharpening in a program like Adobe Photoshop. You can't change the in-camera sharpening level.
| | |
| --- | --- |
| Original (100% Crop) | Sharpened (100% Crop) |
| | |
|   |   |
| | |
Chromatic Aberrations
The Sony CyberShot DSC-TX7 handled chromatic aberrations well during the review, with limited purple fringing present around the edges of objects in certain high-contrast situations, as shown in the examples below.
| | | |
| --- | --- | --- |
| Example 1 (100% Crop) |   | Example 2 (100% Crop) |
| |   | |
Macro
The Sony CyberShot DSC-TX7 offers a Macro setting that allows you to focus on a subject that is just 1cm away from the camera when the lens is set to wide-angle. The first image shows how close you can get to the subject (in this case a compact flash card). The second image is a 100% crop.
| | |
| --- | --- |
| Macro Shot | 100% Crop |
| | |
Flash
The flash settings on the Sony CyberShot DSC-TX7 are Auto, Forced Flash, Slow Syncro, No Flash, with a Red-eye Reduction option in the Main menu. These shots of a white coloured wall were taken at a distance of 1.5m.
| | |
| --- | --- |
| Suppressed Flash - Wide Angle (25mm) | Forced Flash - Wide Angle (25mm) |
| | |
|   |   |
| Suppressed Flash - Telephoto (100mm) | Forced Flash - Telephoto (100mm) |
| | |
And here are some portrait shots. Neither the Forced Flash setting or the Red-Eye Correction option caused any red-eye.
| | |
| --- | --- |
| Forced Flash | Forced Flash (100% Crop) |
| | |
|   |   |
| Red-eye Reduction | Red-eye Reduction (100% Crop) |
| | |
Night Shot
The Sony CyberShot DSC-TX7's maximum shutter speed is 2 seconds, which is not good news if you're seriously interested in night photography. The shot below was taken using a shutter speed of 1/18th second at ISO 800.
| | |
| --- | --- |
| Night Shot | Night Shot (100% Crop) |
| | |
Sweep Panorama Mode
The Sony Cyber-shot DSC-TX7 allows you to take panoramic images very easily, by 'sweeping' with the camera while keeping the shutter release depressed. The camera does all the processing and stitching and now even successfully compensates for moving subjects. The main catch is that the resulting image is of fairly low resolution.