Head to Head Review: Olympus OM-D E-M5 v Nikon D7000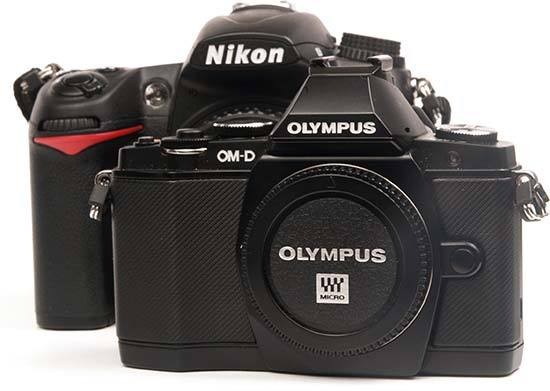 Flash
Where the Nikon D7000 offers a body-integral pop-up flash with a respectable guide number of 12 (in metres at ISO 100/21°), the Olympus OM-D E-M5 comes without a built-in flash - but ships with the tiny FL-LM2 unit that slots into the camera's accessory port, as seen in the photo above. This little flash is quite weak, with hardly more than half the range of the Nikon's on-board Speedlight. In spite of this it takes approximately the same time - around 4 seconds - for both flashes to recycle after a full-power discharge. We personally favour Nikon's approach here, for reasons of convenience. An external unit the size of the FL-LM2 is simply too easy to mislay when detached from the camera.
In addition to the built-in/bundled flash, each camera features a hot shoe accommodating its own manufacturer's system flashes as well as generic centre-contact flash units. By contrast, neither model has a PC sync terminal.
As far as external flashguns go, both companies offer a wide range of products to choose from, with the Nikon SB-910 and the Olympus FL-50R being the top-of-the-line offerings. With each camera, the built-in/bundled flash can be used to wirelessly trigger a number of compatible flash units while maintaining TTL flash exposure control.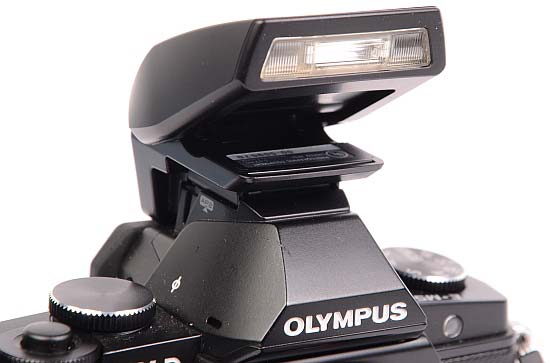 Movie Recording
Both the Nikon D7000 and the Olympus OM-D E-M5 can record movie clips in Full HD resolution. At the highest quality setting, the D7000 shoots 1080p video at 24fps, while the E-M5 records 1080i60 video from 1080p30 sensor output, with no user selectable frame rate options available. To start filming, you first need to enter Live View (on the Nikon) or rotate the mode dial to the  Movie position (on the Olympus), and then press the dedicated video button. (On the E-M5 you can actually start filming at any time, even if the dial is in a different position but in that case you'll have to put up with certain limitations regarding exposure and focus.) I personally found the rear-mounted, thumb-operated button of the D7000 preferable to the top-mounted button of the Olympus, but your mileage may vary (and you can map this function unto one of several other buttons anyway).
Thankfully, both cameras allow you to manually set exposure and ISO speed for videos, although the E-M5 will limit you to the ISO 200-3200 range when shooting movies. In manual exposure mode, the Nikon D7000 requires you to set your desired f-stop before entering Live View. The Olympus OM-D E-M5, being a full-time Live View camera, allows you to set the aperture at any time before you start recording a video clip but neither model lets you change the aperture while filming, unless you are using a lens with an aperture ring.
Both cameras give you the option to use full-time auto focus while recording a movie but the Nikon's implementation is decidedly sub-par as no F-mount lens is optimised for video. By contrast, Olympus's MSC (Movie & Stills Compatible) lenses work very well. That doesn't mean you won't ever experience any focus hunting while shooting video on the E-M5 but it's much less likely than with the D7000 in AF-F mode - plus the MSC lenses focus essentially silently whereas the D7000's microphone will almost always pick up the sound of the focus motor, even if using an AF-S lens. I personally wouldn't bother using auto focus while shooting movies with the D7000.
Another thing worth mentioning is that the E-M5's body-integral image stabiliser works very well with videos, which is an improvement over the PENs that offered only digital stabilisation for movie shooting. To demonstrate this, I shot a six-second sequence using a hand-held telephoto lens:
This is pretty impressive performance from the in-body image stabilisation system, especially if you compare it to the clip below, shot with the Nikon D7000 and 18-105mm VR lens (apologies for the slight overexposure):
Of course, for serious video work you would want to use a tripod or dedicated video mounting rig but it's clear that if you need to shoot a hand-held video clip, the Olympus OM-D E-M5 is likely to produce steadier footage than the D7000.
Both cameras offer rudimentary control over the sound recording volume and both can be outfitted with an external microphone. However, while the Nikon D7000 has a microphone input jack, Olympus users are required to buy the EMA-1 External Microhone Adapter, which is also sold in a bundle with the ME-51S stereo microphone under the name SEMA-1. In our understanding neither camera allows you to hook up a pair of headphones to monitor the audio during movie capture.
Image Quality
Image quality has a number of aspects including resolution/sharpness, vignetting, chromatic aberrations, geometric distortions and so forth, but as most of these are heavily dependent on the lens you are using, we'll limit our IQ comparison to noise, dynamic range and, on a related note, the possibility of recovering seemingly lost highlight detail.
Noise
One of the reasons the Sony APS-C imager found inside the Nikon D7000 has become something of a benchmark is that its high-ISO performance is pretty much astonishing for a sub-frame sensor. It was logical, then, for us to do a classic ISO comparison between the two cameras. However, instead of shooting comparison images in neutral, balanced light, we've opted for a test under household incandescent lighting.
We did this for two reasons. Firstly because this is a tougher test - these light sources tend to have pretty extreme colour temperatures, often less than 2400K. This means that the blue pixels on the sensor record very little information and consequently the blue channel has to be amplified/stretched a lot more than the others if you are going for a decently colour balanced final image. If a sensor/camera does well in this sort of lighting, it will likely perform well in other circumstances too. Secondly we felt that this test was not only tougher but more relevant as well. Sure, there are times when you need to use ISO 6400 in natural light, but typically you'd reach for these high sensitivity settings when shooting under artificial light.
| | |
| --- | --- |
| Olympus OM-D EM-5 | Nikon D7000 |
| N/A | |
| ISO 100 | ISO 100 |
|   |   |
| | |
| ISO 200 | ISO 200 |
|   |   |
| | |
| ISO 400 | ISO 400 |
|   |   |
| | |
| ISO 800 | ISO 800 |
|   |   |
| | |
| ISO 1600 | ISO 1600 |
|   |   |
| | |
| ISO 3200 | ISO 3200 |
|   |   |
| | |
| ISO 6400 | ISO 6400 |
|   |   |
| | |
| ISO 12800 | ISO 12800 |
|   |   |
| | |
| ISO 25600 | ISO 25600 |
In our assessment, the Nikon D7000 did somewhat better in this test than the Olympus OM-D E-M5 but the difference isn't nearly as dramatic as you may have expected. In the ISO 400 - ISO 1600 range the D7000 seems to retain more of the texture of the book spines, and the noise it exhibits is finer grained, which should translate into smoother-looking prints - but the main difference between the two cameras seems to be their colour rendering.
Your Comments