Casio EX-FH100 Review
May 12, 2010
|
Mark Goldstein
|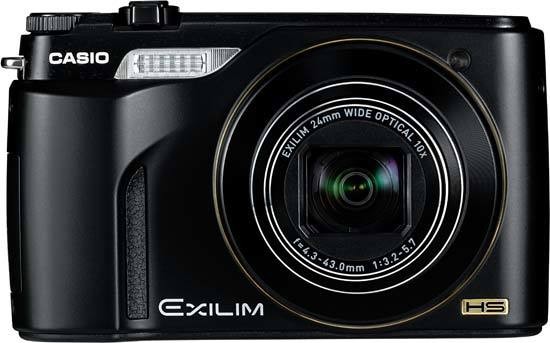 Conclusion
The Casio EX-FH100 is a natural evolution of last year's EX-FC100 model, bringing together Casio's still-unique high-speed shooting options with an appealingly wide-angle 24mm, 10x zoom lens. With a multitude of different shooting options on offer, the FH100 is rather intimidating for beginners, while the poor range of apertures, noisy images and painfully slow RAW format rather limit its appeal for keen photographers.

The FH100 is obviously a great camera for capturing fast-moving subjects and helping you not to miss that decisive moment, with an almost overwhelming array of different options and shooting modes on offer. The ability to take 40 images in one second at the touch of a button is amazing for any camera, DSLR or compact, and if you can't choose the best shot, then the EX-FH100 can do that for you too. The only slight downsides are the small reduction in resolution to 9 megapixels, which applies to all of this camera's high-speed still image functions, and the fact that you can actually only record 30 images at that headline-grabbing 40fps.

Unfortunately the image quality doesn't quite match the extensive feature list, with the EX-FH100 suffering from less than stellar images in low-light due to obvious noise and softening of fine detail at the relatively slow speed of ISO 200, which gets progressively worse as you move up the range. Which is a shame, as apart from the disappointing 7cm macro mode, image quality is otherwise very good.

On the video side, the EX-FH100 can record both 720p HD and up to 1000fps super slow-motion movies, although both modes are somewhat hampered by huge file sizes, the inability to optically zoom, and in the case of slow-motion, drastically reduced image resolutions. Still, having all of this functionality in such a compact and well-built camera clearly puts the Casio EX-FH100 at the head of the action pack.

The Casio EX-FH100 also benefits from being a second-generation product in terms of price, costing a much more attractive £279 / $349, some £70 / $50 less than last year's EX-FC100 for what is a better-speccified camera. It's still not cheap, but it does mean that the FH100 compares quite well to its main travel-zoom rivals, offering a very different proposition for a similar price. If you take a lot of pictures of fast-moving subjects - sports, animals, even your small children - then the Casio EX-FH100 certainly makes a lot of sense.
Ratings (out of 5)
Design
4.5
Features
5
Ease-of-use
4
Image quality
4
Value for money
4