Serif MoviePlus X6 Review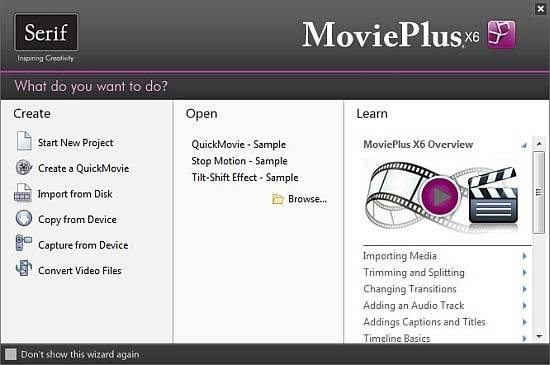 Let's take a deeper look into the effects and adjustments possible in Serif Movieplus X6. There are a number of changes that are available depending on the type of clip you have on the time-line. For video, there's a general option tab which is actually pretty useful. It provides options to reverse the video, adjust the play speed to speed it up or slow it down for slow motion. There's an option to reduce the opacity of the video should you wish to add some other video as an overlay or place a photograph in the background.
As well as making other adjustments such as cropping and stabilising, there's a surprising amount of photography type effects such as noise reduction, transforming and plenty of digital effects such as greyscale, diffuse glow, motion blur, chroma key, noise and adjust HSL (Hue, Saturation and Lightness). These work realistically enough.
Adding music in Serif Movieplus X6 is easy enough. You need to use music that you've made yourself or has been cleared for use commercially - even if it's for personal use in some cases, because of the manner it's being used. This kind of project will most likely be undertaken by professionals though and that can cause problems with intellectual rights. There are a few websites that offer royalty free music that can be used commercially and that's the music that we chose.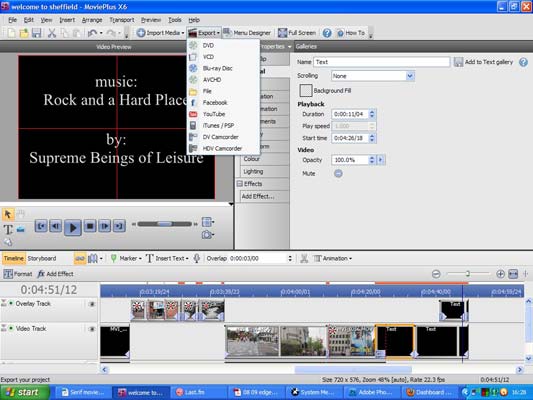 Figure 6 - Export Options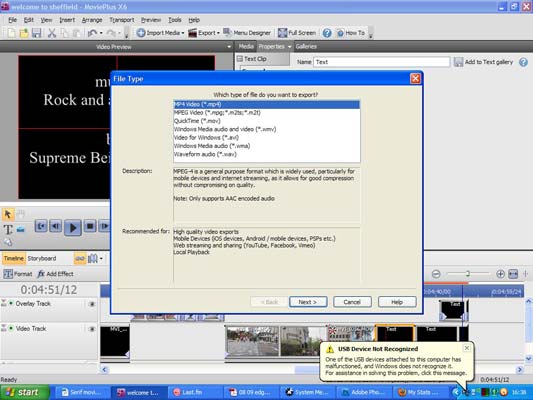 Figure 7 - Export File Types
Once you've edited your video to perfection, you can render it and convert it to a file name that a universal player will recognise. Alternatively, you can upload it directly to sharing sites such as Facebook or YouTube. For everyday saving, choose file and you're presented with a list of file types. Each format has an explanation of its benefits so you can make the right choice. We chose MP4 for ease of sharing.
Serif Movieplus X6 is extensive and has pretty much all you need to make effective videos. Extra tracks can be added by using the option in the Insert tab or pressing F9. This will allow for much more creative videos to be made once you get the hang of the program. The layout is smooth enough although we felt that the preview window could be bigger by default. It can be adjusted to the loss of the folder and time-line.
Previewing the video can be problematic, especially if you have some other functions going on in the background. We constantly got it freezing and stuttering, although we're happy to report that it never crashed on us.
Fading to black from video is a little jumpy but the same problem doesn't happen from text tiles. It's a different method though and this could be the issue. To enable a fade out on video, you have to do it on the actual clip by hovering the mouse at the end of the clip and moving it around until a hand appears. When you get that, pull it along the clip to the desired length. A magnifying tool in the top right of the time-line allows you to zoom in to get a precise fade.
Even our final video was a little jumpy in the way that it kept freezing here and there. The parts that were speeded up looked awful in the preview but are nice and smooth after rendering.
Conclusion
We wanted to make a quick video to illustrate a few features of the program. Serif Movieplus X6 is vast and to go through every feature would take a considerable amount of information. We've touched on a few features that we think will be useful to photographers. Wedding photographers going into videography should find this program extensive and easy to use. Arguably not the easiest but there's not so much of a difference that it's detrimental to Movieplus. If you're looking for a video program to maybe make a slideshow of your pictures or edit video footage that is integrating more into photography then definitely take a look at Serif Movieplus X6.
Ratings (out of 5)
Features
4.5
Ease-of-use
4.5
Value for money
5
Your Comments